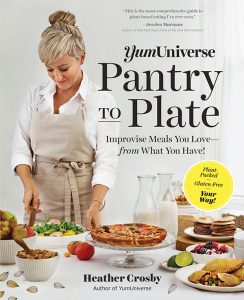 Cool of on a hot summer's day with Bourbon Salted Chocolate-Pecan Cluster Nice Cream from YumUniverse Pantry to Plate by Heather Crosby.
I have a lot of vegan cookbooks. Seriously. I should probably enter myself into some sort of 12-step program. None of them have impressed me as much as YumUniverse Pantry to Plate by Heather Crosby has, though. This book is HUGE. It's jam-packed with recipes, handy charts, and cooking templates.
I've had many people that they have a hard time following recipes, yet they also find it difficult to come up with their own dishes. YumUniverse Pantry to Plate is here to solve that problem. While this book does have many, many recipes, it's also full of meal templates, which allow you to create your own dishes using what you already have on hand. I was a big fan of those Choose Your Own Adventure books when I was young, and this sort of a Choose Your Own Adventure cookbook.
This book is loaded with information for those who are new to plant-based cooking or are just finding their way around the kitchen. Heather includes tips and tricks for cooking, basic cooking techniques, lists of tools and ingredients, and charts for creating rich flavor profiles.
The food is the main star of the book though. You'll find vegan versions of just about anything you could possibly want here, such as Garden Veggie Cream Cheese, Black Bean Sliders, and Veggie Enchiladas; along with dishes you hadn't even thought of yet, including Toasted Black Sesame Seed Milk, Rainbow Chard & Golden Raisin 'Banzo Bake, and Za'atar-Spiced Lentil Wraps. You'll learn how to make dairy-free milks, compotes and fruit butters, fermented veggies, nice cream, and so much more. The book is full of mouth-watering photos and fun illustrations.
Chapters in YumUniverse Pantry to Plate include:
Good Morning, YumUniverse!
Munch & Lunch
Main Meals
Sweet Tooth
Each chapter is full of its own subcategories, such as Scrambles, Granola, Pancakes & Waffles, and Muffins in the Good Morning, YumUniverse! chapter; and Cheesy Comfort Food, Epic Salad, Tacos and Wraps, and Veggie Burgers in the Main Meals Chapter. Each of those subcategories has a do-it-yourself template, giving you unlimited ways to make each dish. Want to make your own veggie burger? You'll be able to do that Heather's veggie burger template – just pick some veggies, a protein, something fresh, and a binder, and you're ready to go.
If you're new to vegan cooking and need some guidance, YumUniverse Pantry to Plate is the book for you! If you're interested in learning more about creating your own meals without a formal recipe, you'll definitely find help here. And if you're already a vegan cooking pro, this book will arm you with more recipes for your kitchen arsenal.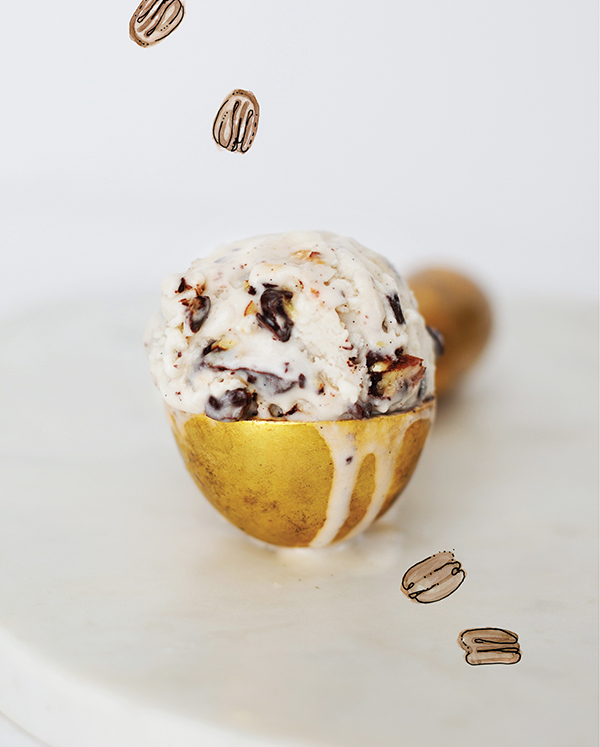 Bourbon Salted Chocolate-Pecan Cluster Nice Cream
Author:
This one is for my grandparents, who loved their bourbon, and their sweets. If you don't love a boozy kiss in a dessert, simply leave out the bourbon.
Ingredients
½ cup (50 g) raw pecan halves
1 tablespoon plus ½ cup (120 ml) maple syrup
½ teaspoon sea salt
¼ teaspoon ground cinnamon
Two pinches cayenne pepper
Two pinches ground cardamom (optional)
1 vanilla bean pod
3 cups (720 ml) canned full-fat coconut milk
1 tablespoon unrefined coconut oil
2 tablespoons bourbon
1 tablespoon arrowroot starch/flour
One 3-ounce (85 g) dark chocolate bar
Instructions
Preheat the oven to 350°F (180°C) and line a baking sheet with unbleached parchment paper. In a small bowl, stir together the pecans, 1 tablespoon of the maple syrup ¼ teaspoon of the salt, cinnamon, cayenne, and cardamom until the pecans are coated. Scatter on the baking sheet and roast for 7 to 10 minutes, until browned. Remove from the baking sheet and cool in the fridge.
Press the vanilla bean pod so it lies flat on a cutting board. Carefully slice down its entire length with a sharp knife and open. Use the back of your knife to scrape out the caviar-like seeds and toss into a large pot. Heat the pot to medium-high and whisk together the coconut milk, the remaining 1⁄2 cup (120 ml) maple syrup, oil, bourbon, arrowroot, and ¼ teaspoon salt until velvety smooth and starting to simmer. Remove from the heat and chill for 2 to 3 hours in the fridge, until thoroughly cool.
Melt the chocolate bar over a double boiler and toss the pecans in the chocolate until coated. Cool in the fridge; chop into bite-sized pieces.
Process the chilled milk mixture in an ice cream maker until firm but stirrable. Transfer to a freezable container and fold in the pecan clusters until evenly distributed but maintain swirls and chunks. Freeze for 1 to 3 hours, until firm. Thaw to scoopable consistency and serve.
Notes
Credit line: Recipe from [i][url href="http://amzn.to/2rWCgm8″ target="_blank" rel="nofollow"]YumUniverse Pantry to Plate[/url] [/i] © Heather Crosby, 2017. Photographs copyright © Heather Crosby, 2017. Reprinted by permission of the publisher, The Experiment. Available wherever books are sold. theexperimentpublishing.com Photo by Heather Crosby.
Review reposted with permission from Dianne's Vegan Kitchen.