Mediterranean Beans with Greens from Vegan Meal Prep are quick and easy to make, and they're perfect for either lunch or dinner.

Busy Schedules
My health coaching clients often tell me that they don't have much time or energy to cook dinner once they get home from work in the evenings. I get it – so many of us have super busy schedules. I always suggest meal prepping by cutting vegetables and storing them in containers when they get home from the grocery store, cooking up a batch or two of beans and grains on the weekends, and preparing whatever they can in advance.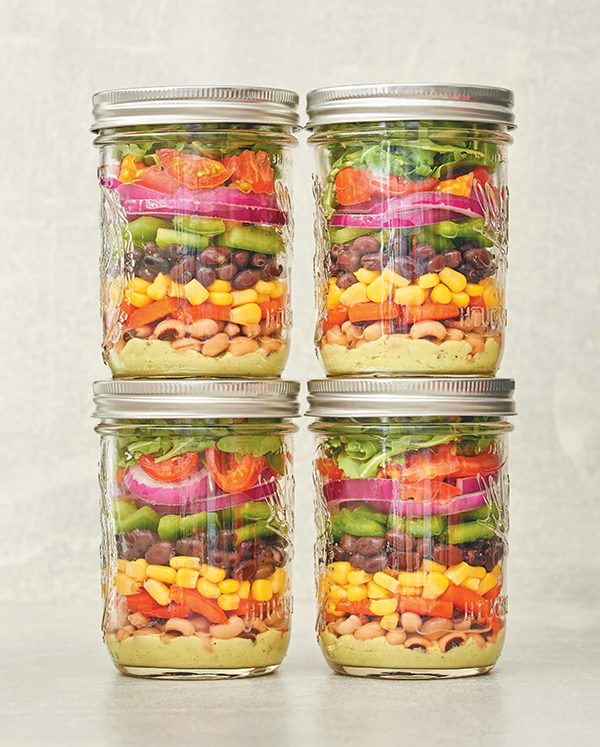 Vegan Meal Prep
JL Fields knows a thing or two about meal prep, and she's sharing her secrets in her newest book Vegan Meal Prep. As you may have guessed from the title, this book is all about preparing foods in advance, so you don't have to spend a ton of time in the kitchen once your hectic work week starts.
Vegan Meal Prep is divided into two parts: Vegan Made Easy and Recipes. In Vegan Made Easy, JL shares the benefits of meal prepping and meal prep principles. She lists her go-to ingredients as well as her favorite storage containers. She also includes her formula for filling mason jars and reheating tips.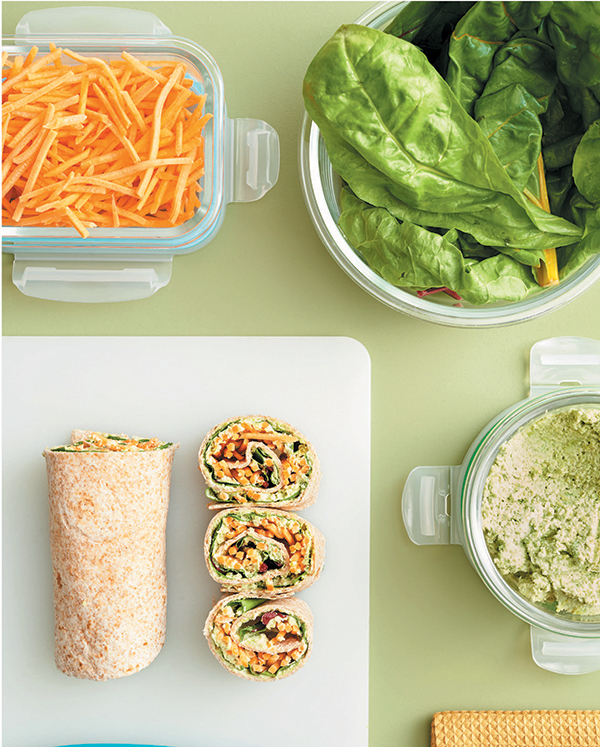 Meal Prepping
There are seven meal preps in the book:
Grain Goodness – dishes featuring whole grains
Beat the Heat – summertime no-cooking meals
Go Green – dishes featuring leafy green veggies
For the Love of Legumes – dishes featuring beans
To the East – Asian-inspired dishes
Fiesta Time – Mexican-inspired meals
Beautiful Bowls – bowl meals
Back to Basics – healthier vegan versions of classic favorites
In each meal prep, JL guides you from start to finish, efficiently making the most of your time. Each meal prep has a shopping list, an equipment list, a weekly menu, and step-by-step prep instructions.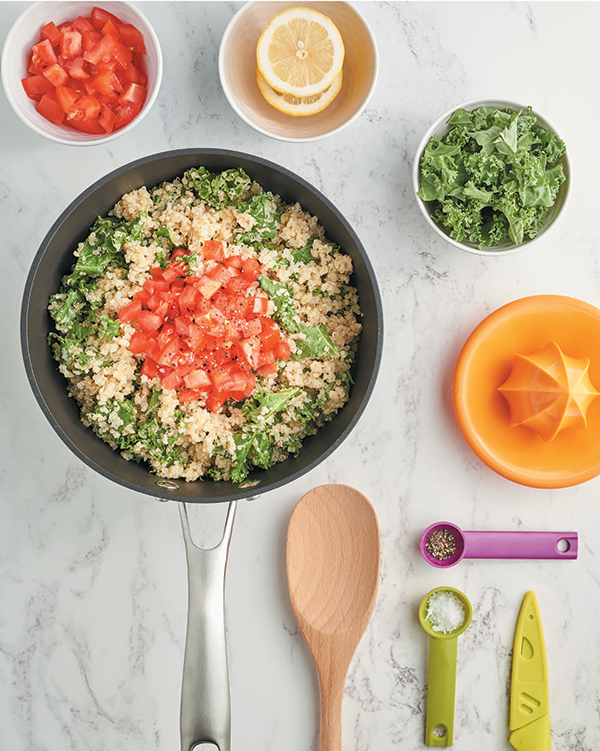 The Recipes
Part two of the book contains the recipes. They include:
Breakfasts
Lunches and Dinners
Vegetables
Grains and Beans
Sauces, Dressings and Dips
Snacks and Sweets
There are 70 recipes in Vegan Meal Prep, and they'll take through breakfast, lunch, and dinner. Snacks, sweets, and sauces are included, too. Recipes include Tofu-Spinach Scramble, Quinoa and Kale Bowl, Miso Spaghetti Squash, Pesto Pearled Barley, Kale Chips, and more!
Each recipe includes storage and reheating instructions. If a recipe can be made in a pressure cooker or air fryer, JL has included instructions for them, as well.
If you're hoping to save time in the kitchen by preparing foods in advance, Vegan Meal Prep is the book for you!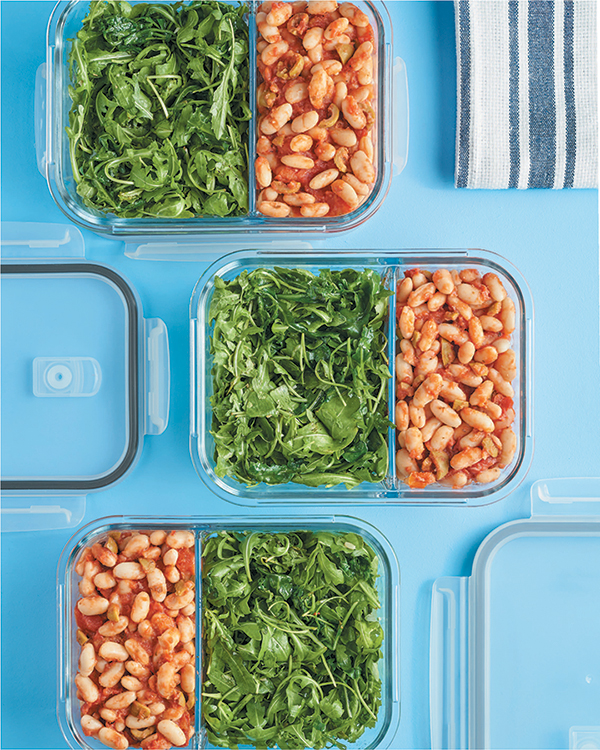 Mediterranean Beans with Greens
Author:
I first shared this recipe in [i]Vegan for Her[/i] and it remains a staple in meal planning work that I do with clients because beans, greens, and grains are the plant-based trifecta. This balanced meal features foods commonly found in the Mediterranean diet, which is widely accepted as one of the healthiest diets in the world.
Ingredients
1 (28-ounce) can diced tomatoes, seasoned with basil, garlic, and oregano
2 (15-ounce) cans cannellini beans, rinsed and drained
¼ cup diced green olives
½ cup vegetable broth
1 teaspoon extra-virgin olive oil or 1 tablespoon vegetable broth or water
4 teaspoons minced garlic (about 4 cloves)
10 ounces arugula
½ cup lemon juice (about 4 small lemons)
Instructions
In a large saucepan or soup pot, bring the tomatoes and their juices, beans, olives, and broth to a boil. Reduce the heat and simmer for about 10 minutes.
In a large skillet, heat the olive oil on medium-high. Add the garlic and sauté until it begins to brown. Add the arugula and lemon juice. Stir, cover, and reduce the heat to low. Steam for 3 minutes.
Divide the arugula evenly between 4 single-serving containers, and then spoon the beans over the arugula. Let cool before sealing the lids.
[b]Storage[/b]: Place the airtight containers in the refrigerator for 5 days or freeze for up to 2 months. Thaw in the refrigerator overnight and reheat in the microwave for 2½ to 3 minutes or in a saucepan on medium heat for 10 minutes.
[b]Substitution tip:[/b] Switch this recipe up by alternating beans – try Great Northern or navy – and greens (spinach is excellent).
Notes
Excerpt from [i][url href="https://amzn.to/2DOudxo" target="_blank" rel="nofollow"]Vegan Meal Prep: Ready-to-Go Meals and Snacks for Healthy Plant-Based Eating[/url][/i], published by Rockridge Press. Copyright © 2018 by JL Fields.