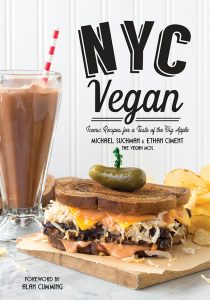 Despite the fact that I can see the Empire State Building from my neighborhood, I don't go into New York City to eat very often, and when I do, I tend to hit up the same restaurants. I went to college in the City, but I went vegetarian while I was at school, so other than street-cart pretzels and falafel sandwiches, I never tried any of the foods that New York is known for, such as the Manhattan clam chowder and Reuben sandwiches. Thankfully, with NYC Vegan: Iconic Recipes for a Taste of the Big Apple by Michael Suchman and Ethan Ciment I can now try veganized versions of all of those dishes I missed without having to deal with NJ Transit's wacky train schedule.
Michael and Ethan are friends of mine, and I just so happened to work on the design of NYC Vegan. (And I also happen to be in charge of coordinating the book's blog tour.) It's difficult for me to be unbiased about this book, but I can guarantee that I would love it even if I didn't know the authors and I hadn't worked on the book. It's chock-full of the delicious dishes that New York is know for, such as Waldorf Salad, New York-Style Bagels, and Black and White Cookies.
Since New York City has a hugely diverse ethnic population, you'll find recipes for many different types of foods in NYC Vegan, such as Brisket of Seitan, General Tso's Chick'n, and Arrox Con Maiz. Interesting trivia about New York City and the food that it's known for are sprinkled throughout the book, and Michael and Ethan also include a list of vegan restaurants for those that want to visit the Big Apple and try some of the foods for themselves. Jackie Sobon took the mouthwatering photos at accompany the recipes.
Chapters in NYC Vegan include:
The Flavors of New York City
The Basics
Breakfast at Tiffany's
Power Lunch
Start Spreading the News
Supper Club
Farmer's Market
On the Side
How Sweet It Is
Being Vegan in New York City
NYC Vegan is the perfect book for anyone who wants to try the different flavors of New York without having to leave home!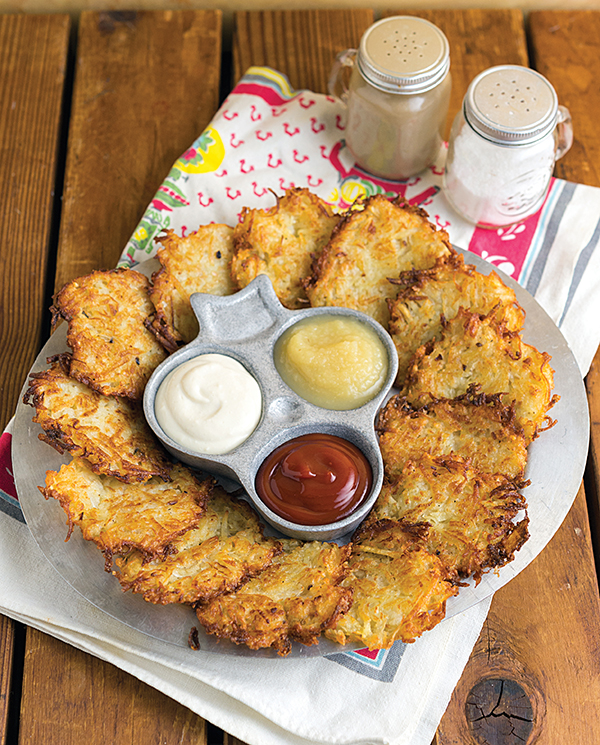 Latkes
Author:
Latkes, the Yiddish word for potato pancakes, are traditionally eaten by Ashkenazic Jews on Hanukkah. You can find latkes at just about any Jewish deli in the city. Whether you accompany them with applesauce or vegan sour cream, be sure to serve them fresh out of the skillet as they really should be eaten immediately after frying.
Ingredients
4 1/2 teaspoons Ener-G Egg Replacer
6 tablespoons warm water
6 large red potatoes, peeled and shredded
1 medium yellow onion, shredded
1 teaspoon salt
Dash ground black pepper
1 cup matzoh meal
Canola oil or other neutral oil, for frying
Instructions
In a small bowl, whisk together the egg replacer and water until fully combined.
In a large mixing bowl, add the potatoes, onion, salt, pepper, matzoh meal, and the egg replacer mixture. Mix well by hand to thoroughly combine.
Heat 1/4 inch of oil in a large skillet over medium-high heat to 375°F. While the oil is heating, form the potato mixture into compact patties, using about 3 tablespoons per latke. When the oil is heated, fry the latkes in batches, no more than 4 or 5 at time—do not overcrowd the skillet. Fry the latkes for 2 to 3 minutes, or until golden around the edges. Flip them with a spatula and cook the second side until lightly browned.
Transfer the cooked latkes to a plate lined with paper towels. Repeat this process until all the latkes are fried, being sure to watch the oil level and adding more as necessary.
Notes
[b]Tip:[/b] It's really important when making these to be conscious of the size of the latke. If you make them too large, they won't hold together as well and will fall apart when you flip them.[br][br]From [i][url href="http://amzn.to/2qh10Si" target="_blank" rel="nofollow"]NYC Vegan[/url][/i], copyright © 2017 by Michael Suchman and Ethan Ciment. Used by permission. Photo by Jackie Sobon.
Review reprinted by permission from Dianne's Vegan Kitchen.