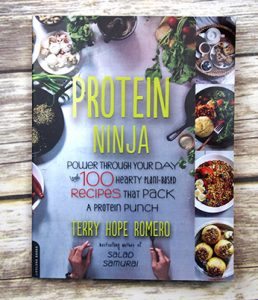 You're vegan? But, but where do you get your protein?
We're a culture obsessed with protein. I'm amazed at the amount of people who have asked me where I get my protein or tell me that they'd like to go vegan but they "need their protein." Are people really lying in bed at night worrying about their protein intake? Really, folks, it's not difficult to get adequate amounts protein on a vegan diet. And in Protein Ninja, Terry Hope Romero shows just how easy it can be.

Protein Ninja is a companion piece to Terry's 2014 book Salad Samurai, and the books complement each other well. Where most of the meals in Salad Samurai were light and refreshing, the dishes in Protein Ninja are hearty and filling.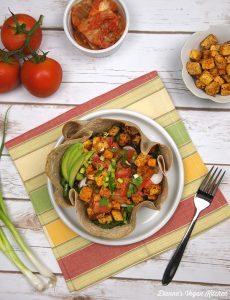 Terry starts the book with some ninja basics, including tips on cooking and freezing beans and grains, handy items to keep stocked in your pantry, and a primer on protein powders. If you're already a pro at protein-packed cooking, you can skip ahead to the recipes.
Protein Ninja is chockfull of recipes that used beans, nuts, seeds, tofu, tempeh, or seitan. Many of the dishes are turbo charged with an added boost of protein in the form of protein powder, too. Terry uses different powders, such as pea, hemp, and brown rice. We're not just talking about smoothies and cereals here, although there are plenty of recipes for those. There are recipes for pancakes, waffles, toasts, scrambles, breads and biscuits, burgers, bowls, sweet treats, and much more.

Terry is an experienced chef, and her recipes reflect her culinary knowledge. Some of them have long lists of ingredients, while others just use a few simple components. Some take a while to prepare, while others cook up in just a few minutes. All of the dishes in Protein Ninja are extremely flavorful and well worth the effort.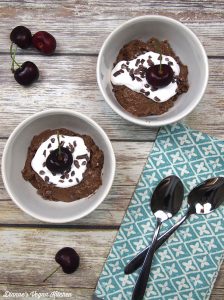 I've made four recipes from Protein Ninja so far. In any new cookbook, I almost always gravitate to the macaroni and cheese recipe first, so the first meal the menu was Pro Mac with Roasted Broc. This was easy to make and I had almost all of the ingredients on hand already. This dish was really tasty, and I loved that the "cheese" contained butternut squash for an added nutrient boost. Next up was the Baked Veggie Pan Omelet, which was perfect for lazy Sunday brunch. Because I know that Terry can make a mean salad, I tried the Korean Tofu Taco Salad, which is probably now my new favorite lunch recipe. It took a little while to prepare because there were a lot of components, but it was well worth it. I've been on a quest for quick and easy breakfast dishes, so I also made the rich and chocolaty Chocolate Maca Chia Pudding, which I will definitely be making again. I doubled the recipe so that Dennis and I would have enough for today days, and I served with lots of cherries and cacao nibs. I have lots more recipes in Protein Ninja bookmarked, so I know I'll still be cooking with it in the weeks ahead.
Protein Ninja is the perfect book for athletes, those worried about their protein intake, or anyone who is just looking for a collection of super delicious recipes.

Granola & Almond Butter Baked Apples
Makes: 4 Stuffed Apples | Time: About an Hour
Baked apples stuffed with a hearty filling are a standby treat for me during cooler months. This recipe may be in the sweets chapter, but gravitate toward these for breakfast often, or a substantial snack served cold. The combination of melting, tender baked apple and the hemp protein and almond butter filling reminds me just a little of a tiny deconstructed frangipane tart, the classic tart of baked fruit nestled in dense almond paste custard. These are best made with large, firm baking apples, such as Granny Smith, Braeburn, Cortland, or even Fuji.
Ingredients:
4 large baking apples
¼ cup smooth almond butter
¼ cup unflavored or vanilla-flavored hemp protein powder
⅓ cup unsweetened vanilla or plain almond milk
1 tablespoon pure maple syrup
½ teaspoon ground cinnamon
2 tablespoons raisins or dried cranberries
Topping:
4 heaping tablespoons vegan granola, any kind you like
4 teaspoons pure maple syrup
Ground cinnamon
Preparation:
Preheat the oven to 350°F and have ready an 8 x 8-inch baking dish.
With a paring knife, remove and discard the core and seeds from the apples but leave the bottom intact.
In a small bowl, use a fork to mix together the almond butter, hemp protein, almond milk, maple syrup, and cinnamon.
Pack the bottom of each apple with a quarter of the raisins. Firmly pack the almond butter mixture into each apple: Use a spatula or the fork to mash it into the center of each apple and smooth down the top. Place the apples, filling side up, in the baking dish.
Excerpted from Protein Ninja: Power Through Your Day with 100 Hearty Plant-Based Recipes That Pack a Protein Punch by Terry Hope Romero. Copyright © 2016. Available from Da Capo Press Lifelong Books, an imprint of Perseus Books, LLC, a subsidiary of Hachette Book Group, Inc.
Book review reprinted with permission from Dianne's Vegan Kitchen.
We have a copy of Protein Ninja for one lucky winner. Follow the instructions below to enter. Contest ends at midnight eastern time on September 4th. U.S. residents only, please. Good luck!