This Easy Cheesy Broccoli Soup from The Main Street Vegan Academy Cookbook will keep you warm and cozy on cold winter evenings.
Main Street Vegan Academy
Fun fact: I was the first person to enroll in Victoria Moran's Main Street Vegan Academy in 2012! I had seen Victoria speak at a vegan event in Manhattan a few months earlier, and she had mentioned that she was working on a program to train vegan lifestyle coaches. I knew it would be a good addition to my already-established health coaching practice, so I eagerly awaited more news. As soon as enrollment opened, I applied!
Main Street Vegan Academy is an intense weeklong course in Manhattan that Victoria runs. Vegans come from all over the country (and sometimes all over the world!) to train to become vegan lifestyle coaches. The course includes guest lecturers from notable vegans and field trips to vegan locations in New York City. I made a lot of friends during that week, and JL Fields was one of them.
Since then, hundreds more people have passed through the Academy's figurative hallowed halls, and the vegan movement is stronger than ever.
The Main Street Vegan Academy Cookbook
Recently Victoria and JL have teamed up to create The Main Street Vegan Academy Cookbook, which includes recipes from many of the Academy's alumni, including yours truly.
This is more than just a cookbook – it's also a beginner's guide to veganism. Victoria begins the book by debunking the myths that being vegan is expensive, complicated and weird in the "It's Really Easy Being Green" Chapter. In the "Fifty Shades of Vegan" chapter, she explains that veganism isn't a diet. It's not a cult or an exclusive club either – veganism is a lifestyle devoted to living compassionately. She also shares tips on how to eat out, how eat vegan on the road, and how to veganize your wardrobe in the "Vegan Outside the Kitchen" chapter.
The delicious recipes in The Main Street Vegan Academy Cookbook will get you through breakfast and lunch all the way through dinner and dessert. There are plenty of recipes to help you out during social occasions, too. They're all easy-to-make, and they don't use ingredients that are hard to find or too "weird" for omnivores.
The recipe chapters in The Main Street Vegan Academy Cookbook include:
More Morning and Great News – which contains breakfast recipes
The Social Vegan – which is loaded with snacks and appetizers
Salad Days and Soup for Super – which is full of salad and soup recipes
Set It and Forget It – which is all about one-pot meals
Main Street Mains – which is devoted to main dishes
Chocolate and Other Pleasures – which is all about dessert, of course!
Helpful "Coaching Corner" tips from the Main Street Vegan Academy coaches are sprinkled throughout the book, and Jackie Sobon took the book's mouthwatering photos. (I almost cried when I saw her beautiful her photo of my Mini Tomato Tarts recipe!) Jane Velez-Mitchell wrote the book's intro.
The Main Street Vegan Academy Cookbook is a must-have for new vegans. Seasoned vegans will enjoy adding the recipes to their repertoires!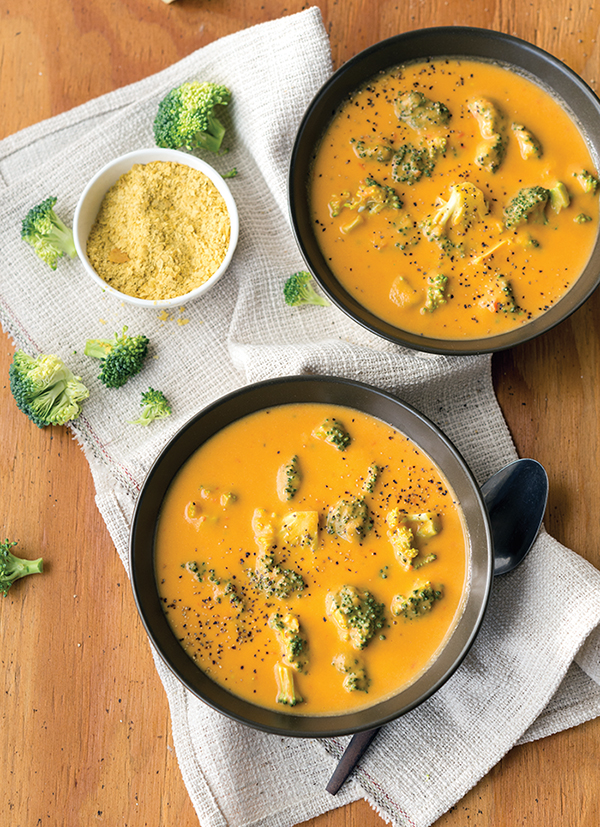 Easy Cheesy Broccoli Soup
This delicious recipe fell into place one night when all we had in the fridge was a huge bag of red peppers, a head of cauliflower, and some broccoli.
Ingredients
1 to 2 tablespoons olive oil or water
3 red bell peppers, seeded and chopped (about 2 cups)
1 medium head cauliflower, trimmed, florets chopped
8 cups vegetable broth, divided
½ cup raw cashews, soaked for 1 hour, rinsed, and drained
½ cup nutritional yeast
6 to 8 cups chopped broccoli, lightly steamed
Salt and black pepper, to taste
Instructions
Heat the olive oil in a large stockpot over medium-high heat and sauté the bell peppers and cauliflower for 10 minutes. Add 7 cups of the veggie broth. Increase the heat to high and bring the liquid to a boil. Reduce the heat to medium and gently boil until the cauliflower is tender, about 30 minutes.
Meanwhile, steam the broccoli in a saucepan or pot on the stove, microwave, or pressure cooker.
Combine the cashews, nutritional yeast, and remaining 1 cup broth in a blender and puree until completely smooth. When the cauliflower is very tender, add the cashew mixture to the pot. Using an immersion blender, blend the soup until creamy. Stir in the steamed broccoli. Season with salt and pepper.
We have a copy of the
Main Street Vegan Academy Cookbook
for one lucky reader this week. Follow the instructions below to enter. Contest ends at midnight on January 8th. U.S residents only, please. Good luck!
a Rafflecopter giveaway
SaveSave
SaveSave