Kathy Hester's recipe for Butternut Squash Okra Gumbo from The Ultimate Vegan Cookbook will keep you warm and cozy on chilly fall evenings!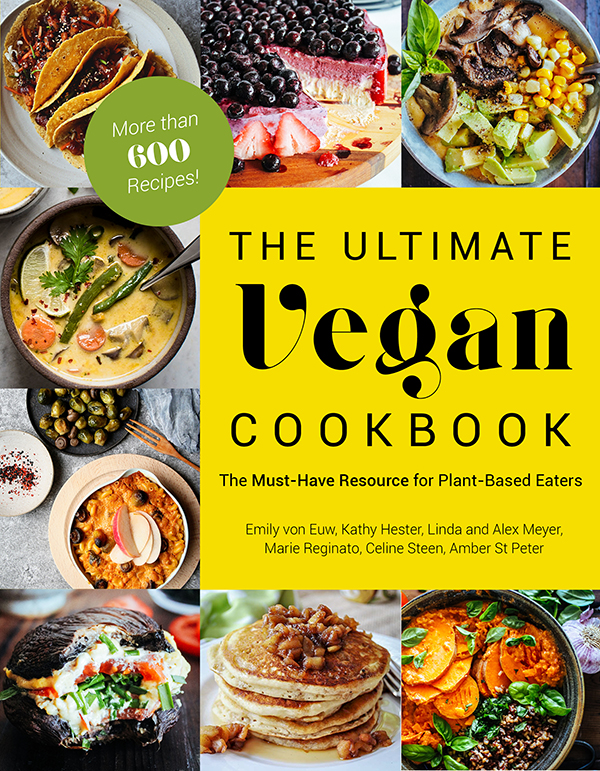 The Ultimate Vegan Cookbook
I know that going vegan be tough. It's a completely different way off eating, which comes along with unfamiliar ingredients and new ways of cooking. Fortunately, The Ultimate Vegan Cookbook is here to help!
The Ultimate Vegan Cookbook is a massive compilation of over 600 recipes from Emily von Euw, Kathy Hester, Linda and Alex Meyer, Marie Reginato, Celine Steen, and Amber St. Peter. It contains recipes for pretty much any kind of food that you might have a hankering for.
Not Just a Cookbook
In addition to being a cookbook, The Ultimate Vegan Cookbook is also a guide to veganism for beginners. It contains handy information on how to get started with this way of eating along with lists of items that are helpful to have on hand in your vegan pantry.
The Recipes!
The recipes in The Ultimate Vegan Cookbookrange quick and easy to more elaborate. You'll find recipes for both raw and cooked dishes, as well and meals made with appliances, such as the slow cooker, instant pot, and air fryer.
You'll also find plenty of recipes to get you through the day, from breakfast dishes to soups and salads for lunch, as well as dinnertime main dishes. There are also recipes for appetizers and snacks, desserts, and sauces and spices.
The authors of The Ultimate Vegan Cookbook are sensitive to your food sensitivities, so you'll find recipes for gluten-free, soy-free, dishes, and sugar-free.
Easy to Navigate
I have several other large cookbooks such as this one, I find that the can be so overwhelming, since they have so much info in them. The Ultimate Vegan Cookbook makes finding a recipe easy though, since each chapter is dedicated to a different type of dish. Also, the recipes are marked, letting you know if special equipment is needed or if it's a quick prep dish.
The Chapters in The Ultimate Vegan Cookbook include:
Main Dishes
Slow Cooker, Instant Pot & Air Fryer
30 Minutes or Less
Appetizers, Snacks & Sides
Soups & Salads
Desserts
Breakfasts, Smoothies, and Drinks
Sauces, Dressings, Pastes & Spices
Ultimate Vegan Cookbook is perfect for seasoned vegans looking to build their repertoires, cooks new to the basics of plant-based cuisine and curious meat-eaters on the hunt for new flavors.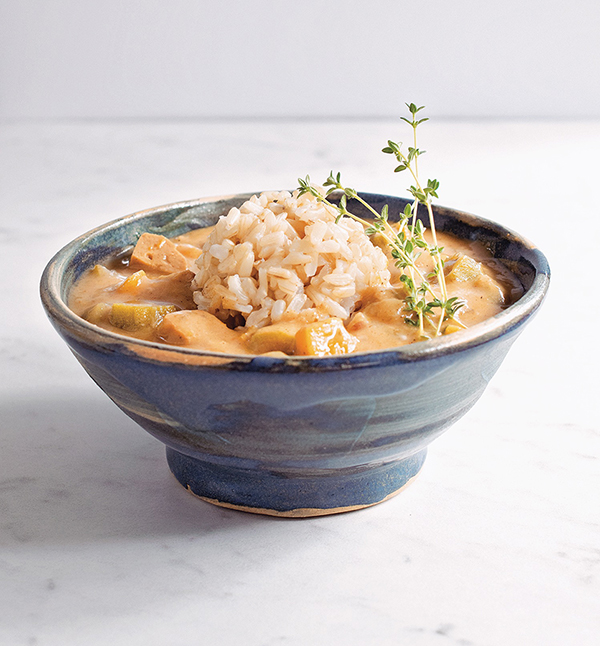 Butternut Squash Okra Gumb
This is a Cajun gumbo, so it does not contain any tomatoes. The roux is what thickens the gumbo and gives it a deeper flavor. Butternut squash isn't a traditional ingredient, but I think it works well. I used my homemade vegan andouille sausage recipe from my book,
The Ultimate Vegan Cookbook for Your Instant Pot[/i], but you can sub your favorite store-bought sausage
Ingredients
Roux
¼ cup (60 ml) avocado oil (or other mild oil)
1 cup (120 g) unbleached white flour (or you can use white whole wheat)
Sauté
¾ cup (112.5 g) minced onion
¾ cup (131 g) minced bell pepper
2 teaspoon (6 g) minced garlic
1 tablespoon (7 g) smoked paprika
1 tablespoon (5 g) dried oregano
2 teaspoon (4 g) regular paprika
1½ teaspoon (2 g) dried thyme
1½ teaspoon (9 g) salt (or to taste)
1 teaspoon ground black pepper (or to taste)
½ teaspoon–1 tablespoon (3–5 g) ground cayenne pepper, to taste
Simmer
8 cups (1.9 L) water
3 cups (300 g) sliced okra
2 cups (280 g) cubed butternut squash
2 cups (460 g) chopped vegan andouille sausage
or your favorite cooked beans
Serving
About 4 cups (644 g) cooked brown rice (½ cup [80 g] per serving)
Tabasco, or other vinegar-based hot sauce
Instructions
For the Roux
In a large soup pot over low heat, add the oil and flour; mix well. You will slowly toast this mixture. It will start out a pale white, and then after about 15 minutes, it will be a light brown. After 15 more, it will be more maple colored.
The most important thing is to not let this burn, so stir often throughout the roux cooking process. If you burn it, you must throw it out and start again. So go low and slow. Since this process takes about 30 minutes, I like to prep my veggies while this is cooking. Cut a little, stir the roux, cut some more, etc.
For the Sauté
Once the roux is a medium brown and begins to smell almost like toasted nuts, add the onion, bell pepper and garlic. Turn up the heat to medium-low; stir and sauté until the veggies begin to soften, about 10 minutes.
Add the herbs and spices. You can leave the salt, pepper and cayenne to add before serving if you want. Or start small and add more at the end if you're not sure how you like it yet.
For the Simmer
Add the water, okra, butternut squash and andouille (or beans). Cover and let it cook over medium-low heat until the okra and squash are soft, about 20 minutes.
Taste and reseason with salt, pepper and cayenne as needed. I make ours very mild since I'm the only one in my household who likes spicy food. I just add lots of hot sauce to my bowl.
For Serving
Serve topped with rice and hot sauce on the side.
Notes
Recipe reprinted with permission from [i]
The Ultimate Vegan Cookbook
by Emily von Euw, Kathy Hester, Amber St. Peter, Marie Reginato, Celine Steen, Linda Meyer, and Alex Meyer.
Other recipes from The Ultimate Vegan Cookbook include: