It's time for the Virtual Vegan Potluck! We're happy to be participating this time, and we've brought a harvest salad that comes together quickly and is perfect for starting your Thanksgiving meal off with. The pumpkin dressing is really the star of this dish and your guests will be raving about it for days after their meal is long gone.

Harvest Salad with Pumpkin Vinaigrette
Ingredients:
FOR THE SALAD:
1 large head of romaine lettuce, chopped
2 carrots, shredded
4 – 6 mushrooms, sliced
1 small green apple, sliced
Corn, sliced fresh from one cob
1/4 cup pumpkin seeds, toasted
1/4 cup cranberries
1/4 cup pecans, chopped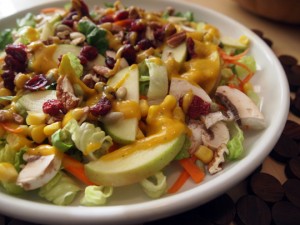 FOR THE VINAIGRETTE:
1/2 cup pumpkin puree
1/4 cup apple cider vinegar
1/2 cup olive oil
3 or 4 fresh sage leaves, minced
1 garlic clove, minced
1/2 teaspoon sea salt
1/4 teaspoon black pepper
Preparation:
Mix all of the vinaigrette ingredients together in a blender. Then toss all of the salad ingredients together and top with the dressing.
Serves 2 as a main dish or 4 to 6 as a side