You never know what could be lurking in store-bought veggie burgers. What exactly is modified cellulose? Where does caramel color come from? Should we be eating l-cysteine hydrochloride? I recently discovered a new brand of veggie burger that I really liked, only to discover that the third ingredient listed on the package was oil. That's a lot of oil. No wonder they were so juicy.
When you make your own veggie burgers you're in control of what they're made with, and you don't need a dictionary to decipher the ingredients list. These burgers are easy to make, and they're versatile, so just about any leftover grain or bean will work in the place of lentils and rice.

Chipotle Lentil Burgers
Makes 4 servings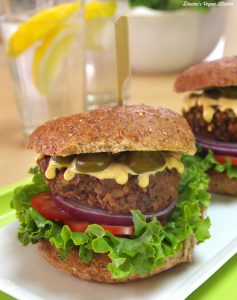 Burger Ingredients:
1 cup cooked brown lentils
1/2 cup cooked brown rice
1/4 cup chickpea flour
1/4 cup chipotles in adobo, minced (include both some chiles and the sauce)
1/4 cup roasted red pepper, minced
2 cloves garlic, minced
3 tablespoons onion, finely minced
3 tablespoons fresh cilantro, minced
1 tablespoon onion powder
1/2 teaspoon chili powder
1/8 teaspoon cayenne

1/4 teaspoon black pepper
3/4 teaspoon sea salt
For Serving (optional):
Whole wheat buns
Vegan cheese
Sliced onions
Pickled Jalapenos
Lettuce
Sliced tomatoes
Chopped avocado
Preparation:
Preheat your oven to 400°F. Line a baking sheet with parchment paper.
Mix together all of the burger ingredients in a medium-size bowl. Mash everything together as you go. (Using a potato masher helps.)
Form the burgers into four patties. If you have one, a ring mold will help shape them, but forming patties by hand is completely fine.
Bake the burgers for 20 minutes. Flip them and bake for an additional 5 to 10 minutes. They should be golden brown and firm.
Serve the burgers on whole wheat buns with all the toppings and enjoy!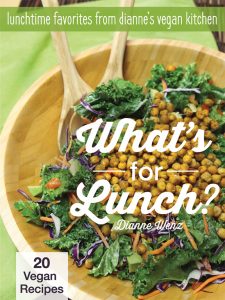 Recipe reprinted with permission from  What's for Lunch? Lunchtime Favorites from Dianne's Vegan Kitchen. ©2016 Dianne Wenz. Download your copy of the e-book here: http://www.diannesvegankitchen.com/cookbooks/