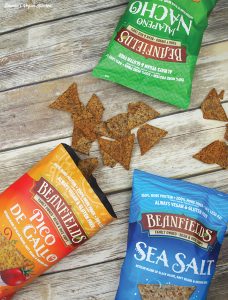 I'm a sucker for tacos. I make them at least once a week, and I'm constantly playing with fillings and toppings, so I rarely make the same type twice. I often use the leftovers to make a taco salad the next day, piling the filling on top of a bed of lettuce and tomatoes and garnishing it with my favorite crushed Beanfields chips. Beause I love a good salad, sometimes I find myself craving the salad more than the actual tacos. On those occasions, I'll throw some beans and seasonings together, or I'll roast chickpeas, like I did in this recipe.
Beanfields are my chips of choice for taco salads. They're made with beans, rice, and seasonings. They have 12 flavors to choose from including unsalted, sea salt, black bean with sea salt, white bean with sea salt, nacho, jalapeno nacho, pico de gallo, barbecue, ranch, and salt and pepper. Each flavor is better than the last, and I have a difficult time picking my favorite, but if I had to choose it would be the nacho. While they are vaguely reminiscent of the triangle-shaped corn chips I grew up eating, they taste lighter and healthier. They're all vegan – yes, even the nacho flavor! – and they're gluten-free and Non-GMO Project Verified. They're also full of fiber and protein!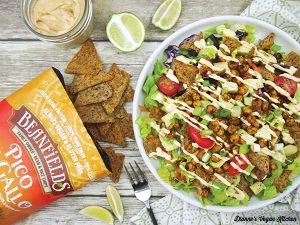 In this recipe, crunchy roasted chickpeas are tossed together with crushed pico de gallo chips and fresh veggies. Creamy Chipotle Lime Dressing gives the dish a tangy kick. Feel free to change the salad ingredients to your liking. I tried to keep this recipe simple, but it would also taste great with jalapenos, diced onion, and chopped olives – or whatever taco toppings strike your fancy!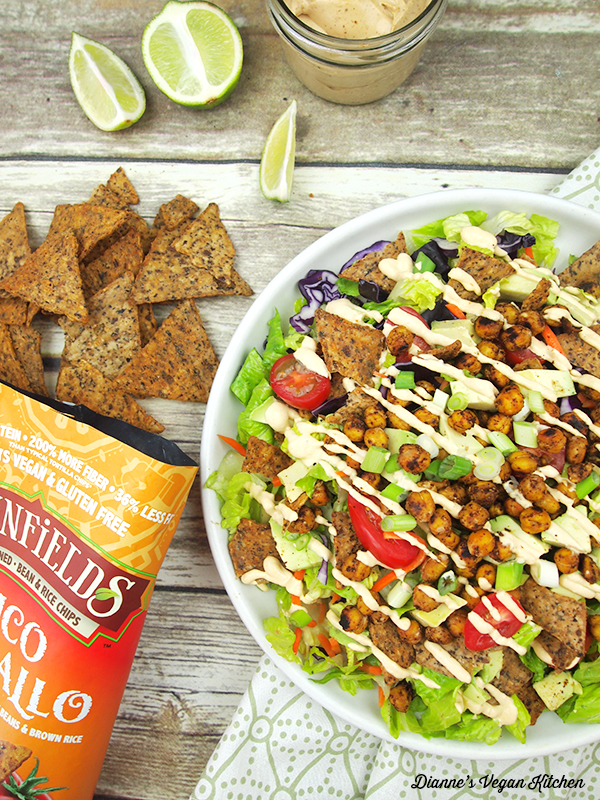 Vegan Chickpea Taco Salad
Ingredients
For the Chickpeas
1½ cups cooked chickpeas
1 teaspoon lime juice
1 teaspoon olive oil
1 teaspoon chili powder
½ teaspoon garlic powder
½ teaspoon onion powder
¼ teaspoon sea salt
14/ teaspoon ground black pepper
¼ teaspoon cumin
¼ teaspoon paprika
pinch cayenne pepper
For the Creamy Chipotle Lime Dressing
½ cup raw cashews
2 ½ tablespoons lime juice
2 tablespoons water
1 garlic clove
½ teaspoon chipotle powder
½ teaspoon sea salt
¼ crushed red pepper flakes
For the Salad
6 cups romaine lettuce, shredded (about 1 large head or two small heads)
2 cups red cabbage, shredded
1 cup carrots, shredded
1 pint cherry or grape tomatoes, sliced in half
2 scallions, sliced
1 avocado, diced
6 ounces Beanfields Pico de Gallo Bean and Rice Chips, lightly crushed
Instructions
Make the chickpeas: Preheat oven to 400°F. Line a baking sheet with parchment paper. Place the chickpeas in a bowl and drizzle on the olive oil and lime juice. Add the spices and mix to coat. Bake for 20 minutes, and then carefully roll the chickpeas around on the baking sheet. Bake for another 10 to 15 minutes, keeping an eye on them so they don't burn. Let the chickpeas cool for 5 to 10 minutes before serving. They'll crisp up as they sit.
Make the dressing: Mix all of the dressing ingredients together in a high-speed blender and mix until smooth.
Make the salad: Mix together all of the salad ingredients in a large bowl. Toss in the roasted chickpeas, and then drizzle on the dressing. Divide among four bowls. Serve immediately.¬
Reprinted with permission from Dianne's Vegan Kitchen.