I'm sure all of us have those recipes that we make often but never write down. You know the ones – that you just throw together, and it may taste a little different each time you make it. For me, that recipe is this avocado-chickpea salad. The first time I made it, Dennis and I had decided to go on an impromptu picnic in the park. I looked in the fridge to see what I could make to take with us, and threw together a salad of chickpeas, tomato, and avocado. We really liked it, so I continued to make it for picnics and cookouts, sometimes with a little extra garlic, and other times with more lemon, but always with avocado, chickpeas, and tomatoes. Since picnic season is almost upon us once again, I decided it was time to write down my recipe, so I could share it here on my blog. It's perfect for potlucks, picnics, and cookouts. Enjoy!

Summertime Avocado-Chickpea Salad
Ingredients
1 tablespoon olive oil
1 tablespoon lemon juice
1 clove garlic, minced
½ teaspoon sea salt
¼ teaspoon oregano
¼ teaspoon basil
½ teaspoon black pepper
Large ripe avocado, diced
1 cup cooked chickpeas
1 cup cherry or grape tomatoes, cut in half
2 scallions, thinly sliced
¼ cup flat leaf parsley, chopped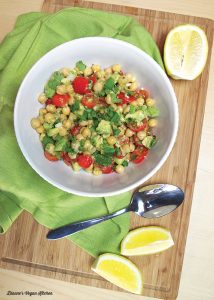 Preparation
In a small bowl, whisk together the olive oil, lemon juice, garlic, salt, oregano, basil, and black pepper.
In a large bowl, gently mix together the avocado, chickpeas, tomatoes, scallions, and parsley.
Pour the dressing over the salad and gently mix to coat.
Refrigerate for an hour or two before serving.
Reprinted with permission from Dianne's Vegan Kitchen