Everyone will enjoy the mild flavor of this vegan Black and White Truffled Brie from One-Hour Dairy-Free Cheese by Claudia Lucero. It's easy make, and tasty variations are included in the recipe.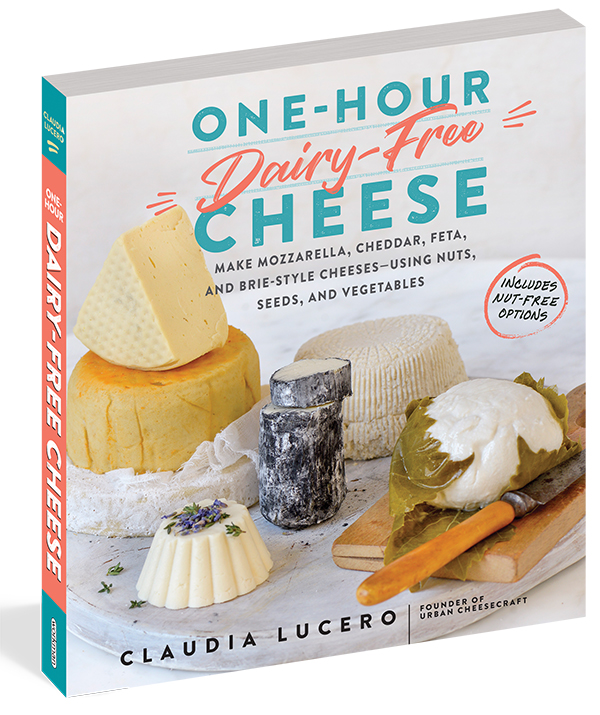 I've been vegan long enough to remember the desolate days of dairy-free cheeses. There were two brands available in stores, and both resembles giant orange crayons in both texture and taste. Back in those days, most of us didn't even realize that making dairy-free cheeses at home was even a possibility. Life would have been so much different if I had Claudia Lucero's book One-Hour Dairy-Free Cheese back then!
One-Hour Dairy-Free Cheese
As you can tell by the title, One-Hour Dairy-Free Cheese is chock-full of vegan cheese recipes. These aren't just "blend some cashews with nutritional yeast" kinds of recipes. They are ingenious recipes for cheeses such as Brie, Havarti, and Swiss using seeds, nuts, and vegetables that have been developed by a traditional cheesemaker.
I have a few dairy-free cheese cookbooks, and I think that One-Hour Dairy-Free Cheese is the most thorough. It's very clear that Claudia has done her research and knows her cheese well.
For those that are new to DIY fromage,One-Hour Dairy-Free Cheese includes lists of equipment needed, specialty ingredients, pantry basics, and cheese-making tips. And then, of course, there are the recipes! You'll find yourself drooling over these creamy creations, including Mozzarella Caprese, Golden Swiss, and Lemon Garlic Feta.

Each recipe includes:
A list of ingredients
Ingredient substitutions
A list of equipment needed
Delicious variations
Step-by-step photos of the preparation process
And most cheeses also include a recipe for a dish made with it
While nuts and seeds are a key ingredient in most cheeses, beans and vegetables are commonly used substitute for those that may have allergies or sensitivities. Some cheeses are even made with vegetables such as cauliflower, potatoes, and peppers.
In addition to blocks and wheels, there are also recipes for dips, fondues, spreads, shakes, and even slices. Claudia has also included basic fermentation instructions, a few cultured and aged cheese, and recipes for cheese accompaniments.
If you want to learn to make vegan cheeses at home, One-Hour Dairy-Free Cheese is an absolute must-have!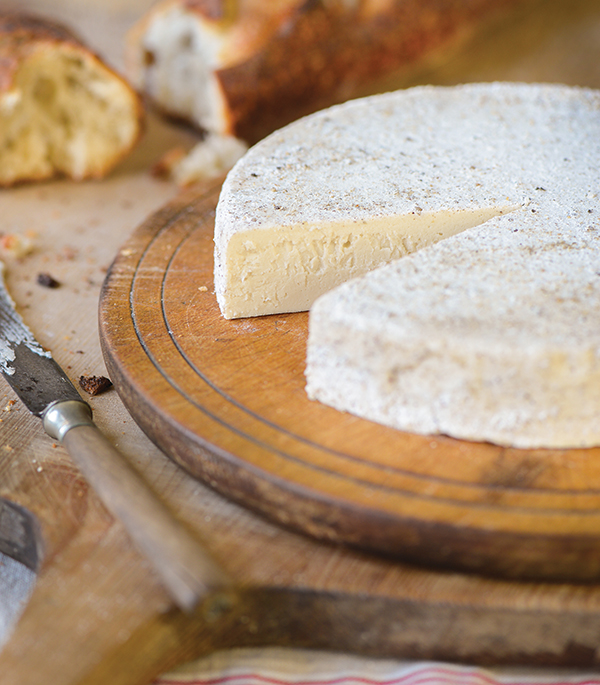 Black and White Truffled Brie
Brie is a cheese that can be so mild and firm that even children like it despite the mushroom-like flavor and the white mold that gives it its velvety rind. If aged for long enough, it can also be very funky and downright runny—the mold works its magic all the way inside the wheel. With this dairy-free version, we find a balance by using aromatic black truffle salt and white truffle oil in order to enjoy that earthy flavor that aging and mold create. We never age this Brie, but we can make it taste and even look as tempting and inviting as the real thing. Truffles can be an acquired taste, so feel free to explore the variations if your palate prefers an alternative! Note: Leave the agar powder out completely for a delicious melty version of this cheese.
Recipe type:
Dairy-Free Cheese
Ingredients
¾ cup raw or roasted cashews (soaked for 8 to 12 hours or boiled for 20 minutes and drained) or the Substitution of your choice
1 cup water or unsweetened dairy-free yogurt of your choice
¼ cup mashed yellow potato, peeled before cooking
2 tablespoons plus 2 teaspoons tapioca starch or the Substitution, plus 1 tablespoon for rind
¼ cup refined coconut oil
1 teaspoon black truffle salt, plus more to taste
1 teaspoon tahini paste
1 teaspoon nutritional yeast or the Substitution of your choice
¼ teaspoon lactic acid
¼ teaspoon Dijon mustard
¼ teaspoon white truffle oil (1/2 teaspoon if it's in olive oil)
¼ teaspoon white pepper, for rind
1 tablespoon plus 1 teaspoon agar powder*
½ cup water, for agar mixture (omit if using quick-set agar)
Instructions
Combine the cashews, 1 cup water, the mashed potato, 2 tablespoons plus 2 teaspoons tapioca starch, the coconut oil, black truffle salt, tahini paste, yeast, lactic acid, mustard, and truffle oil in a strong blender or food processor to make Brie "milk."
Blend the ingredients on low and gradually increase to top speed until the mixture is completely smooth. Depending on your machine, this could take 1 minute to 6 minutes. (Stop every minute or so to scrape down the side of the container if needed.)
If you are using quick-set agar powder, add it to the blender without extra water and blend until smooth, then skip to step 6. Otherwise, place the agar powder in a medium-size pot or pan. Use a fork to whisk the ½ cup water into the agar. Let the mixture sit for 1 minute. The agar may thicken a little.
Vigorously stir the mixture over medium heat for 5 minutes. The powder will dissolve completely, and the mixture should bubble, boil, and froth a little. When it thickens to look like dense and slightly glossy applesauce, it's ready.
Quickly and very carefully scrape the agar mixture into the full blender before it solidifies. Use caution! Hot agar is painful and difficult to remove if it drips on your skin. Blend the mixture until thoroughly combined, about 1 minute. Pour the cheese mixture into a clean pot or pan. Stir it frequently over medium heat as the mixture simmers and starts to change from thin to lumpy.
Stir the mixture continuously in order to eliminate the lumps and create a smooth texture. It will thicken dramatically as it heats. Stir, fold, and knead for 5 to 7 minutes to fully activate the agar powder and cook the tapioca.
Lower the heat if you feel any sticking in the pan or if the blend "spits" too much. Turn off the heat when the Brie is shiny and coats the spoon thickly—you may even see stretchy strings.
Pour the hot Brie into the form or container and allow it to cool, uncovered, in the refrigerator. It should firm up in about 30 minutes, depending on the brand and strength of the agar powder. (Note: You can speed up the cooling process with 15 to 20 minutes in the freezer—just don't forget it there!)
Once the cheese is firm, use a silicone scraper, if needed, to gently remove the Brie from the form.
Spread the remaining 1 tablespoon tapioca and the white pepper on your work surface and blend evenly.
Very gently roll the Brie wheel (it is tender), covering the top and sides. When covered, it will look powdery smooth, just like Brie. Pat off the excess powder. It's ready to plate and serve!
Store your Brie in a dry, covered container in the refrigerator. It will remain most firm in the first 2 days but is good for about 1 week.
Notes
EQUIPMENT
Strong blender or food processor
Measuring cups and spoons
Sturdy wooden spoon
Silicone scraper (optional but useful)
Medium-size pot or pan (for non-quick-set agar)
Nonstick pan or heavy-bottomed stainless-steel pot, 2-quart capacity
Heat-resistant form (4-inch metal springform pan works great) or storage container with lid
Clean work surface, like a cutting board or parchment paper
SUBSTITUTIONSfor the Cashews (choose one):
1/2 cup blanched almond flour, no skins (not almond meal)
3/4 cup blanched almond slivers (soaked for 8 to 12 hours or boiled for 20 minutes, drained)
3/4 cup raw or roasted macadamia nuts (soaked for 8 to 12 hours or boiled for 20 minutes, drained)
3/4 cup raw sunflower seeds (soaked for 8 to 12 hours or boiled for 20 minutes, drained)
Not as dense and rich, but still very tasty:
1 cup cooked, drained white beans (cannellini, navy, or Great Northern)
1 cup soft-cooked, well-drained cauliflower or zucchini, plus 1 additional tablespoon tapioca starch
for the Tapioca Starch:
2 tablespoons plus 2 teaspoons arrowroot powder, and 1 tablespoon for rind
for the Nutritional Yeast (choose one):
1 teaspoon tahini paste
1 teaspoon coconut aminos,
1 teaspoon mild miso paste (preferably chickpea-based)
VARIATIONSBlack Garlic Brie
Omit the black truffle salt and white truffle oil. In step 1, add to the blender:
2 cloves black garlic, 1 teaspoon fine sea salt, plus more to taste
Porcini Pepper Camembert
Omit the black truffle salt and white truffle oil. In step 1, add to the blender:
1/4 teaspoon porcini mushroom powder, 1 teaspoon fine sea salt, plus more to taste
Sprinkle on the bottom of the form:
1 teaspoon coarsely ground black pepper
Excerpted from One-Hour Dairy-Free Cheese: Make Mozzarella, Cheddar, Feta, and Brie-Style Cheeses—Using Nuts, Seeds, and Vegetables
by Claudia Lucero (Workman Publishing). Copyright © 2019. Photographs by Matthew Benson.