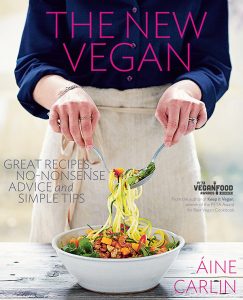 I've been vegan for well over a decade. The switch was a little a difficult at times, but I got through it. After reading The New Vegan, I wish I had had Áine Carlin by my side all of those years ago!
As the title suggests, The New Vegan is geared towards new vegans. In it, Áine shares her own vegan journey and gives reasons why others should consider taking the plunge. She shares helpful tips along with no-nonsense, practical advice. She discusses just about everything a new vegan might need help with, such as what to when eating out, how to discuss your new-found veganism with others, and veganizing your wardrobe.
The New Vegan is full of mouthwatering recipes that will help you answer the question, "Now that I'm vegan, what do I eat?" You won't miss the meat with dishes like Queso-less Quesadillas, Jerk-marinated Cauliflower Steaks, and Baked Falafel Burgers. The recipes are easy to make, and they use easy to find ingredients. And they're delicious, too! Since dairy products can often be the most difficult to give up, Áine has included recipes for homemade plant milks, dairy-free creams, and cheeses. There's even a chapter full of recipes for homemade beauty products, for those who want to make simple cruelty-free skin care scrubs and lotions at home.
The book's chapters include:
Good Mornings
Snacks and Lunches
Easy Meals
Special Meals
Sweet Stuff
Vegan Beauty
The New Vegan is perfect for anyone who is new to cruelty-free living, those who want to eat more healthfully, or anyone who wants to add a new book of delicious recipes to their libraries.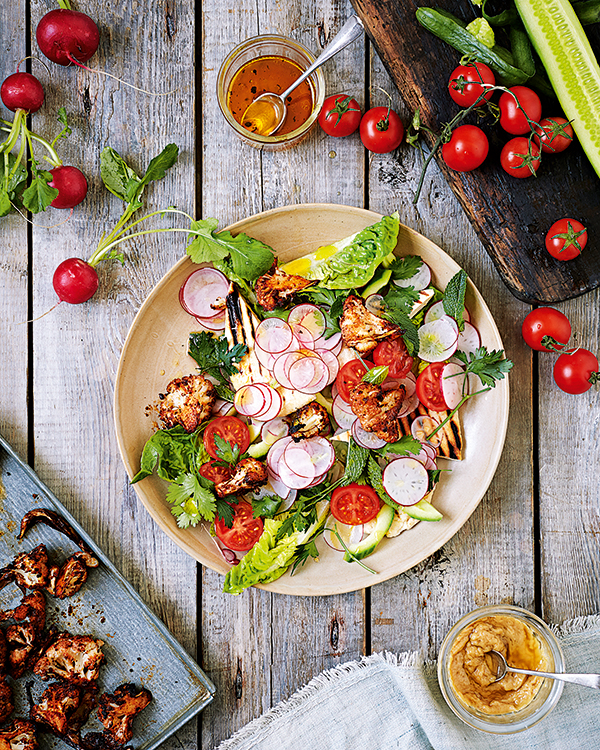 Roasted Cauliflower Fattoush
Salads don't have to be dull and boring. All they need is a little tender loving care (and perhaps the odd dash of spice) to really bring them to life. Here, I'm talking "in yer face" roasted cauliflower florets paired with toasted pita pieces and a creamy tahini dressing that will end your limp leaf memories and catapult you into what I've dubbed "21st Century Eating." That's where we have our cake (or in this case,salad) and eat it… flavor, texture, and freshness combined—there's very little not to like about this recipe. So much so, I'd happily serve it for lunch, dinner, and even at parties—it never fails to get a bounty of enthusiastic "mmms" and "wows." Now, when's the last time you heard that said about a salad?
Ingredients
small cauliflower, broken into small florets
1 little gem lettuce
5 to 6 cherry tomatoes, halved
1⁄3 large cucumber, peeled, seeded, and cut into half moons
5 to 6 radishes, coarsely chopped
2 pitas, toasted
2 tablespoons fresh flat-leaf parsley
2 tablespoons fresh cilantro
1 tablespoon fresh mint
sea salt and freshly ground black
pepper
FOR THE CAULIFLOWER MARINADE:
1 teaspoon smoked paprika, plus extra to serve
1 teaspoon ground cumin
½ teaspoon ground cinnamon
½ teaspoon chile powder
½ teaspoon allspice
pinch of cayenne pepper
juice of . lime
1 teaspoon agave nectar
½ tablespoon olive oil
FOR THE CHILE SALAD DRESSING:
1 teaspoon chile paste from a jar (eg. sambal oelek)
1 tablespoon red wine vinegar
1 teaspoon agave nectar
juice of ½ lime
3 tablespoons olive oil
FOR THE TAHINI DRESSING:
3 tablespoons hummus
2 tablespoons tahini
1 teaspoon agave nectar
juice of ½ lime
Instructions
Preheat the oven to 400°F. Place the cauliflower florets in a baking dish. Whisk the marinade ingredients together, along with some seasoning, to form a smooth paste and pour over the cauliflower florets. Toss together until everything is coated and bake for about 45 minutes or until nicely browned.
Put the lettuce, tomatoes, cucumber, and radishes in a large bowl. Whisk the chile dressing ingredients together and pour about one-third over the salad. Mix together.
Lightly toast or grill the pitas and cut into triangular bite-sized pieces. Drizzle over about onethird of the chile dressing and add to the salad bowl.
Finely chop the parsley, cilantro, and mint together on a clean cutting board and sprinkle two thirds over the salad bowl ingredients. Gently mix.
Whisk the tahini sauce ingredients together with ¼ cup water until smooth, adding more water if necessary.
Remove the roasted cauliflower from the oven and lightly season with some sea salt. Add to the salad and gently toss. Serve in a bowl, drizzle with the tahini dressing and a smattering of smoked paprika, and garnish with the remaining parsley, cilantro, and mint.
Notes
Recipe from
The New Vegan
by Aine Carlin. Published by Kyle Books. Photography by Nassima Rothacker.