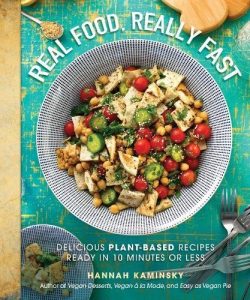 As a food blogger, my meals can sometimes be elaborate, with plates of full of veggie-filled paella or homemade polenta lasagna. But there are other times when I don't want to spend lots of time in the kitchen, so dinner might be boxed mac and cheese with some pre-cut broccoli thrown in. Thankfully, I now have Hannah Kaminsky's wonderful new book Real Food, Really Fast for those days when I want a quick dinner. No more boxed foods for me!
As you might have guessed from the name, Real Food, Really Fast is loaded with recipes that are ready super quickly. In fact, they're all ready in 10 minutes or less! These meals are much tastier and much more healthful than anything you could order from a take-out restaurant. And they're ready way faster than a delivery guy could get to your house with a pizza or Chinese food.
In addition to their speedy cook time, these recipes use easy-to-find ingredients that won't break the bank. Most of the ingredients are staples that you probably already have on hand in your pantry anyway. In the case of the Cashew Scampi that I made recently, the only thing I didn't have on hand was parsley, and that's because I had just cleaned out the fridge and thrown away the wilted remains of a bunch that was hanging out in the produce drawer.
If you're new to vegan cooking, this book will help you get the hang of things. Hannah offers lots of cooking advice, and she includes lists of pantry and kitchen essentials. She includes tips on how to cook meals quickly, too.
Chapters in Real Food, Really Fast include:
Warp-Speed Secrets and Fast Fundamentals
Essential Equipment
Ingredient Glossary
Conversions and Equivalents
Breakfast
Snacks and Apps
Salads
Soups
Sides
Entrées
Desserts and Sweets
Real Food, Really Fast is a gorgeous hardcover book filled with Hannah's own photography. It is a must have for busy days when it seems like there isn't enough time to make dinner. It's also perfect for lazy days when spending a lot of time in the kitchen is the last thing you want to do. It's a terrific book for those who are new to vegan cooking and are feeling a little overwhelmed in the kitchen. It's great for seasoned vegans who are looking for quick meals, too.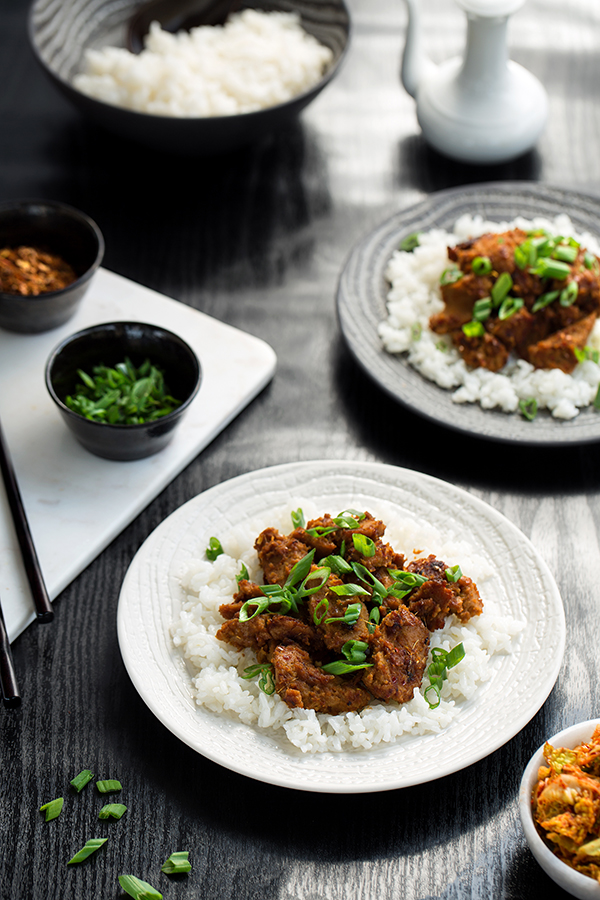 Seitan Bulgogi
Author:
Sizzling violently upon a cast iron platter, the best bulgogi is an all-out assault on the senses. It speaks loudly, crackling and radiating with heat, taking on an eerily life-like quality as steam envelops the dish. Pungent, breathing fiery aroma from a mile away, you'll know it's coming long before it hits the table. This arresting experience is typically the result of hours of marinating, but slicing seitan very thinly allows you to accelerate through the prep work and cut right to the show. Bring the fire to sear the "meat" over the hottest flame you can tolerate without burning down the house, and your risk will be rewarded tenfold. The crispy bits around the edges are the best parts, which will be in no shortage thanks to the extreme heat and blazingly fast cook time.
Ingredients
1 Ripe Pear, Peeled, Cored, and Diced
2 Cloves Garlic, Finely Minced
1 Tablespoon Minced Fresh Ginger
1/4 Cup Soy sauce
1 Tablespoon Rice Vinegar
2 Teaspoons Gochugaru (Korean Hot Pepper Flakes) or 1–1 1/2 Teaspoons Crushed Red Pepper Flakes
1 Tablespoon Toasted Sesame Oil
1 Pound Seitan, Thinly Sliced
3 Scallions, Thinly Sliced
Instructions
Create the marinade by simply tossing the pear, garlic, ginger, soy sauce, vinegar, and pepper flakes into your blender and thoroughly puree. Pause to scrape down the sides of the container if needed to combine all the ingredients. It's perfectly fine if it's not entirely smooth, since a bit of texture won't hurt here. You just want a well-combined sauce that can coat the seitan nicely.
Meanwhile, set a large cast iron pan or skillet on the stove and crank up the heat to high. Add in the oil and wait for it to shimmer, getting it very hot but just shy of smoking. Introduce the plain seitan first, mixing slowly but constantly, flipping the pieces to make sure they all get an equal amount of time in full contact with the bottom of the pan. Sautee until nicely browned all over; 3–4 minutes.
Smother the seitan with the blended sauce, pouring the mixture into the pan in one big sizzling addition, tossing to completely coat all the pieces. Be sure to scrape the sides and bottom of the pan as it sears to prevent anything from sticking and burning. Continue to cook for about 4–5 minutes, until highly aromatic and crispy around the edges.
Transfer to a serving platter, top with scallions, and serve over rice, in lettuce wraps, or alongside sliced cucumbers.
Notes
Reprinted with permission from [i][url href="http://amzn.to/2FATTeQ" target="_blank" rel="nofollow"]Real Food, Really Fast[/url][/i] by Hannah Kaminsky
Review reprinted from Dianne's Vegan Kitchen with permission.