The world was a very different place for vegans in 2007. Most restaurants were not even close to being vegan friendly, the only dairy-free vegan cheese on the market resembled a large crayon, and coffee shop baristas wouldn't even know what you were talking about if you asked for almond milk in your coffee. Vegan recipes could be difficult to come by, too. There were only a couple of vegan blogs online and the shelves at Barnes and Nobel only housed a few vegan cookbooks. And then, Isa Chandra Moskowitz and Terry Hope Romero came to the rescue of vegans who afraid of being doomed to a future of tasteless tofu burgers and limp iceberg lettuce salad with their cookbook Veganomicon.
With than 250 recipes, Veganomicon was an absolute masterpiece of deliciousness. The recipes were creative and flavorful, and the book was chock-full of cooking tips and tricks. Isa and Terry both have a great sense of humor, which shines through in their writing and makes cooking their recipes that much more fun.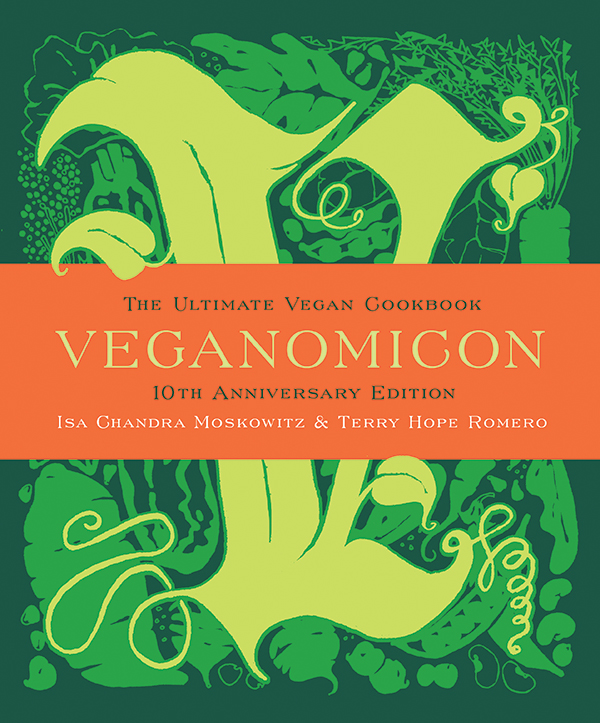 Veganomicon
Veganomicon was given to me as a secret Santa gift by one of my coworkers at time (thank you, Vanessa!), and I dug in with gusto as soon as the office Christmas party was over. I was soon whipping up batches of Pineapple-Cashew-Quinoa Stir-Fry, making my own Chickpea Cutlets, and serving up cozy bowls of cheesy Mac Daddy.
The vegan world has changed a lot in the past ten years. It's easy to find vegan options when dining out, delicious dairy-free cheeses abound, and most coffee shops have several plant-based milks to choose from. Vegan blogs abound, and my Ikea Billy bookcases are beginning to buckle under the weight of my vast vegan cookbook collection, most of which are beautifully designed and full of mouthwatering photography. Veganomicon has changed, too. Isa and Terry have just released a shiny, new, revised and updated 10th anniversary edition, and they've someone managed to make it even better than the first.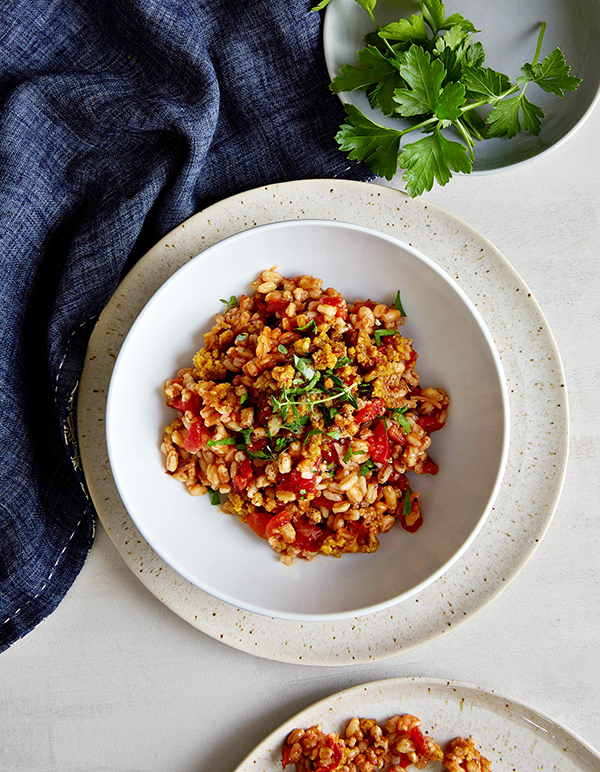 10th Anniversary Edition
Veganomicon, 10th Anniversary Edition: The Ultimate Vegan Cookbook contains all of my favorites from the original book, including Chile Cornmeal Crusted Po' Boy sandwiches, Snobby Joes, Pumpkin Baked Ziti with Caramelized Onions and Sage Crumb Topping, and Smlove Pie. It has 25 new recipes that reflect current food trends, too, such the Kale Tahini Caesar Salad and Little Maple Breakfast Sausages. The book's pages have been given a makeover with a beautiful, clean layout and gorgeous, drool-worthy photography.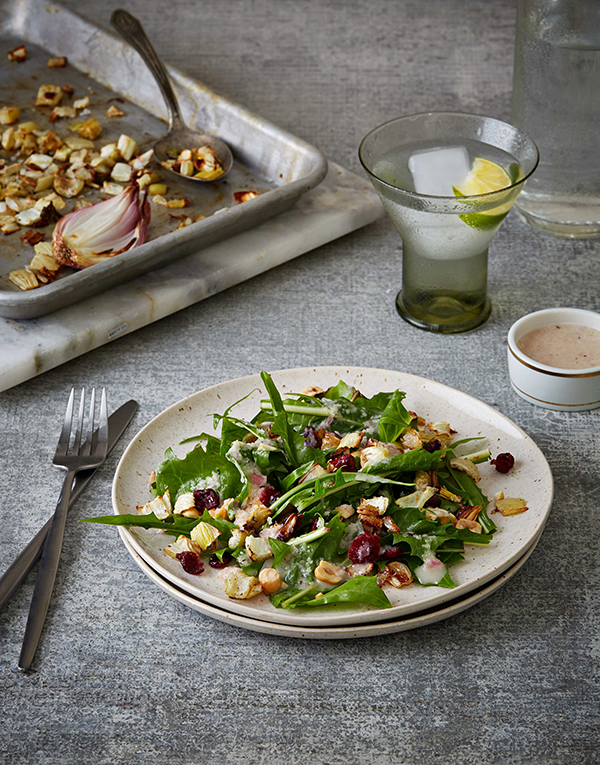 Veganomicon, 10th Anniversary Edition is full of handy information, including lists of foods to keep stocked in your pantry and kitchen equipment. Cooking terminology is explained, knife skill tips are given, and there's even advice for keeping your cutting board from slipping. With a plethora of information on how to cook various vegetables, beans, and grains, this book is indispensible in the kitchen.
I'm looking forward to making my old standbys and discovering new favorites in Veganomicon, 10th Anniversary Edition.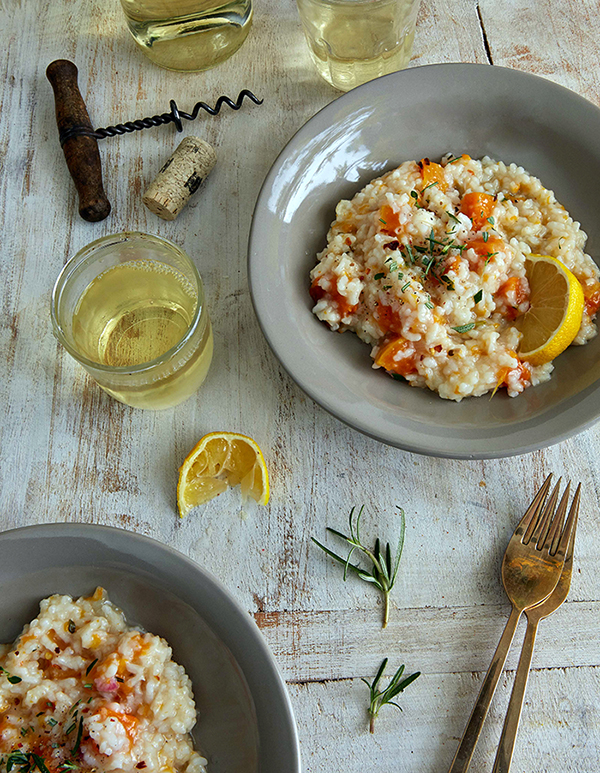 Savory Butternut Risotto From Veganomicon, 10th Anniversary Edition
This is creaminess three ways. First, the natural starches in Arborio rice, locking in all of the amazing flavors of shallot and garlic. Then, the squash itself, a little sweet, delicate, and earthy. And lastly, the cashew cream, rich and decadent. The wine and thyme bring out the savory nuance of the but- ternut, and you know what, risotto doesn't have to be difficult. Everything is pretty simple, but still really special. Like you.
Author:
Isa Chandra Moskowitz and Terry Hope Romero
Ingredients
½ cup raw cashews, soaked for at least 2 hours, or boiled for 20 minutes
3 pounds butternut squash
2 tablespoons olive oil, plus more for baking sheet
1 cup thinly sliced shallot
10 cloves garlic, sliced thinly
2 tablespoons chopped fresh thyme
1 tablespoon chopped fresh rosemary
½ teaspoon red pepper flakes
11/2 cups Arborio rice
⅓ cup dry white cooking wine
½ teaspoon salt
6 to 7 cups warm vegetable broth
½ teaspoon freshly grated nutmeg
2 tablespoons fresh lemon juice
Instructions
First prepare the squash: Preheat the oven to 425°F. Cut the long part off of the round part and slice in half lengthwise. Now, cut the round part in half lengthwise and remove the seeds with a tablespoon. Line a rimmed baking sheet, lightly oil, and place the squash on it, cut side down. Bake for about 35 minutes, or until easily pierced with a fork, but not completely mushy. Remove from the oven and let cool to the touch. Once cooled, peel off the skin and chop the pumpkin into bite-sized pieces.
While the squash is cooking, make the cashew cream: Drain the cashews and place in a blender with 1 cup of the vegetable broth. Puree until smooth.
In the meantime, start the risotto: Preheat a heavy-bottomed pot over medium heat. Sauté the shallot, garlic, thyme, rosemary, and red pepper flakes in the oil for about 7 minutes, stirring often so that it doesn't burn. A slanted wooden spoon is the perfect tool for stirring. Add the rice and stir to coat with the oil. Add the wine to deglaze the pot, then add the first cup of warm vegetable broth along with the salt. Stir until most of the water is absorbed. You don't have to stir the entire time, just as frequently as you can.
Continue adding veggie broth by the cupful, then stirring a few more times, until only a cup of broth is left. It should take about 45 minutes, and by this point your squash should be ready to add. When you're at the last cup, add the prepared squash. When most of the liquid has absorbed, add the nutmeg and lemon juice. Stir in the cashew cream. Cook for about 5 more minutes, stirring occasionally. Taste and adjust the salt.
It's now ready to serve!
Notes
Tip:
If you'd like to add some crunch (and protein) to this risotto, roasted pumpkin seeds, toasted wal- nuts, or pine nuts would all be good choices. For some green, how about roasted Brussels sprouts or broccoli? You can roast them in the oven with the squash for about 15 minutes.
Excerpted from
Veganomicon, 10th Anniversary Edition: The Ultimate Vegan Cookbook
by Isa Chandra Moskowitz and Terry Hope Romero. Copyright © 2017. Available from Da Capo Lifelong Books, an imprint of Perseus Books, LLC, a subsidiary of Hachette Book Group, Inc.