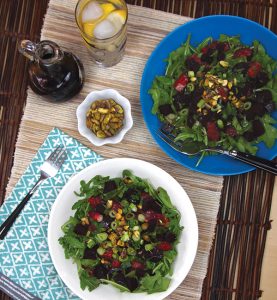 The Office ended its nine year run in 2013, and I stuck with it to the bitter end. I felt a special connection to the show, as I was the art director for a paper company for six and a half years. We sold scrapbooking supplies and stationery rather than copier paper, but there were enough similarities to keep me and my coworkers amused.
I went to a viewing party for The Office finale at a friend's house, and everyone made a special dish to commemorate the show and to commiserate its end. Some menu ideas that came up were: Jan's Three-Hour Osso Buco; Shove It Down Your Gullet Hot Dogs; Kevin's On-The-Floor Chili; and, of course, a stapler encased in Jell-O for dessert. While this Roasted Beet and Citrus Salad isn't exactly taken from an episode of The Office, I made it as an homage to Dwight's beloved beet farm.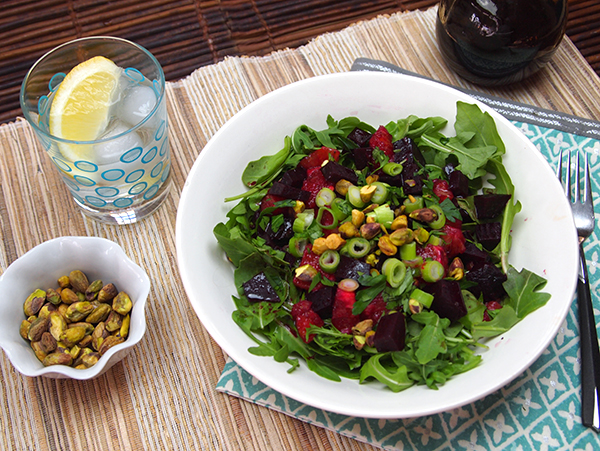 Shrute Farms–Inspired Roasted Beet and Citrus Salad
Makes 2 to 4 servings 
For the Beets
8 medium beets
1 tablespoon extra-virgin olive oil
1/2 teaspoon sea salt
4 medium oranges
For the Salad
1/4 cup orange juice 1⁄4 cup lime juice
2 tablespoons balsamic vinegar
1/4 cup olive oil
Salt and freshly ground black pepper
For Serving
6 cups arugula
2 scallions, thinly sliced
1/2 cup toasted pistachios, chopped
1/2 cup fresh parsley leaves
Make the Beets
Preheat your oven to 375°F. Line a baking sheet with parchment paper. Scrub the beets and pat them dry. Rub them with 1 tablespoon of the olive oil, and sprinkle with sea salt. Place on the baking sheet and bake for about an hour, or until they are tender when pierced with a knife. Set aside and allow to cool.
Peel the beets (the skin should peel or rub off pretty easily) and then slice into 1/2 to 1-inch cubes. Supreme the oranges by trimming the tops and bottoms off the oranges and then carving off the peels and white pith. Carefully slice the orange segments away from the membrane, cutting as close as possible to avoid wasting too much of the orange. Cut the slices into 1/2 to 1-inch pieces.
Make the Salad
Add the orange juice, lime juice, and vinegar to a large bowl and mix together. Slowly add the olive oil to the bowl while whisking the mixture. Add beets to the bowl, toss to coat, and season with salt and pepper to taste. Gently fold in the orange slices. Cover the bowl and let sit for about an hour to allow the flavors to mingle.
When ready to serve, toss the arugula into a bowl along with the dressed beets and oranges. Top with the scallions, pistachios, and parsley.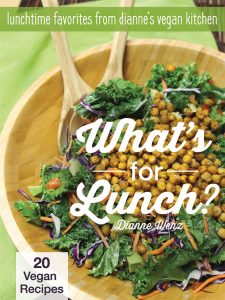 Recipe reprinted with permission from  What's for Lunch? Lunchtime Favorites from Dianne's Vegan Kitchen. ©2016 Dianne Wenz. Download your copy of the e-book here: http://www.diannesvegankitchen.com/cookbooks/