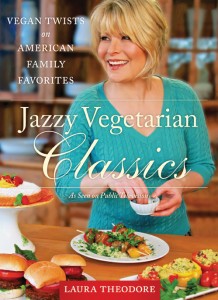 Laura Theodore's new cookbook Jazzy Vegetarian Classics: Vegan Twists on American Family Favorites hits bookshelves today. With quick-to-prepare and gourmet-style dishes, Jazzy Vegetarian Classics features Laura's original creations, such as vegan shish kebabs and cauliflower steaks with sweet pepper sauce, and other spins on time-honored favorites, such as spaghetti and "wheatballs" and decadent chocolate-ganache cake. Along with almost 200 more nutritionally dense, plant-based recipes, this cookbook is full of easy-to-follow crowd-pleasers.
Laura was kind enough to share her favorite recipes from the book with us. Come back to Chic Vegan tomorrow for my interview with her, and then tune in to her Jazzy Vegetarian Radio Show at 1:00pm EST to hear Laura interview me!
Spaghetti and Wheatballs
Makes 3 to 4 servings (12 to 14 wheatballs)
Easy enough to make for a special weeknight meal, but fancy enough to serve when hosting a casual dinner party, this dish will become a staple in your house.
Ingredients:
1⅓ cups lightly packed, fresh, soft whole-grain bread crumbs (from about 3 to 4 large slices) (see note)
1 teaspoon Italian seasoning
½ teaspoon garlic powder
⅛ teaspoon sea salt
½ cup chopped walnuts
2 cups chopped mushrooms
½ cup diced onion
¾ pound organic spaghetti (see note)
3 cups prepared vegan marinara sauce or your own homemade sauce
Chef's Note:
To make fresh bread crumbs, put 3 to 4 slices of wholegrain bread in a blender and process into coarse crumbs. Gluten-free option: You may use your favorite gluten-free pasta in this recipe. The wheatballs make a sensational base for a terrific hero-style sandwich too!
Preparation:
Preheat the oven to 350 degrees F. Line a medium baking pan with unbleached parchment paper.
Put the bread crumbs, Italian seasoning, garlic powder, and salt in a large bowl. Put the walnuts in a blender, and pulse to process into coarse crumbs. Add the walnuts to the bread crumbs and stir gently to incorporate.
Put the mushrooms and onion in a blender, and process to a chunky purée. Add the mushroom mixture to the walnut–bread crumb mixture and stir to incorporate. Spoon out about 1½ tablespoons of the mushroom mixture and roll it into a ball. Continue in this way with the remaining mushroom mixture. Arrange the wheatballs on the lined baking pan. Bake for 25 to 30 minutes. Gently rotate each wheatball and bake for 12 to 16 minutes more, or until they are crisp and golden.
Bring a large pot of salted water to a boil. Add the spaghetti and cook, stirring occasionally, until tender but firm. Drain the spaghetti well.
Meanwhile, pour the marinara sauce in a medium sauce pan. Bring the sauce to a simmer over medium-low heat. Gently add the wheatballs to the sauce, one at a time, cover, and simmer for 7 to 10 minutes.
To serve, put one-quarter of the spaghetti into each of four pasta bowls, and top with three or four wheatballs. Ladle marinara sauce over the top and serve immediately.
Caesar Salad, Jazzy-Style
Makes 4 to 6 servings
This vegan version of a traditional favorite adds a classic flair to any meal. Freshly prepared croutons add a real punch and tofu imparts a creamy consistency to the delightfully authentic-tasting dressing.
Ingredients:
12 cups lightly packed romaine lettuce, washed, dried, and cut into bite-size pieces
CROUTONS
5 to 6 slices very fresh whole-grain bread
1 teaspoon garlic powder
1 tablespoon Italian seasoning
Caesar Salad Dressing (recipe follows)
1 tablespoon Cashew Parmesan (recipe follows), plus more for serving (optional)
Preparation:
Cover and refrigerate the prepared lettuce to allow it to crisp up.
Preheat the oven to 400 degrees F. Line a large, rimmed baking sheet with unbleached parchment paper. Cut each slice of bread into nine equally sized pieces. Put the bread cubes and garlic powder into a medium bowl, and stir gently to evenly coat the bread cubes. Add the Italian seasoning, and stir to evenly coat. Spread the seasoned bread cubes in an even layer on the prepared baking sheet.
Bake for 12 to 15 minutes, turning once, until the bread cubes are golden and crisp. Put the baking sheet on a wire rack. Let the croutons cool for 5 to 10 minutes.
Place the dressing in a large bowl. Add lettuce and croutons. Toss well to thoroughly coat the lettuce and croutons with the dressing. Sprinkle with Cashew Parmesan (if using). Serve immediately with more optional Cashew Parmesan on the side.
Caesar Salad Dressing
Makes 4 to 6 servings
[Nut free, no oil] For years I yearned for a delicious vegan version of this classic dressing, and I was really jazzed when I came up with this delightful mix of easy ingredients. The capers stand in beautifully for anchovies and the tofu replaces the egg with ease. Deeeeee-lish!
Ingredients:
8 ounces firm regular tofu, drained
2 tablespoons freshly squeezed lemon juice
2 teaspoons capers, drained and rinsed
1 heaping teaspoon Dijon mustard
1 medium clove garlic
⅛ teaspoon sea salt
Freshly ground pepper, to taste
Preparation:
Put the tofu, lemon juice, capers, Dijon, garlic, and salt in a blender and process until smooth and creamy. If the mixture seems too thick, add a bit of filtered or spring water, 1 tablespoon at a time, to achieve the desired consistency. Add freshly ground pepper to taste.
Cashew Parmesan
Makes 15 servings
This cheese-less Parmesan imparts a creamy taste and realistic texture.
Ingredients:
½ cup raw cashews
¼ teaspoon sea salt or Himalayan pink salt, plus more as needed
Preparation:
Put the cashews and salt in a blender and process until the consistency of crumbled Parmesan cheese is achieved. Don't overprocess. Taste and add more salt, if desired. Store tightly covered in the refrigerator for up to 2 days.
Variation:
Cashew Lemon Parmesan:
Add 1 teaspoon of lemon zest. Proceed as directed.
Jazzy Vegetarian Classics; BenBella Books 2013