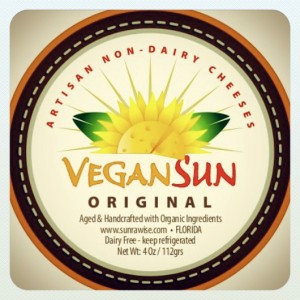 "I could never go vegan because I can't give up cheese."
How many times have we all heard that? Or even said it ourselves? I can understand. When I decided to go vegan, cheese was the last thing to go, and it was the hardest to give up. Back then there weren't any non-dairy cheeses on the market, unless you counted that one that tasted a little bit like crayons. (And unlike crayons, it didn't melt.) I think we're now entering the vegan cheese renaissance because we now have many tasty, cheesy, non-dairy options to choose from.
Even though it's been about 13 years since I've had dairy cheese, I still find myself wanting something cheesy from time to time, so when SunRAWise offered me samples of their cashew-based cheese to try, I jumped at the opportunity. This isn't your ordinary bagged, shredded pizza cheese – SunRAWise is artisanal raw nut cheese, the kind you slice and savor.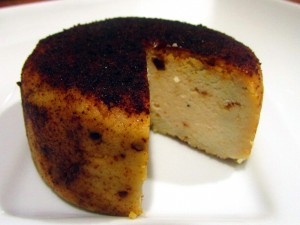 SunRAWise cheeses are made from scratch in North East Florida using finest organic and sustainable ingredients. They are made with raw cashews, pink Himalayan salt and fresh, organic herbs. Fillers, preservatives, chemicals, artificial coloring and artificial flavors are never used, and these cheeses are also free of corn, soy and GMOs. SunRAWise cheeses are handcrafted with a close attention to detail, and are fermented and aged naturally. And of course, they are 100% vegan.
SunRAWise cheeses come in seven different flavors: Original, Black Pepper, Italian Herb, Spiru-lean, Vegan Blue Vein, Smoke and Spicy, and Rosemary. I was lucky enough to get samples of Italian Herb, Spiru-lean, Smoke and Spicy and Rosemary. When I opened the first container, I was immediately taken aback by the smell. It wasn't a bad smell, but it was the distinctive scent of… well… cheese, minus that sour, curdled odor that can accompany dairy products. I started out with the a little nibble of Rosemary cheese, along with some of the Spiru-lean.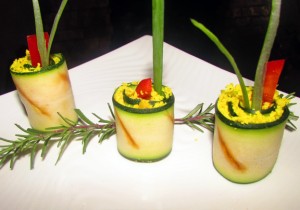 These are the type of cheeses that should be served with fancy crackers, fruit, olives, and wine, and what I had in the house just wasn't cutting it. I picked up some crackers at the grocery store and set about making myself a little snack plate alongside a glass of organic red wine. When I've bought gourmet nut cheeses in the past, my VeggieGuy hasn't liked them, which is fine, because it means more for me. When he saw me chowing down on my snack, he wanted to try a little taste, and to his surprise he really loved it. (Which meant less for me!)
SunRAWise cheese are semi hard, with a firm texture. They slice easily with a sharp knife or cheese cutter, but they will crumble if you use something on the dull side, like a butter knife. The crumbles taste great on salads, and all of the cheeses can be added to meals. (Check out the recipe page on the SunRAWise website.) All of the cheeses all have a mild, nutty flavor about them, but the added spices give them each their own unique taste.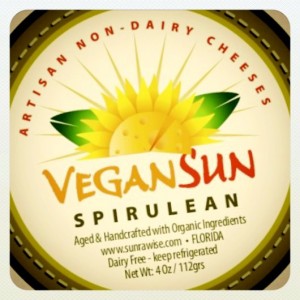 Spiru-lean cheese is made with, you guessed it, spirulina, which creates blue veins, similar to blue cheese. I've never actually had dairy based blue cheese, so I can't compare the taste, but this was my favorite of the four. (Picking a favorite was a really difficult – and tasty – task though.)
Italian Herb cheese is made with organic basil, thyme, rosemary, oregano and sage, and in addition to tasting great on crackers, it's quite tasty crumbled on top of a fresh salad.
Rosemary cheese is made with crushed organic rosemary and turmeric, which is quite a unique flavor combination. Turmeric gives this cheese a yellow hue, and also lends to its aromatic quality.
Smoke and Spicy is made with a blend of fresh and dried peppers, which gives this cheese a nice kick. This cheese is a little darker on the outside than it is on the inside, and is perfect for shredding over Mexican dishes.
Visit the SunRAWise website to purchase their delicious, artisan cheese. They might seem a bit pricey, but they're handmade with care, and they're worth it.