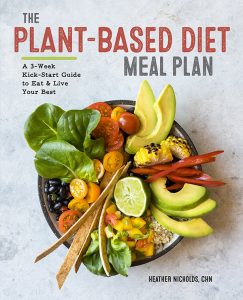 Switching to a vegan diet can be difficult. I made the transition over 16 years ago, and at first I found it difficult to cook without eggs and dairy. It's much easier to transition now, and Heather Nicholds just made things even easier still with her new book The Plant-Based Diet Meal Plan.
The Plant-Based Diet Meal Plan
This book is full of so much handy advice that I wish it had been around all those years ago when I changed my diet. Heather explains why a plant-based diet is beneficial and she includes info on health ailments that it can prevent and reverse. She also explains the different types of vegan foods, such as leafy greens, root vegetables, legumes, and whole grains. She includes a handy list of plant superfoods, as well as nutrition guidelines that will help you stay strong and focused.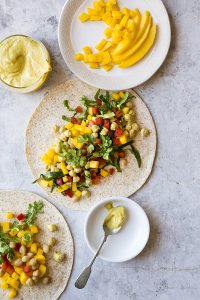 Heather is a Certified Holistic Nutritionist, and she's dedicated to making healthy plant-based meals accessible to everyone. I absolutely love her down-to-earth advice. She knows that being hyper focused on the health aspects of plant-based eating to the point of missing out on flavor isn't realistic for everyone. While oils and sugars are certainly not health food, Heather knows that a drizzle here or a pinch there can help in the enjoyment of vegetables, so the option of using them is included in her recipes.
Since this is The Plant-Based Diet Meal Plan, of course a meal plan is included! Heather's three-week plan includes recipes and shopping lists for everything you need to kick-start your plant-based journey. Heather sprinkles handy tips throughout the three weeks, too, such as how to handle problems digesting beans and creative ways to use leftovers.
Even if you've been vegan for years like I have, you'll enjoy the flavorful recipes in The Plant-Based Diet Meal Plan. These dishes are all easy to make, they're loaded with flavor, and they are filling, so you won't be hungry half an hour after mealtime. These are all dishes that omnivores will easily recognize, which makes the transition even easier.
Recipes chapters in The Plant-Based Diet Meal Plan include:
Smoothies and Breakfasts
Soups and Salads
Main Dishes
Snacks and Sides
Desserts
Homemade Basics, Sauces, and Condiments
Drinks
After three weeks on The Plant-Based Diet Meal Plan, you'll feel lighter, healthier, and energized!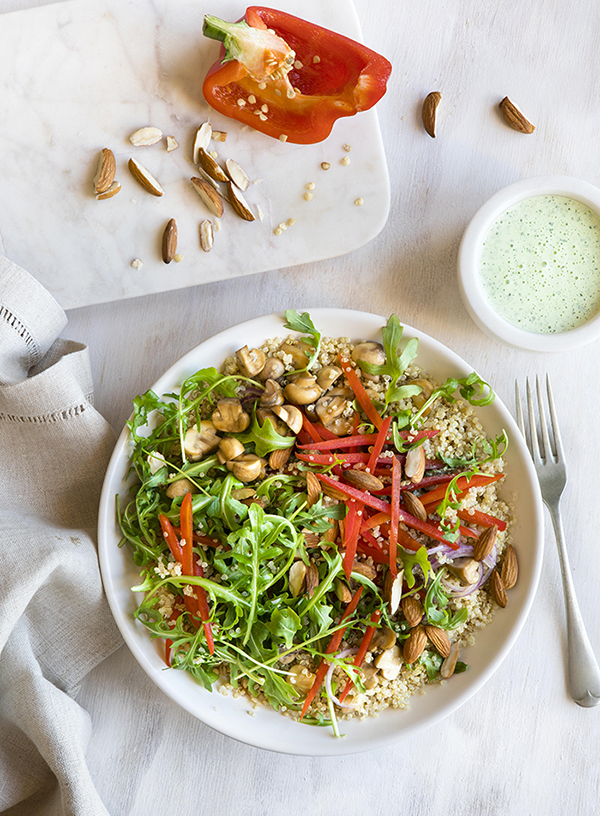 Miso-Coconut Dragon Bowl
Author:
This salty, creamy bowl is simple to make, and yet tasty and nutritious. It is oil-free, but the fat content of the coconut milk makes it satisfying. When choosing a coconut milk, the low-fat varieties are okay if you look for a can that lists only coconut, water, and guar gum as ingredients. Guar gum is a plant-derived soluble ber that helps thicken the coconut milk when some of the fat is ltered out.
Ingredients
[b]FOR THE BOWL[/b]
1 teaspoon coconut oil, or vegetable broth or water
1/2 red onion, thinly sliced
Pinch sea salt
1/2 cup brown mushrooms, sliced
1/2 cup cherry tomatoes, halved
[b]FOR THE DRESSING[/b]
2 tablespoons fresh mint, finely chopped
1/4 cup canned coconut milk
1 to 2 teaspoons miso paste
1 teaspoon coconut sugar, or maple syrup (optional)
[b]FOR SERVING[/b]
3/4 cup cooked quinoa, or millet,
brown rice, or any other whole grain
1 cup baby arugula, or spinach (if mature leaves, chopped)
1 tablespoon slivered almonds
Instructions
Heat the oil in a medium skillet over medium heat and lightly sauté the onion with the salt, about 5 minutes. Add the mushrooms, cooking until they're fully softened. Then add the cherry tomatoes and cook until just softened, about 10 minutes total.
Make the dressing by whisking or puréeing the mint, coconut milk, miso paste, and coconut sugar or maple syrup (if using) together in a medium bowl. Stir this into the cooked vegetables, then remove them from the heat.
Serve the cooked vegetables over the quinoa, with the arugula on top and the almonds to garnish.
Notes
[b]Options: [/b]You could use green or red curry paste instead of miso for a deli- cious curry bow[br][br]Recipe from [i][url href="http://amzn.to/2oNmszw" target="_blank" rel="nofollow"]The Plant-Based Diet Meal Plan[/url][/i] by Heather Nicholds. Reprinted with permission.
Review reprinted from Dianne's Vegan Kitchen with permission.
SaveSave