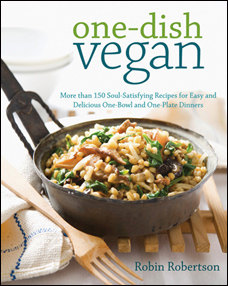 We're thrilled to be hosting cookbook author Robin Robertson on her One-Dish Vegan blog tour today! Robin is here to share her recipe for Frittata Puttanesca, and she's brought a copy of the book with her for one lucky winner to enjoy. You can enter the giveaway contest at the end of the post. Be sure to also visit Robin's blog, as she's posting a different recipe from her upcoming revised edition of Vegan Planet every day in November for World Vegan Month. 
Frittata Puttanesca
Gluten-free | Serves 4
The bold flavors of pasta puttanesca translate beautifully into this vegan frittata. It's great for brunch or dinner, either served on its own or accompanied by toasted Italian bread and a crisp green salad.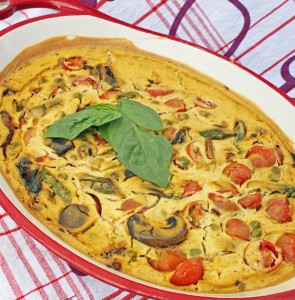 Ingredients:
1 pound firm tofu, well drained and blotted dry
3/4 cup vegetable broth
2 tablespoons dry white wine
1 tablespoon freshly squeezed lemon juice
1/4 cup nutritional yeast
1 tablespoon cornstarch or tapioca starch
1 teaspoon garlic powder
Salt and freshly ground black pepper
1/3 cup chopped reconstituted or oil-packed sun-dried tomatoes
1 tablespoon olive oil or 3 tablespoons water
5 scallions, minced
8 ounces white mushrooms, thinly sliced or chopped
1/2 teaspoon dried thyme
1/2 teaspoon dried basil
1/3 cup pitted kalamata olives, halved
1/3 cup pitted green olives, halved
1 tablespoon capers, chopped if large
1/2 cup shredded vegan mozzarella cheese (optional)
1 medium-size tomato, chopped
2 tablespoons chopped fresh basil or Italian parsley
Directions:
Preheat the oven to 375°F. Lightly oil a shallow 1 1/2‑quart baking dish.
In a food processor or high-speed blender, combine the tofu, broth, wine, lemon juice, nutritional yeast, cornstarch, garlic powder, and salt and pepper to taste. Add 1 tablespoon of the sun-dried tomatoes and process until smooth and well blended. Set aside.
Heat the oil or water in a large skillet over medium-high heat. Add the scallions, mushrooms, thyme, dried basil, and salt and pepper to taste, and cook for 3 to 4 minutes. Stir in the remaining sun-dried tomatoes, both kinds of olives, and the capers.
Spread the cooked vegetable mixture evenly in the bottom of the prepared baking dish. Add the reserved tofu mixture, stirring to combine all of the ingredients, then spread the mixture evenly. Sprinkle on the vegan cheese (if using) and tomato. Bake until firm, golden brown, and slightly puffed up, about 40 minutes. Sprinkle with the fresh basil, cut into wedges, and serve hot.
Recipe © 2013 by Robin Robertson and used by permission of The Harvard Common Press
Enter to win a copy of One-Dish Vegan by following the instructions below. Contest ends a midnight on Sunday, November 24th. US. residents only, please.