This nut-free Muesli Bars recipe from Incredible Plant-Based Desserts by Anthea Cheng are really easy to make, and they can be packed with whatever ingredients you like! These homemade snack bars can be enjoyed on the go, such as on a hiking trip.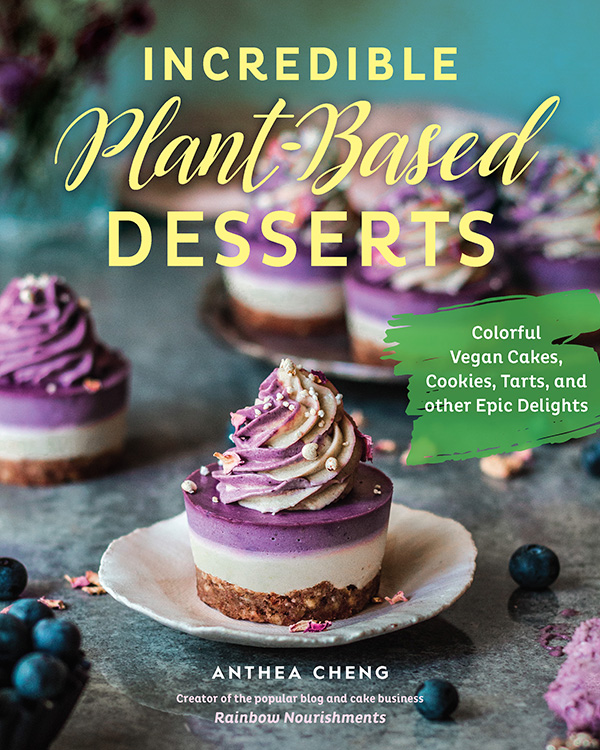 Vegan baking can be a little tricky. Many of us are used to using eggs, butter, and cows' milk to desserts, and once those ingredients are no longer an option, things can get a little difficult. Fortunately, Anthea Cheng is here to save the day with her new cookbook Incredible Plant-Based Desserts.
Incredible Plant-Based Desserts
Incredible Plant-Based Desserts is chock-full of recipes for mouth-wateringly indulgent vegan cakes, cookies, pies, tarts, bars, frozen treats and other scrumptious pastries and confections. You'll also find recipes for healthy breakfast dishes and wholesome snacks. And if you enjoy food photography, you're in for a treat, because the book is packed with Anthea's own drool-worthy photos.
Anthea starts the book with a list of handy equipment to have on hand for vegan baking. She's also included lists of ingredients for those who aren't sure what to use instead of eggs and dairy. Lists of natural sweeteners and gluten-free flours are also included.
The recipes in Incredible Plant-Based Desserts range from plant-based versions of classic desserts to creative and new confections. Veganized classics include Berry Chocolate Mousse Tart, Spelt Shortbread Cookies, Black Forest Cake, and Berry and Lemon Cheesecakes. Fun and unique desserts you won't find anywhere else include Rainbow Pear Chai Cake, Baklava Custard Tart, and Showstopper Tiramisu Trifle with Caramelized Popcorn.
Most of these treats are made with ingredients are easy to find just about anywhere, so you won't have to run around to different specialty shops and health food stores. Anthea also includes options for people avoiding gluten, refined sugar, nuts, and other common allergens.
Chapters in Incredible Plant-Based Desserts include:
Good Morning! Nourishing Breakfasts
Snack Time is Anytime!
Café-Style Treats at Home
Let's Share and Celebrate
Basic Condiments and Frostings
If you're new to vegan baking or if you're already a vegan baking pro and want to add some new and creative recipes to your collection, Incredible Plant-Based Desserts is the book for you!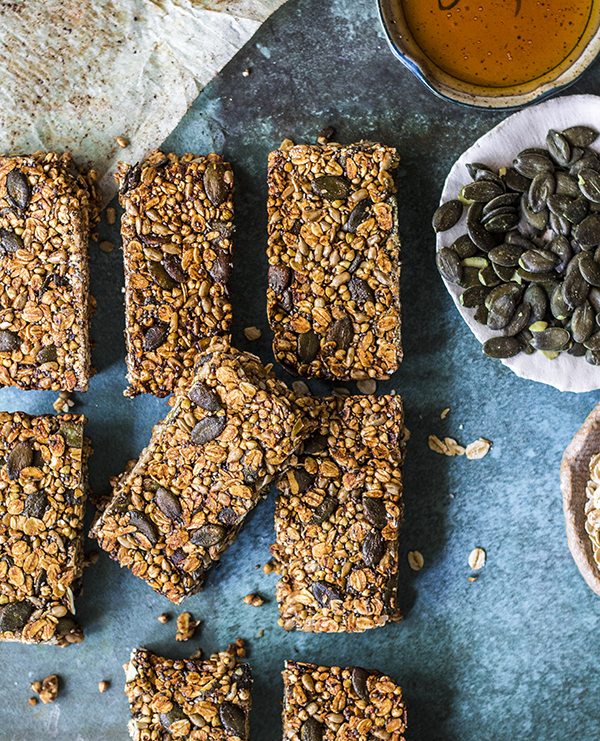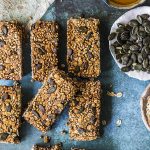 Super-Seedy Muesli Bars
These nut-free treats are really easy to make, and they can be packed with whatever ingredients you like! The dates are a wholesome natural sweetener, and when paired with a liquid sweetener, the dry ingredients stick together to form a slab of seedy goodness. These can be enjoyed on the go, such as on a hiking trip.
Ingredients
½

cup

(100 g) pitted dates, soaked in water for at least 4 hours

1

cup

(120 g) rolled oats

½

cup

(200 g) rice malt or maple syrup, or any other plant-based liquid sweetener

½

cup

(110 g) raw buckwheat

½

cup

(80 g) pumpkin seeds

½

cup

(55 g) sunflower seeds

½

cup

(around 10 g) puffed rice, quinoa, millet, or amaranth

2

tablespoons

(24 g) chia seeds

2

tablespoons

(30 g) sunflower seed butter

(optional)

1

teaspoon

cinnamon

(optional)

Pinch

of salt
Instructions
Preheat the oven to 320°F (160°C, or gas mark 3). Line an 8-inch (20-cm) square baking tin with baking paper.

Drain the dates. Blend with a stick blender or food processor until it forms a paste. Add all of ingredients to a medium-size mixing bowl and mix until everything is evenly combined. Scoop into the baking tin, and firmly press down the mixture with the back of a spoon or cake scraper.

Bake in the oven for 25 to 30 minutes, or until it turns golden brown. Let it completely cool in the baking tin.

Remove from the tin and use a sharp serrated knife or chef's knife to cut into bars. Use a gentle sawing action and hold in place to minimize any crumbling.

Enjoy immediately, or store in an airtight container at room temperature for 1 week, in the fridge for 2 weeks, or in the freezer for up to 2 months.
Recipe Notes
2019 Quarto Publishing Group USA Inc.
Text © 2019 Anthea Cheng
Photography Anthea Cheng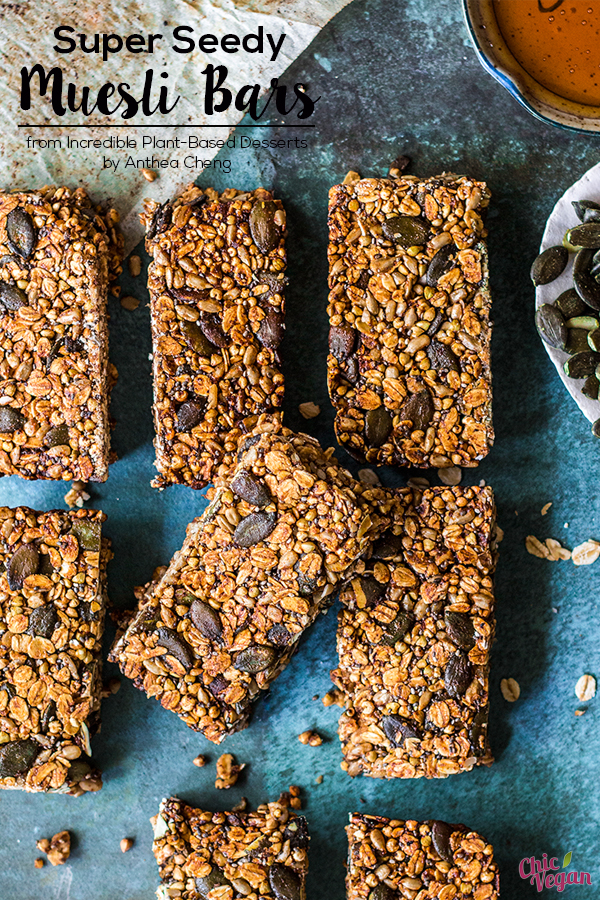 Photography by Anthea Cheng