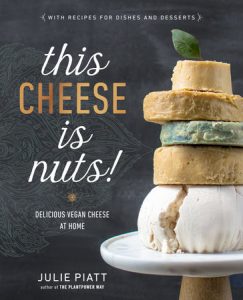 I was so excited about This Cheese Is Nuts! by Julie Piatt that as soon as it showed up in my mail box, I ran into the kitchen to soak raw almonds and cashews. After the nuts were settled into their water baths, I sat down on the sofa with a cup of tea and read the book from cover to cover.
I wish I could go back in time to when I decided to go vegan and tell myself that I wouldn't be giving up cheese forever. The initial shock of going cheese-less was a little tough, but I soon got over it. I did find myself missing the deliciously salty, fatty taste from time to time though. Thankfully now, not only do we have amazing vegan cheeses on the market, we also have This Cheese is Nuts!: Delicious Vegan Cheese at Home to show us how to make our own vegan cheeses with ease.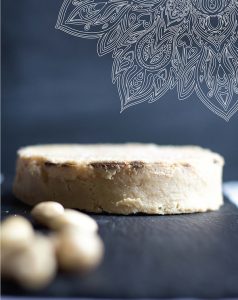 The recipes in This Cheese is Nuts! are made with – you guessed it – nuts. They're easy to follow, don't take much effort to make, and don't use too many ingredients. Some, like the Smoked Almond Cheddar and Botija Almond Rosemary Cheese Spread, are ready to go in just a matter of minutes. Others, such as Macadamia Nut Herbed Goat Cheese and Aged Cashew Truffle Cheese need some time in the dehydrator, but it's hands-off time, so you can go about your normal routine while you're making cheese.
You'll find vegan versions of all of your old favorites here, including a Cashew Bleu Cheese, a Cashew Brie, and three versions of Gorgonzola. There are also cheeses I don't remember eating before going vegan but definitely want to try now, including Burrata and Chicory Almond Cheesy Spread. Of course, recipes for classic cheeses such as parmesan, mozzarella, ricotta, sharp cheddar, smoked gouda, and provolone are included.
In addition to the cheeses themselves, there are recipes for dishes made with cheese, such as Mac and Cheese with Garlic Spinach, Lasagna with Garden Tomato Sauce, and Deep Classic Cheesecake. There are recipes for dairy-free staples, like sour cream, yogurt, and crème fraîche. There's also a chapter with nut-free cheese recipes, for those with food allergies.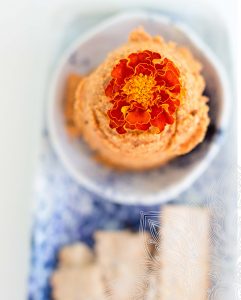 Chapters in This Cheese is Nuts! include:
Cheese Spreads & Sauces
Quick "Form" Cheeses
Aged & Multistep Cheeses
Dishes
Desserts
Nut-Free Cheeses and Spreads
Dairy-Free Staples
You might need some equipment in order to make some of these recipes. At the very least, you'll need a food processor or high-speed blender. If you want to get serious about making formed cheeses and aged cheeses, you'll need a cheese form and a dehydrator. Julie has lists of recommended equipment and pantry staples as well as technique tips, for those who are new to cheese making.
The first recipe I made in This Cheese is Nuts! was the Smoked Almond Cheddar Spread. I was anxious to begin making cheese, and it's a good starter recipe. I also made the Cashew Camembert, which was devoured immediately. Next, I made the Mac and Cheese With Garlic Spinach, which was pure comfort food. I have many more recipes bookmarked as well, and I know I'm going to be cooking my way through this book for a while.
If you want to make your own vegan cheeses at home, you need This Cheese is Nuts!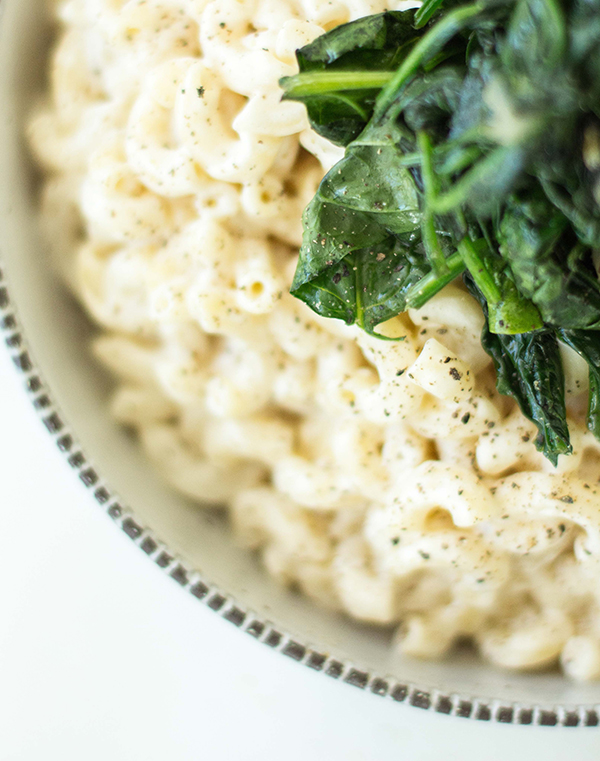 Mac and Cheese With Garlic Spinach
Garlic spinach brings life to this comfort food staple.
Ingredients
1 cup raw cashews
2 cups fresh spinach
1 tablespoon olive oil
½ shallot, sliced
1 garlic clove, minced
¼ cup chickpea miso paste
1 tablespoon fresh lemon juice
1 teaspoon Celtic sea salt, plus more as needed
½ teaspoon garlic powder
¼ teaspoon freshly ground black
pepper, plus more for a garnish
1 tablespoon nutritional yeast
1 package gluten-free pasta
Instructions
Place the cashews in filtered water in a small bowl. Cover and refrigerate overnight.
Wash the spinach in a salad spinner.
In a cast-iron skillet over medium heat, heat the olive oil. Add the shallot and brown. Add the garlic and stir with a wooden spoon. Add the spinach and sauté until it is wilted and infused with the garlic and onion.
Drain the cashews. In the pitcher of a Vitamix, place the cashews, miso, lemon juice, salt, garlic powder, pepper, nutritional yeast, and 1 cup boiling hot water.
Blend on medium speed for 2 minutes or until thickened and creamy. Adjust the seasonings to taste.
Bring a large pot of water to a boil over medium-high heat and cook the gluten-free pasta according to the package directions. Drain the pasta in a colander and rinse with hot water.
Transfer the pasta to a large serving dish. Pour the cashew cheese sauce over the pasta and mix thoroughly with a wooden spoon.
Arrange the spinach in a mound on top.
Season with pepper and a pinch of salt.
Photos by Leia Vita Marasovich
Book review reprinted with permission from Dianne's Vegan Kitchen.