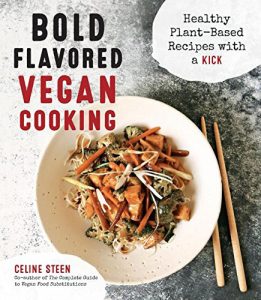 Who isn't a fan of bold, delicious flavor? Bold Flavored Vegan Cooking by Celine Steen is dedicated to using plant-based ingredients to create mouthwateringly flavorful dishes.
In Bold Flavored Vegan Cooking, Celine Steen shows how to add new levels of flavor to vegan dishes with the use of different ingredients such as spices, sauces, and pastes. Just a few sources of bold flavor used in these recipes include citrus, hot peppers, and pickled vegetables. She also explains what umami is (it's known as "the fifth taste"), and how to add it to your meals by including ingredients such as mushrooms, nutritional yeast, and miso. If you're not familiar with any of the ingredients, don't fret – she includes a glossary to explain what each one is.
Some of the ingredients that Celine uses frequently in Bold Flavored Vegan Cooking are ones that I always have on hand in my pantry. Others I've seen in stores and have been tempted to purchase, but since I haven't been totally sure on what to cook with them, I've been worried that they'd be exiled to the back of the cabinet and suffer the fate of being ignored until the next clean out when they'd get tossed in the trash. Now I know that I can pick up gochugaru (Korean red chile powder) or Aleppo pepper flakes and have recipes at the ready to use them in.
The recipes in Bold Flavored Vegan Cooking range from easy every-day recipes, such as Teriyaki Tempeh Tacos and Red Curry Scramble with Lime-y Broccoli, to those that take a little longer, like Crunchy Corn Waffles and Squash Blossom Pizza. The quick recipes are labeled, which makes it easy to find something to cook on those days when there isn't much time to make dinner. There are many gluten-free, soy-free, and oil-free options, which are labeled as well. There's also a chapter full of DIY pantry staples that includes spices, sauces, and condiments.
The Chapters in Bold Flavored Vegan Cooking include:
Savory
Spicy
Sweet
Staples
Bold Flavored Vegan Cooking is the perfect cookbook for those who want to give their meals a flavor boost!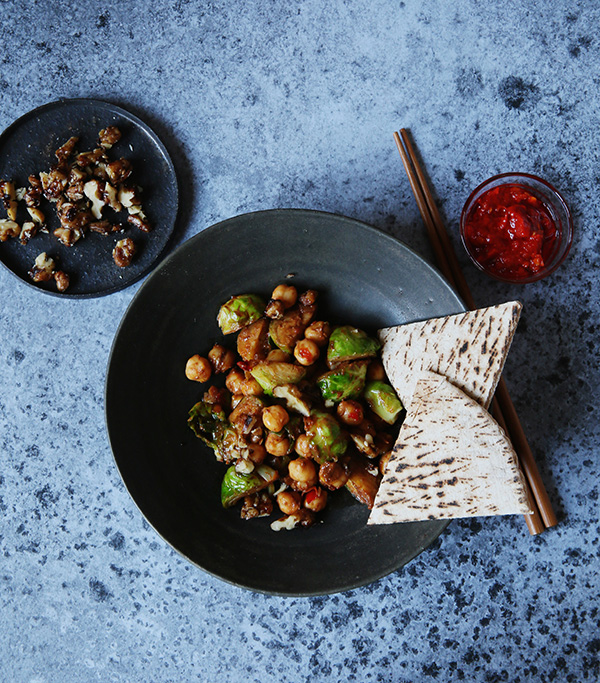 Harissa Sprouts and Chickpeas
This sweet, savory and spicy concoction belongs served atop any cooked whole grain of choice to make it a fiber-rich, nourishing and absolutely delicious meal. It's also great with pita bread or chips, and glazed nuts.
Ingredients
2 tsp (10 ml) melted coconut or olive oil
1 pound (454 g) fresh Brussels sprouts, trimmed and quartered
1 large shallot, peeled and minced
1 large clove garlic, peeled and minced
Coarse kosher salt
1 tbsp (15 ml) Pomegranate Molasses, plus more for serving (recipe follows)
1 tbsp (20 g) Harissa Paste
2 tbsp (32 g) tahini paste (use a pourable one)
1 ½ tsp (8 ml) reduced-sodium tamari
1 ½ tsp (8 ml) lemon juice
1 ½ tsp (10 g) agave nectar
½ tsp Harissa Dry Mix
1 ½ cups (256 g) cooked chickpeas
Roasted pistachio oil, for serving
Instructions
Heat the oil on medium heat in a large skillet. Add the Brussels sprouts, shallot, garlic and a couple of pinches of salt. Sauté until golden brown and the sprouts are starting to become fork-tender, stirring frequently. This will take about 10 minutes, depending on the size and freshness of the sprouts.
While the sprouts are cooking, whisk to combine in a small bowl the pomegranate molasses, harissa paste, tahini, tamari, lemon juice, agave and harissa dry mix.
When the sprouts are just getting fork-tender, add the chickpeas and sauté another 2 minutes. Pour the harissa mixture on top and fold to combine. Cook for another 2 minutes. Serve with a tiny drizzle of pistachio oil (if using) and extra pomegranate molasses.
Pomegranate Molasses
This molasses is sweet, tangy and so perfect you'll want to drizzle the stuff over everything! You should be able to find pomegranate molasses at the store, but it's such a breeze to make at home and the results are even better to boot.
Ingredients
4 cups (940 ml) unsweetened pomegranate juice
3 tbsp (45 ml) lemon juice
3 tbsp (60 g) agave nectar
Instructions
Place the pomegranate juice, lemon juice and agave in a saucepan. Bring to a low boil, stirring frequently. Lower the heat and simmer on medium-low until the liquid is thickened and reduced to a quarter of the original amount, about 1 cup (235 ml). This will take approximately 1 hour.
Keep an eye on the molasses as it cooks, adjusting the temperature if necessary, and stir frequently to prevent scorching. The risk of scorching becomes higher the more the molasses cooks down.
Let it cool to room temperature before transferring to a glass container. Don't transfer immediately as the high heat of the molasses could break the glass. Once cooled, cover with a tight-fitting lid and store in the refrigerator for up to 1 month.
Review reprinted with permission from Dianne's Vegan Kitchen.