This all started with a beautiful set of knob onions I found at the local farmers market. Purple knob onions! Have you ever spotted a vegetable so pretty that you planned an entire meal around it? That's exactly what I did.
Most of my weekday meals are repetitive–beans, greens, and a sweet potato show up fairly regularly. But, don't let the simplicity of the components fool you–I'm not into boring food. I keep things interesting by using a ton of spices, hot sauces, and by making a few batches of fresh condiments such as salsa or crema to accompany my meals- like this Cilantro-Lime Vegan Crema, for instance. It turns boring and repetitive into delicious and interesting, which I really enjoy.
But, back to those gorgeous purple knob onions. I knew I wanted to grill them the moment I set eyes on them. I love warm, soft onions with lightly charred edges- delicious! I can't remember what it was that made me want to make salsa from them, but somehow I decided that was what I was going to do. Glad I did, too–I put this salsa on everything!
If you don't have access to a grill, you can always use the broiler. This salsa is so silly simple to make, it's hardly a recipe. One quick note about the spice level: I like spicy. If you like spicy like I do, don't discard the jalapeno seeds. If you want a more mild salsa, deseed the jalapeno. If you want a not-spicy-whatsoever salsa, omit the jalapeno altogether.
Grilled Corn Salsa
Ingredients
4 ears of corn
1 red pepper
2 knob onions or 1 medium size purple onion
1 jalapeno pepper
1 – 2 limes
1/2 bunch cilantro (to taste)
1/2 teaspoon pink salt
Freshly cracked pepper to taste
hot sauce to taste
Instructions
Prepare and preheat grill or broiler. Slice onions and limes in half and set aside. Place the corn on the grill, close the cover and grill for 15 minutes, taking care to turn every five minutes, until the kernels are tender. Remove them and set aside to cool. Put the red pepper, jalapeno, limes, and knob onions on the grill. Cover and grill until the each of the peppers has blackened blistered skin, the knob onions are soft and charred, and the limes are grilled on one side. Once grilled to perfection, set everything aside to cool.
If using the broiler, set the tray in the upper third and broil for 10 – 15 minutes until the edges char. The corn may take a bit longer in the broiler so lower the tray to avoid burning as necessary.
Once the corn is cool, remove kernels into a large bowl by carefully cutting them from the cob with a knife. Remove the skin and de-seed both the red pepper and the jalapeno pepper (or leave the jalapeno seeds in for more spice), then dice into small pieces. Chop the knob onions and the cilantro. Mix everything together and squeeze the grilled lime juice over the top. Add salt, pepper, and hot sauce. Mix until fully combined and enjoy on everything.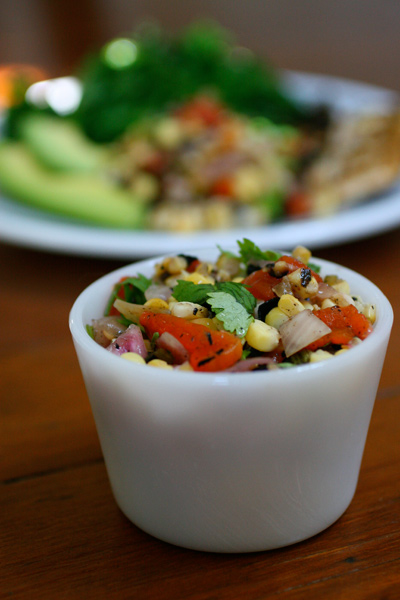 If you have leftovers you can store in an airtight container and it'll last for a few days in the fridge. Let me know how it goes in the comments, or find me on Twitter.