Have you ever eaten crema? Crema is the Mexican version of French crème fraîche. Both are a slightly sour and thickened dairy cream but less thick than American dairy sour cream. It's typically used as a garnish drizzled over enchiladas, burritos and tacos. I've also seen it used as a dip for tortilla chips. I loved it in my pre-vegan days but I've never tried making my own vegan version.
Since I've never made a crema, I had to do a bit of research on what exactly goes into making it. I found a few vegan crema recipes that used yogurt, some added avocado, and quite a few were made using cashews. If I had cashews on hand I probably would have opted for those as a base. But I didn't. I didn't actually have anything on hand that the other recipes called for so I decided to improvise using a box of silken tofu that I found hidden in the back of the fridge.

Vegan Cilantro Lime Crema (Gluten-Free & Oil-Free)
Ingredients
1 box silken tofu – medium-firm style
1 Lime – juiced
1/2 jalapeno – deseeded
1 teaspoon cumin
1/2 teaspoon salt
1/2 bunch cilantro (to taste)
Preparation
Using a food processor, blend the silken tofu until smooth. Add jalapeno, lime, cumin, and salt to food processor and blend until smooth.  The last step is to add the cilantro and here's the thing: I like a lot a cilantro- like, a lot of cilantro, so I use a lot of cilantro. But you don't have to. Use the amount of cilantro that suits your tastes. This crema is a bit thicker than others made with cashews or vegan yogurt. If you wanted a thinner crema, feel free to add more lime juice or a bit of water until you reach the consistency you prefer.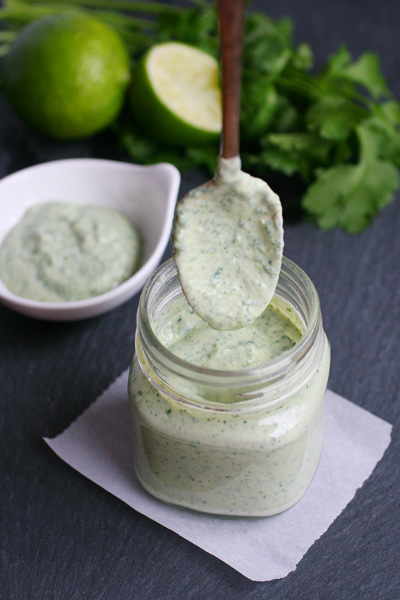 A quick note about using silken tofu: If you are soy intolerant you can swap out the silken tofu for vegan yogurt or cashews. If using yogurt, use 1 1/2 cups of plain yogurt in place of the silken tofu. To find a soy-free vegan yogurt, use this Vegan Yogurt Guide.
If using cashews, soak 1 1/2 cups of cashews for an hour or so in filtered water. Drain the water. Using a food processor, process them with the lime juice until smooth. Add the rest of the ingredients and puree until fully combined.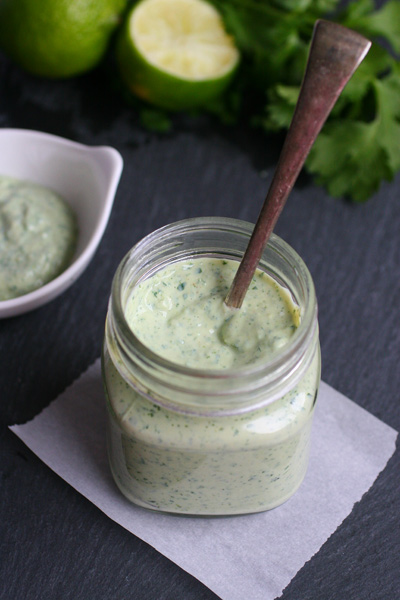 I served my crema on top of a baked sweet potato topped with black beans, red onions, and kale but it would go perfect on any dish. Try it on a Mexican-style tofu scramble, a vegan cheese quesadilla, or a bowl of brown rice, tomatoes, seitan, and avocado. Speaking of avocado, why not serve it over a halved avocado stuffed with vegan chorizo? The possibilities are completely endless.
If you have leftovers you can store in an airtight container and it'll last for a few days in the fridge. This Vegan Cilantro Lime Crema was super tasty, both my wife and I enjoyed it immensely. I think you will too. Let me know how it goes in the comments, or find me on Twitter.