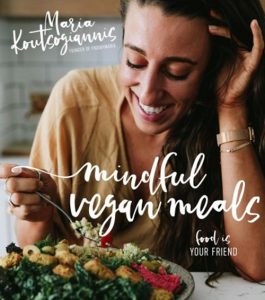 You're sure to have a great day when you start it with savory Green Waffles with Creamy Corn Salsa from Mindful Vegan Meals by Maria Koutsogiannis!
In my health coaching practice, I often see people who worry about macronutrients. There are those who are afraid of carbs and others who won't even touch a health fat, such as an avocado. My philosophy is that if you eat a diet that's full of a large variety of whole plant foods, you don't need to worry about macronutrients, and I try to convey that ideology to my clients, too. It's also the school of thought behind Mindful Vegan Meals by Maria Koutsogiannis, as well.
Mindful Vegan Meals
In Mindful Vegan Meals, Maria shares the story of her battle with bulimia and how she was able to overcome it with a plant-based lifestyle. She was once carb-phobic, but she now loves burgers, pizza, pasta, and sandwiches, and she shares her favorite recipes with us in this mouthwatering cookbook.
The vibrant recipes in Mindful Vegan Meals are packed with nutrients, but they don't lack in flavor. You'll find recipes for such delicious dishes as Roasted Red Pepper Rigatoni Cake (yes, rigatoni cake, you read that correctly!), A Taste of Thanksgiving Meatballs, Confident Kick Black Bean & Sweet Potato Breakfast Burrito, and Ultimate Gooey Energy Bites.
Being of Greek descent, Maria has also included a lot of recipes for veganized versions of traditional dishes as well. She's included Rice and Dill Stuffed Grape Leaves (Dolmades), Spinach Pie (Spanakopita), and Greek-Style Jackfruit Gyros with Vegan Tzatziki and "Fries."
She's also included recipe for do-it-yourself vegan pantry essentials, such as Vegan Parmesan Cheese, Butternut No-Cheese Sauce, and Creamy Roasted Cashew Nut Butter.
Maria sprinkles little facts about food throughout the book, and she includes personal stories with her recipes. Her sense of humor shines throughout, so you'll almost feel like you're cooking alongside a friend in the kitchen
Chapters in Mindful Vegan Meals Include:
Carby, Hearty and Comforting Mains
Back to my Roots
Energy-Packed Salads
Falling in Love with Breakfast
Fueling & Refreshing Beverages
Treat Yourself, You Deserve It
Add Pizzazz to Your Food
Green Waffles
Because breakfast is my favorite meal of the day and green is my favorite color, I'm sharing Maria's recipe for Green Waffles with Creamy Corn Salsa with you today!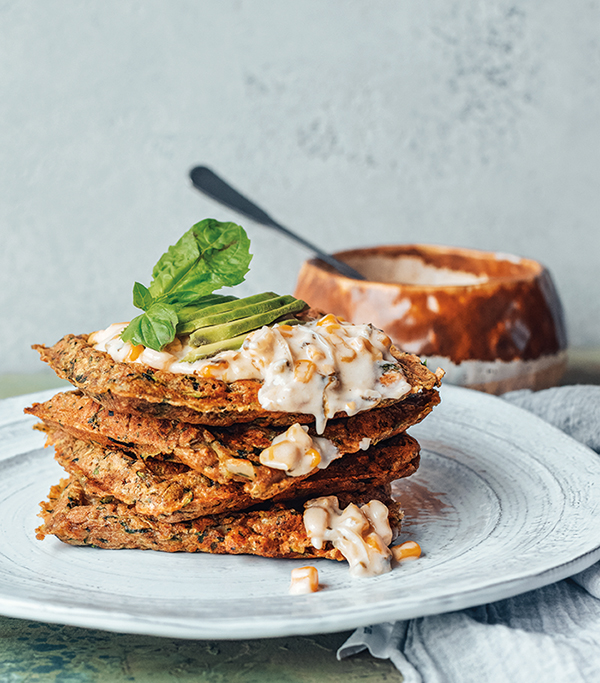 Green Waffles with Creamy Corn Salsa
Author:
This breakfast is for all my savory lovers. When I was recovering from bulimia it was really hard to even think about eating a heavy breakfast, let alone waffles. This recipe is really important to me because I realized eating waffles does not have to be bad for you. Instead you can take zucchini and spelt flour and make a beautiful meal to start your day!
Ingredients
[b]WAFFLES[/b]
2 tbsp (15 g) ground flaxseed, 6 tbsp (90 ml) warm water
1 cup (384 g) zucchini, grated and put through cheesecloth or cloth to remove all water
½ cup (80 g) yellow onion, grated
2 cloves garlic, pressed
¼ cup (15 g) cilantro, very finely chopped
1 tbsp (15 ml) extra virgin olive oil
Salt and pepper to taste
1 cup (120 g) spelt flour
1 cup (160 g) oats
1 tbsp (15 g) baking powder
½–¾ cup (120–180 ml) almond milk, unsweetened
[b]WARM CORN SAUCE[/b]
1 tbsp (15 ml) extra virgin olive oil
½ cup (80 g) yellow onion, finely chopped
2 garlic cloves, finely chopped
2 cups (330 g) yellow corn, steamed or roasted
Salt and pepper to taste
1 small jalapeño, diced and seeded
¼ cup (15 g) cilantro, finely chopped
Few leaves of basil, cut finely, lengthwise
1 (13.5-oz [400-ml]) can full-fat coconut milk
Instructions
Add the ground flaxseed and water to a small ramekin. Give it a little stir and let it sit for about 10 minutes.
Add the zucchini, onion, garlic, cilantro, olive oil, salt and pepper, spelt flour, oats, baking powder and almond milk to a large mixing bowl and stir until well-combined. (Start with ¼ cup [60 ml] almond milk and add up to ½ cup [120 ml] to reach a really moist-on-the-inside waffle, adding 1 tablespoon [15ml] at a time.) Fold in the flaxseed mixture then stir one last time, making sure there are no lumps.
Heat your waffle maker; when hot, spray with coconut oil. Use a ladle to spoon the waffle batter onto the waffle maker and cook for about 5 minutes or until golden brown. Repeat this process, including spraying with coconut oil, with the rest of the batter. Keep the waffles warm on a plate or baking sheet in the oven set on very low heat while the rest of them cook and you prepare the corn sauce.
While the waffles are cooking, make the corn sauce. In a medium-sized pan or skillet, heat the olive oil for 30 seconds. Add the onion and cook down on medium heat until translucent. Add your garlic and corn and cook over medium to low heat for about 10 minutes, or until the corn is soft and tender. Add the salt and pepper, jalapeño, cilantro and basil and cook for another 10 minutes on low. Add the coconut milk and cook for another few minutes or until hot throughout.
Dollop the warm corn sauce onto your waffles and thank me later!
Notes
[b]Did You Know? [/b][br]It is believed that spelt flour was first used about 8,000 years ago, making it one of the oldest cultivated crops in human history! With a nutty and slightly sweet flavor, spelt is a grain related closely to wheat but containing less gluten and more protein.[br][br]Recipe reprinted from [i][url href="https://amzn.to/2uyPExh" target="_blank" rel="nofollow"]Mindful Vegan Meals[/url][/i] by Maria Koutsogiannis with permission.