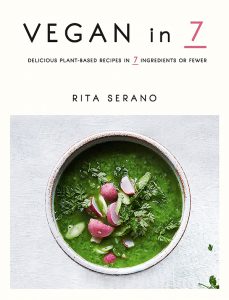 Years ago, new vegan cookbooks were few and far between. I always jumped at the opportunity to review a new cookbook, but times have changed and my Ikea bookcase is now buckling under the weight of my cookbook collection. I've started turning down books by authors I'm not very familiar with, and I almost did so with Vegan in 7 by Rita Serano. But I took a sneak peek inside and saw the book's gorgeous design and mouthwatering photos, and I was intrigued. I'm glad I didn't turn down this beautiful book, as it's full of simple, yet scrumptious recipes.
As you might have guessed by the title, Vegan in 7 is full of plant-based recipes that can be made with 7 ingredients or fewer (plus oil, salt, and pepper). While they may be lacking in a long ingredients list, they definitely aren't lacking in flavor. You'll find lip-smacking recipes such as Lentil & Porcini Ragout, Portobello Satay with Peanut Sauce, and Apple Tart with Almond Crust.
Cooking from Vegan in 7 won't have you in the kitchen for hours, as all of the recipes easy to make and fuss-free. They're all made with natural, easy-to-find ingredients, too – most of which are produce, whole grains, nuts, and seeds.
Vegan in 7 includes recipes for breakfast, lunch, dinner, and dessert, and it also includes a chapter of recipes for kitchen basics, such as hummus, tomato sauce, and vegetable stock, making it easy to create DIY panty essentials at home.
The chapters in Vegan in 7 include:
Start
Fresh
Fast
Nourish
Gather
Sweet
Basic
It turns out that I wasn't familiar with Rita Serano because she's a Dutch food blogger and recipe developer, and she divides her time between The Netherlands and France. Getting to know her through her recipes in Vegan in 7 has made me realize that I need to look into more international vegan food writers, as the vegan community is much larger than I had realized.
Vegan in 7 is a must-have for anyone looking for fuss-free and flavorful plant-based dishes!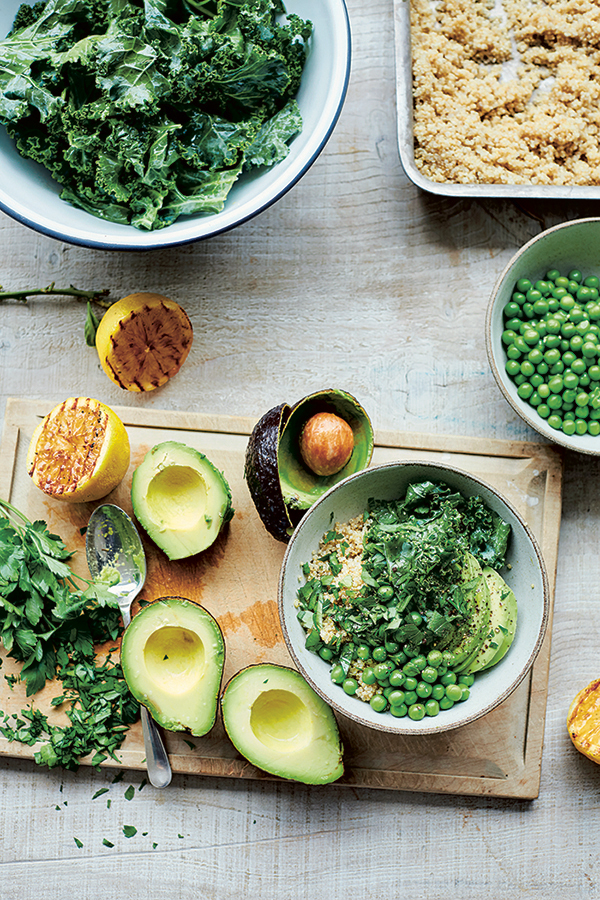 Green Quinoa Bowls
Quinoa is a tiny grain that has a slight nutty flavor and is gluten-free. You can get all kinds of varieties, including white, black, and red. Originating from South America, it's become very popular in recent years, particularly among vegetarians and vegans. Combined with greens and beans, quinoa makes a fast and fresh meal.
Ingredients
7 oz. quinoa
1 lb. curly kale or cavolo nero
3 lemons
6 oz. peas, fresh or frozen
1 bunch of tarragon or parsley, chopped
2 avocados
Instructions
Rinse the quinoa and cook according to the package instructions in salted water.
Meanwhile, tear the kale or cavalo nero leaves into small pieces and place in a large
bowl with a pinch of salt and the juice of half a lemon. Massage the leaves with your
hands for 2 to 3 minutes so the leaves soften.
Blanch the peas in boiling water for about 1 minute, then drain.
Slice the two remaining lemons in half and cook them for 5 to 6 minutes until
caramelized, cut side down, in a hot grill pan or nonstick skillet. This will caramelize the
skin and soften the flesh.
Peel and remove the pits from the avocados and slice the flesh.
When the quinoa is done, divide it between four bowls. Top with the kale, peas,
avocado, and tarragon or parsley. Add salt and freshly ground black pepper to taste
and drizzle over some olive oil. Serve with the grilled lemons.
Notes
Taken from
Vegan in 7
by Rita Serano, published by Kyle Books. Photography by Laura Edwards.