I've never been a very active person. When I was little, while my friends were outside crawling all over the jungle gym, I was inside working on craft projects. In high school, I was more than thrilled to be able to get out of gym class for two years because of a problem with my right knee. While my classmates were running around in sweat pants throwing balls at each other, I was happily sitting in the library reading. I still don't like psychical activity. (And I still prefer crafts and books to running and throwing balls.) I know it's necessary to keep my weight down and my mood up, but every day I need to talk myself into exercising. I hate gyms, and I prefer to do my workouts in the privacy of my own home, that way no one can see the strange faces that I make and I don't have to worry about bumping into someone I know.
Lani Muelrath's book Fit Quickies: 5-Minute Targeted Body-Shaping Workouts was written for people just like me. Her "Fit Quickies" are short, simple exercises that can be done whenever and wherever you like. There are 14 exercises in total, and they target those hard-to-tone areas, such as the belly pooch and the muffin top. There are explanations on why the targeted areas can become a problem, as well as facts on the functions of each area. Each exercise takes less than 5 minutes, so "I don't have time to exercise" is no longer an excuse. Fit Quickies include instructions on how to do each move, photos to show just how they're done, stretches, variations, tips and modifications. If you have more than 5 minutes, there are plans for creating Fit Quickies routines, including a 10-minute workout plan and a full-body workout. The great thing about having your exercise routine mapped out in a book is that you can take it with you where ever you go – whether you're on vacation or away for work – and you don't need to worry about having special equipment with you.
The book talks about why exercise is so important for both the body and the spirit, and there is also advice on how to keep yourself motivated, which has always been a big issue for me. A chapter on the basics of plant-based diet nutrition is also included.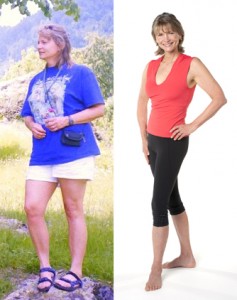 Fit Quickies author Lani Muelraht is an award winning fitness expert, and she specializes in helping people who struggle with health, weight and energy levels transform their bodies. She understands the problems that people have, as she herself has been there. She overcame her own lifetime struggle with weight over more than 15 years ago when she lost 50 pounds, which she has maintained easily with the tools that she uses to coach others to be successful with in weight loss, body shaping, and health.
Lani is graciously giving away a copy of Fit Quickies to one lucky Chic Vegan reader. Follow the instructions below to enter. The contest ends at midnight on October 15th, 2013. U.S. residents only.