Everything Buffalo Cauliflower Bites from Epic Vegan by Dustin Harder are a truly epic version of the now classic appetizer. Feel free to get creative and play with the recipe to make it your own!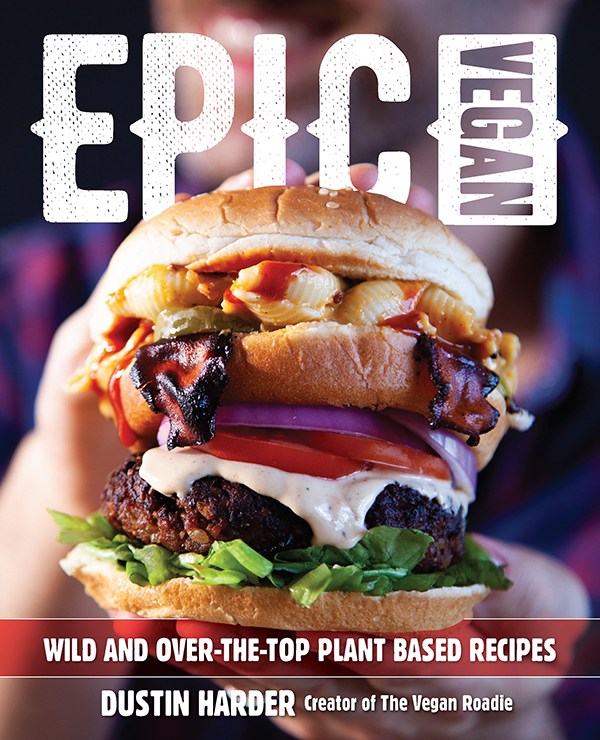 Epic Vegan
Cooking doesn't have to be boring, and Dustin Harder is here with his new cookbook Epic Vegan to make sure it isn't. This fun book encourages you to play with your food and create your own one-of-a-kind dishes.
Epic Vegan is a choose-your-own-adventure style cookbook. It's full of recipes for basic classics, such as Happy Hash Browns and Easy Creamy Shells and Cheese, and then Dustin gives tips on how to make "epic" versions of them. You can use your hash browns to create a Triple-Decker Breakfast Sammy or Breakfast Platter Dog. Shells and cheese can be made epic by turning them into Mac and Cheese Pretzel Bites or Lobster Mac and Cheese.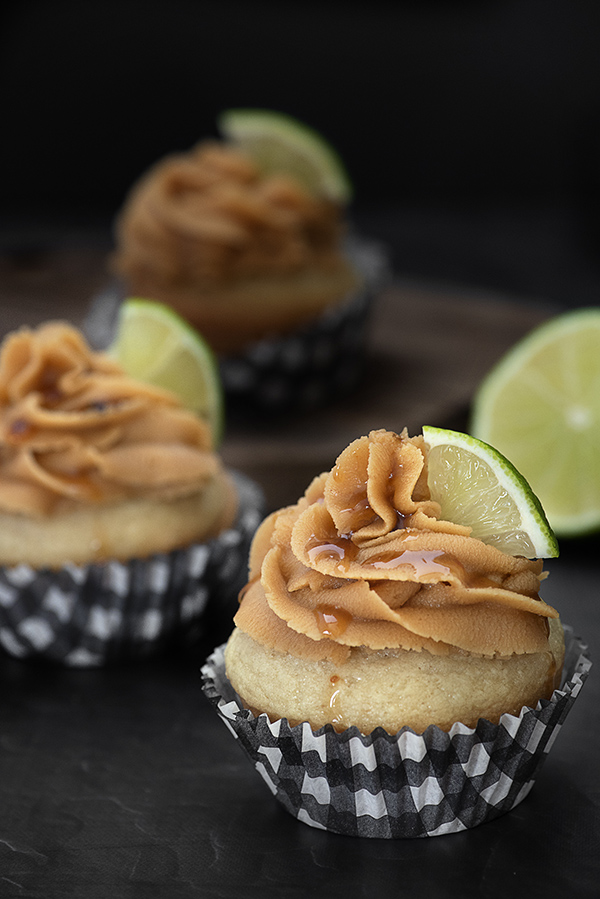 Dustin also includes recipes for his own outside-the-box unique creations, including Pad Thai Cupcakes, Fried Chicken 'N Waffle Benedict Sandwich, Wonton Bowls with Garlic-Fried Quinoa, and Chocolate Chickpea Ravioli.
There are also lots of recipes for veganized versions of comfort food classics, such as Loaded Baked Potato Soup with Pretzel Bowls, Festive Cheesy Spinach Bread, Crispy Cream Donuts, Garlicky Cheddar Biscuits with Sausage Gravy, and Philly Cheesesteaks.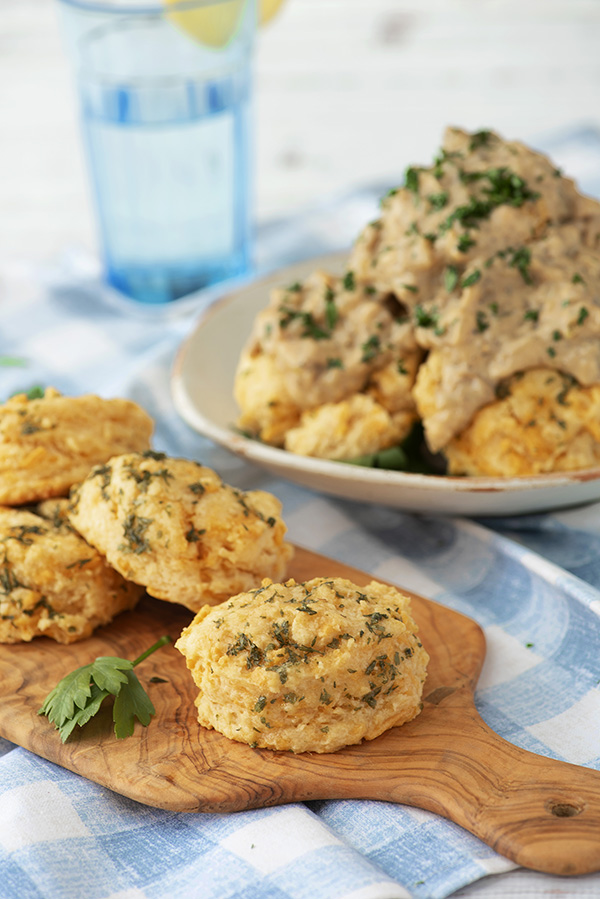 This isn't a cookbook full of easy weeknight meals for busy families. This is a book for those who want to spend time in the kitchen and get creative. Throughout the book, Dustin does offer cooking hacks to streamline and speed up the cooking process, though.
The Chapters in Epic Vegan Include:
Basic Betty: FUNdamental Recipes
Sauced Up: Sauces, and Dips for Slatherin' and Dippin'
Brazen Breads: All the Dough You Need
There's an App for That! Nibbles and Passed Bites for a Crowd
Monster Handhelds: Beastly Bites Fit for Kings and Queens
Pizza Pizza! Cheesus Take the Wheel
Pasta Paradise: The Pastabilities are Endless
Bowls of Stuff: Fork It, Spoon It, Slurp It!
Shake It Off! Chill Sips for Every Occasion
Sweet Emotions: Donut Come for Me! Sweets to Make Friends
This is a fun book with uniquely fun recipes. If you want to get creative in the kitchen and play with your food, Epic Vegan is the book for you!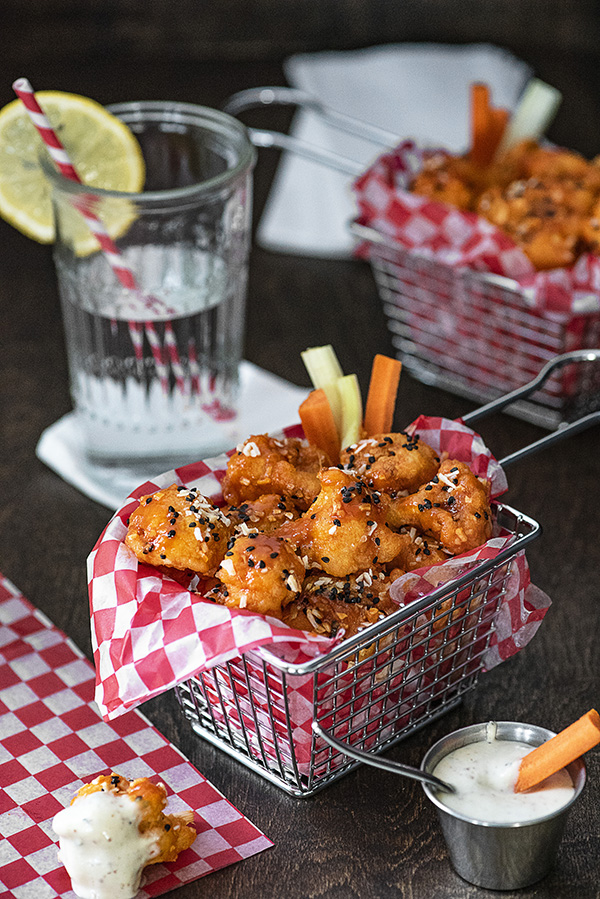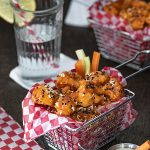 Everything Buffalo Cauliflower Bites
Cauliflower buffalo bites have swept the nation! Vegan restaurants and nonvegan restaurants alike serve them, and they are popular among patrons far and wide. I wanted to add a touch of EPIC to these with the "everything coating," but you should feel free to epic them up yourself. Get creative!
Ingredients
For Buffalo Sauce:
1

cup

(235 ml) hot sauce

¼

cup

(55 g) vegan butter

¼

cup

(60 g) packed organic dark brown sugar
For Everything Coating:
1

tablespoon

(6 g) dried minced garlic

1

tablespoon

(6 g) dried minced onion

2

teaspoons

(6 g) black sesame seeds

2

teaspoons

(12 g) Maldon or coarse sea salt
For Cauliflower Bites:
1

cup

(125 g) all-purpose flour

1

cup

(140 g) stone-ground yellow cornmeal or polenta

¼

cup

(32 g) cornstarch

1

teaspoon

sea salt

½

teaspoon

black pepper

1½

cups

(355 ml) seltzer water

Canola oil or cooking spray

1

medium head cauliflower

trimmed and cut into bite-size florets

2

scallions

roughly chopped

Your favorite store-bought vegan blue cheese dressing

for dipping
Instructions
To make the buffalo sauce:
In a small saucepan, combine the hot sauce, butter, and brown sugar. Bring to a simmer over medium heat and cook for 2 to 4 minutes, or until the butter has melted and the sugar has dissolved. Remove from the heat and set aside.
To make the everything coating:
In a small bowl, combine the garlic, onion, sesame seeds, and salt. Set aside.
To make the cauliflower bites:
In a medium bowl, whisk together the flour, cornmeal, cornstarch, salt, and pepper. Slowly add the seltzer water, whisking until well combined and a thick batter has formed.

In a wok or large saucepan, pour 3 inches (7.5 cm) of canola oil. Heat the oil to 350°F (175°C) when tested with a candy thermometer or a drop of batter fries quickly and bubbles up to the top. Line a plate with paper towels.

Working in batches, transfer half of the cauliflower florets into the batter; mix around until all the florets are fully coated. Using tongs, pick up a piece of cauliflower, allowing excess batter to drip off, and carefully transfer into the frying oil; repeat with the remaining battered pieces.

Fry in small batches for 4 to 6 minutes, or until golden brown. Use a slotted spoon to transfer the cauliflower to the paper towel–lined plate. Repeat until all of the cauliflower is fried.

In a large bowl, toss ¼ of the fried cauliflower bites with ¼ of the buffalo sauce and 2 teaspoons (10 ml) of the "everything" mixture (you get a more even coating if you do it in batches). Transfer the bites to a serving tray and repeat for the remaining bites. Sprinkle the plated cauliflower with any remaining everything coating and the scallions, if using.

Serve with Blue Cheese Dressing on the side, for dipping.
Recipe Notes
Baked option: If you prefer to stay away from frying, coat the cauliflower with the batter as directed, making sure to remove as much excess batter as possible. Transfer to a parchment lined baking sheet lightly coated with cooking spray, and bake at 450°F (230°C, or gas mark 8) for 30 minutes, flipping once, or until lightly browned. Remove from the oven and continue with the recipe as directed.
© 2019 Quarto Publishing Group USA Inc.
Text © 2019 Dustin Harder
Photography Ashley Madden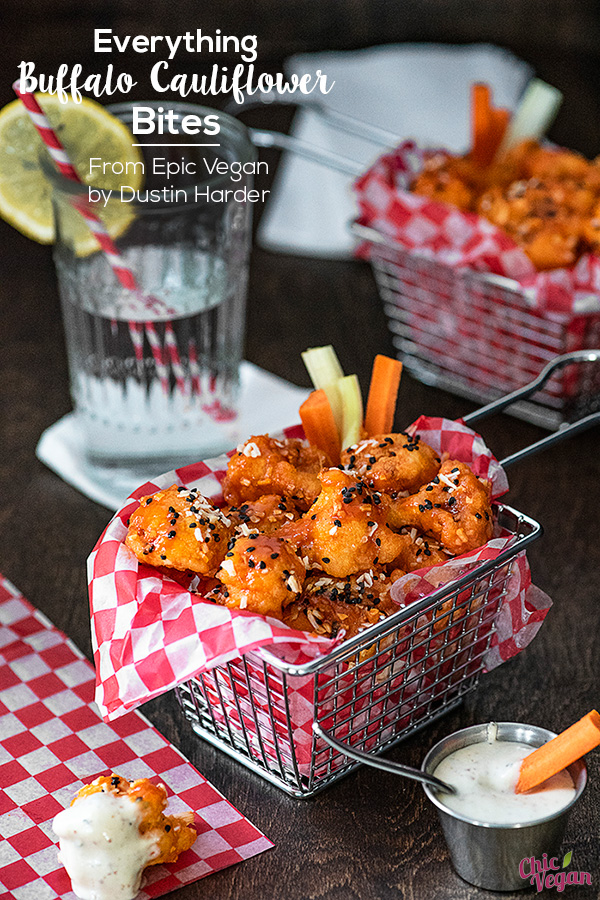 Photography by Ashley Madden