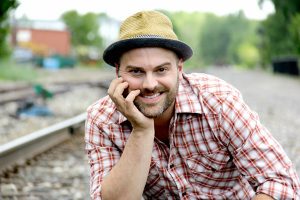 Dustin Harder is the host and creator of the culinary travel show The Vegan Roadie. Featured by media outlets such as VegNews Magazine and ABC, Dustin's travels across the country give viewers a taste of the most revolutionary recipes in vegan cuisine. A graduate of the Natural Gourmet Institute in NYC, Dustin also works as a plant-based personal chef and recipe developer. His first cookbook, The Simply Vegan Cookbook, will be available on February 6th.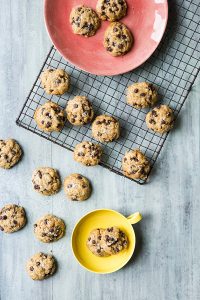 Chic Vegan – What motivated you to become vegan? Was it an overnight switch or more gradual shift?
Dustin Harder – Initially it was health, and all or nothing. But I easily got discouraged and intimidated and found myself back to eating as I had been (non-vegan). But I still wanted to be vegan, so I started taking it one step at a time, trial and error, finding things that I liked and not dismissing vegan as a whole because I tried something I didn't like. In terms of it being for health, my reason for being vegan eventually evolved to encompass veganism for all of the reasons. I think any compassionate human being eventually sees the good that can be done by adopting a vegan lifestyle, the personal benefits are undeniable paired with saving lives and the environment, it's a win win for everyone no matter what way you spin it.
CV – When people learn that you are vegan, what is the #1 question they ask and what is your response?
DH – Where do you get your protein? I still can't believe the misconception there is behind how MUCH protein people think we are supposed to have in our diets. It's usually not questions much anymore so much as "But I couldn never live without…" and they have a list.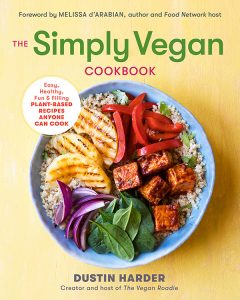 CV – Tell me a little bit about The Simply Vegan Cookbook and what inspired you to write it.
DH – The Simply Vegan Cookbook is just that, simple. When I went vegan 10 years ago, as I mentioned, I was intimidated. It was foreign to me, the ingredients, the community. It was that feeling that prompted me to start my series The Vegan Roadie and then also write this book, I want veganism to be all encompassing to everyone. I want it to be welcoming and accessible, I never want someone to feel intimidated by vegans, a vegan lifestyle or the new ingredients they will face. So, I tested every recipe on this book on a $25 blender I bought at Walgreens (proff you don't need an expensive high speed blender), and I would say 90% of the recipes are void of nutritional yeast or miso paste, that sort of thing. I wanted the ingredients to be ingredients you can find in any grocery store in the United States. I also tried to stay away from using any meat alternatives or cheese alternatives, there are options to use them in the book but they are never the core of a recipe and can be made without, but then I also mention my favorite and most accessible brands in the book to give a full scope. Most importantly, the recipes are easy and delicious.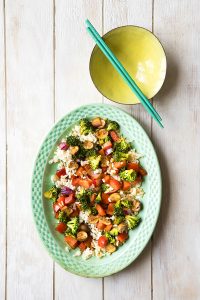 CV – What are your favorite recipes from the book?
DH – Simple Spinach Artichoke Flatbread, Kentucky Baked Cauliflower, Salted Coconut Almond Fudge and Avocado Breakfast Pizza. And oh – The Stovetop Thanksgiving Rice Stuffing.
CV –What's the top tip you would give to someone who wants to go vegan but isn't sure where to start?
DH – To google a vegan version of one of their favorite foods or recipes and make it! Hopefully seeing one of their favorites veganized will provide a hopeful outlook. And from there, keep going! Trial and error, just because one vegan recipe didn't work for you doesn't mean the next one won't!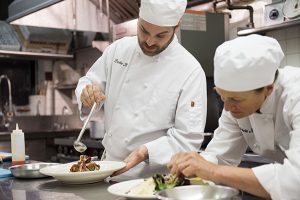 CV – Can you tell me a little about The Vegan Roadie?
DH – YES! I created the series in 2014 and it has been a crazy ride! It is the plant based version of the popular food network series, Diners, Drive-Ins and Dives. We wrapped the third and final season for The Vegan Roadie YouTube Channel this fall in Italy. In February I'll release all of Season 3, six brand new episodes on February 13th. This will make 26 television quality episodes in total with all three seasons available to watch for free. This is the end of the road for the series on YouTube, but I'm excited to see what the future has in store! I'm also excited to share that Miyoko Schinner joined me to host the first episode for Season 3 in Sicily.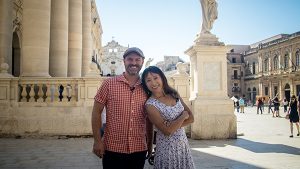 CV – Season 3 of The Vegan Roadie takes place in Italy. Were you surprised at how vegan-friendly the country is?
DH – Yes and no, hahaha. When Vegan Travel Club approached me about producing Season 3 together their biggest reason for doing it was wanting people to see how vegan friendly Italy is, so I was sort of prepared for it thanks to the enthusiasm of the folks at Vegan Travel Club. Just the same, it was amazing to see how many dishes are vegan just by nature in Italy. A lot of the diet is whole food plant based to begin with, making it fairly easy to eat vegan no matter where you are in Italy!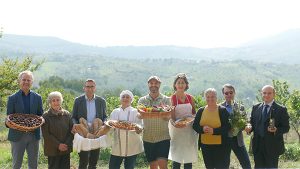 CV – What is your favorite vegan indulgence?
DH – PIZZA! Vegan Pizza! I love it it, I love to make it from scratch at home (I actually have some dough proofing right now as I type this), I love store bought frozen brands and my favorite pizza places are Screamers in Brooklyn and Double Zero Co. on the lower east side of Manhattan.
CV – What vegan product could you not live without?
DH – Nutritional yeast. I love it! It's the perfect addition to pasta and to make sauces!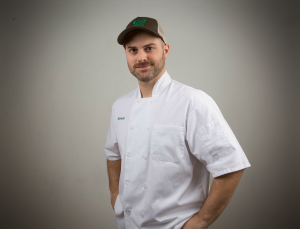 CV – In your wildest dreams what will your life look like in 5 years?
DH – The Vegan Roadie, in some form, on a network like Netflix, Hulu, or Amazon. The time has come, it's going to happen whether it's me or not… but why shouldn't it be me then? No matter who it is – the time has come and it's thanks to the hard work of so many plant based enthusiast, chef's and business owners who don't give up and keep spreading the word through positive vibes, I couldn't be more grateful to be part of it in my own little way, we are on our way!