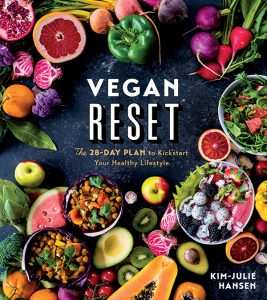 If you're new to veganism, Vegan Reset by Kim-Julie Hansen is the book for you! This is a great book for seasoned vegans who want to focus on building healthy habits, too.
Vegan Reset
In Vegan Reset, Kim-Julie lays out her 28-day vegan meal program. It's a budget-friendly plan that uses ingredients that can be found in any grocery store. She includes a shopping list, meal prep guide, menu, and recipes for each week. The meal plan includes breakfast, lunch, dinner, and snacks, so you're guaranteed not to go hungry. End of the week journaling exercises are included as well.
To help those new to veganism, there are tips for stocking a plant-based kitchen, list of helpful kitchen tools, and instructions for cooking basics such as beans and grains. Kim-Julie also includes pointers for saving money at the grocery store, suggestions for vegan living beyond food, and advice for holistic living.
Tons of Recipes!
If you're not in the market for a meal plan, you'll still love Vegan Reset, as it's chock-full of recipes for vegan versions of just about any food you could have a craving for. The recipes include drinks, breakfast dishes, salads and sandwiches, comfort food favorites, and decadent desserts. There are also plenty of recipes for DIY pantry basics, such as non-dairy milks, nut butters, and salad dressings.
In addition to being loaded with tons of recipes and a plethora of information, Vegan Reset is full of gorgeous photography, and it has a fun, well-designed layout. If you want to jump-start a vegan lifestyle or refocus healthy habits, this is the book for you!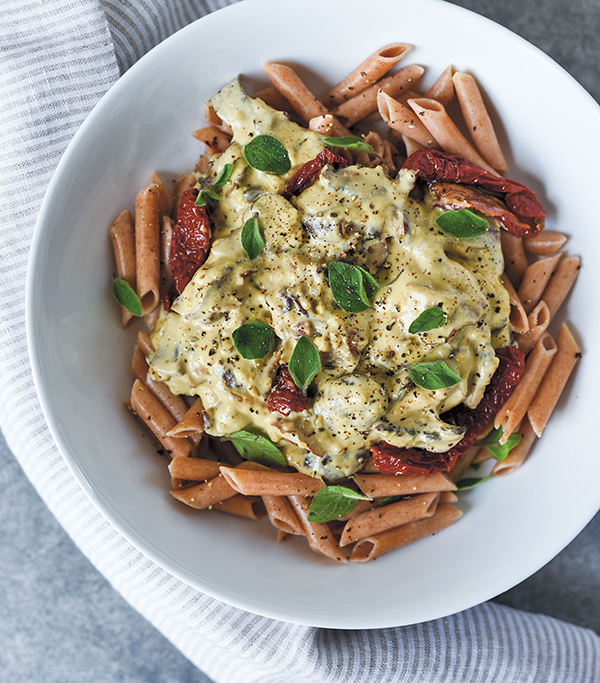 Creamy Mushroom Penne
Ingredients
Mushrooms & Pasta
1 cup cremini mushrooms, thinly sliced*
1 cup shiitake mushrooms, stems discarded, thinly sliced*
1 cup white button mushrooms, thinly sliced*
1 shallot, chopped
1 garlic clove, minced
1 tablespoon olive oil
6 ounces dried regular or gluten-free penne
Sauce
1 cup vegetable broth, or 1 cup water mixed with 1 teaspoon veggie bouillon paste
½ cup cashews, soaked in water (see note below)
1 tablespoon nutritional yeast
1 tablespoon olive oil
Juice of ½ lemon
Pinch of sea salt
Pinch of ground black pepper
½ teaspoon dried basil
6 sun-dried tomatoes
1 tablespoon fresh oregano leaves
Instructions
Sauté all of the mushrooms, the shallot, and garlic in the oil in a large pan over medium heat for 7 minutes.
Bring a pot of water to a boil and cook the pasta according to the package instructions.
To make the sauce, blend ¾ cup of the broth, the cashews, nutritional yeast, oil, lemon juice, salt, and pepper in a blender until smooth.
Add the sauce, dried basil, and remaining ¼ cup broth to the pan with the mushrooms, stir well, and lower the heat to low. Cook for another 3 minutes.
Serve the pasta with the mushroom-sauce mixture, sun-dried tomatoes, and oregano.
Notes
*Brush or peel the mushrooms to clean them, but don't wash them.
Soaking cashews (and other nuts and seeds)
Cashews are high in fat, which makes them a good base for creamy sauces. Soak them in water for at least 2 to 3 hours, or even better, overnight, before blending them, unless you are using a high-speed blender, in which case you can omit the soaking step. Follow these instructions for soaking other nuts or seeds as well.
CREAMY MUSHROOM PENNE is excerpted from
VEGAN RESET
© 2018 by Best of Vegan LLC. Photography © 2018 by Best of Vegan LLC. Reproduced by permission of Houghton Mifflin Harcourt. All rights reserved.