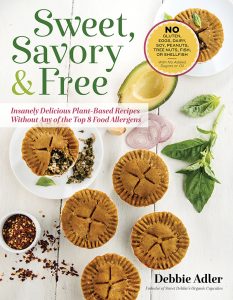 Gluten, eggs, dairy, soy, peanuts, tree nuts, fish, shellfish.  These eight foods account for 90% of food allergies (source).  If you're vegan, half of them aren't a concern, since you don't eat them anyway. However, the other four could be issues.  And even those four foods are pretty tough to exclude from your diet.  Soy and gluten are everywhere and nuts and tree nuts are pretty common ingredients as well.  If you have an issue with any of these foods, you know just what I'm talking about.
We want to feel good.  And we also want to eat good food.  We might be able to find a decent frozen meal that doesn't have any soy or gluten.  But it may contain too much sodium, oil or sugar.  That makes the food taste good, but it doesn't do much for our health, does it?
If you want to cook good food that is healthy and doesn't contain allergens that you or a loved one can't tolerate, you must check out Debbie Adler's newest cookbook, Sweet, Savory & Free: Insanely Delicious Plant-Based Recipes Without Any of the Top 8 Food Allergens.  Debbie is the owner of Sweet Debbie's Organic Cupcakes, located in Los Angeles, California.  We reviewed her previous book, Sweet Debbie's Organic Treats:  Allergy-Free and Vegan Recipes From the Famous Los Angeles Bakery a couple of years ago.  Her latest creation is yet another gem.
After walking us through some homemade staples (homemade Siracha!), Debbie shares dozens of unique recipes.  Breakfasts include Raspberry Hemp Pancakes and Fakiin Bacon Crescent Rolls (this bacon is made with shiitake mushrooms).  There are tasty soups, pizzas, pastas, side dishes and desserts.  And lots of comfort food, such as Sweet Onion & Potato Pierogi and Spinach & Basil Dumplings.  There's a superb bread chapter, which includes sweet and savory loaves, such as Banana Java Date Bread, Challah and Kalamata Rosemary Rustic Boule.  Makes me want to stay home and feed my family every day.
Of all the chapters, my favorite by far is the Meals In Muffin Tins & Ramekins.  I love mini-meals and the ones Debbie shares with us are so unique and varied:  Creamy Pumpkin & Mushroom Stuffing Rounds, Pot Primavera, Asian Fusion Noodle Kugel and Cannellini Cupcakes With Whipped Parsnip (recipe follows) are just a few of the options in this chapter.
This is a cookbook that will keep you busy trying new recipes for quite some time.  You can spoil your family or plan a memorable dinner for special guests.  Once you have the basic ingredients on hand, you can find a number of uses for them throughout the book.  And you can substitute other vegetables and fruits easily (those pancakes would probably be just as tasty with any other berry, right?).  Nutrition information is included and there's a great resource list if you can't find an ingredient in your area.  And, always important in a good cookbook, there are tons of photos so you aren't left wondering what a Glazed Lemon Wonut actually looks like.  By the way, a Wonut is a waffle doughnut and it's pretty cute!
Make room on your shelf for another cookbook.  Sweet, Savory & Free deserves that spot.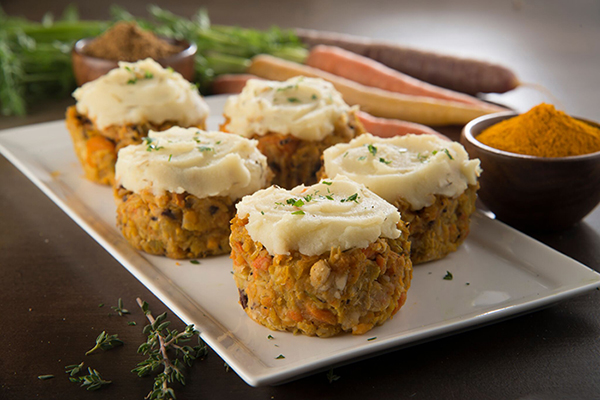 Cannellini Cupcakes with Whipped Parsnip
Author:
Serves:
12 standard size cupcakes
Ingredients
[b]Cannellini Cupcake[/b]
1 medium (about 4 ounces) sweet potato, scrubbed
1 small yellow onion, chopped
½ cup coconut aminos (or soy sauce)
½ teaspoon cumin
½ teaspoon turmeric
2 stalks celery, chopped
2 medium carrots, peeled and chopped
¾ cup gluten-free oats
1 cup water
1 (15 ounce) can cannellini beans, rinsed and drained
¼ cup kalamata olives, pitted and chopped
[b]Parsnip Frosting[/b]
½ pound (about 2 medium) parsnips, peeled and sliced
¼ cup coconut aminos
1 cup coconut milk
2 cloves garlic, minced
2 tablespoons onion powder
1 tablespoon nutritional yeast
1 teaspoon dried thyme
[b]Topping[/b]
3 tablespoons finely chopped fresh parsley
1 teaspoon freshly ground black pepper
Instructions
Preheat the oven to 350°F. Line a standard 12-cup cupcake tin with paper baking cups.
[b]To make the cannellini cupcakes:[/b] Place small slits all around the sweet potato and microwave it for 5 minutes or boil in water until tender about 10 minutes. Once it cools slightly, peel and slice it into rounds.
Heat the onions in a medium sauté pan over medium heat and stir until fragrant, about 1 minute.
Add the coconut aminos, cumin, turmeric, celery, carrots, oats, water and sweet potato, stirring occasionally, until the vegetables are tender, the spices are fragrant, and the water is absorbed, about 10 minutes.
Add the cannellini beans, olives and vegetable mixture from the sauté pan to a food processor. Pulse to combine until everything comes together but still has texture.
Spoon the mixture into the prepared cupcake tins, dividing it evenly. Each cup should be almost full.
Bake the cupcakes until they are a light golden brown around the edges, about 15 minutes.
Transfer the cupcake tin from the oven to a wire rack and let sit for 15 minutes before removing the baking cup liners.
[b]To make the whipped parsnip:[/b] Add the parsnips, coconut milk, garlic onion, nutritional yeast and thyme to a sauté pan over medium heat. Bring to a boil and then lower the heat. Let simmer until the parsnips are tender, about 8 minutes.
Transfer the parsnip mixture to a high-speed blender or food processor and puree until smooth.
Frost the cannellini cupcakes with the whipped parsnip and top with the parsley and pepper.