Cauliflower Steak with Miso-Rooster Sauce is a terrific dish to cook on date night, or special occasions such as a birthday or Valentine's Day.
In exploring the plant world, it's nice to come across a plant with a natural texture that is good enough to eat on its own. With this recipe, I wanted to combine textures and flavors: the soft, almost creamy texture of cooked cauliflower, the deep, pungent flavor of the fermented miso, and the spicy kick of sriracha, or as I call it, rooster sauce. I created this dish for one of my private clients, and it quickly became a menu staple. I think it will be on yours as well.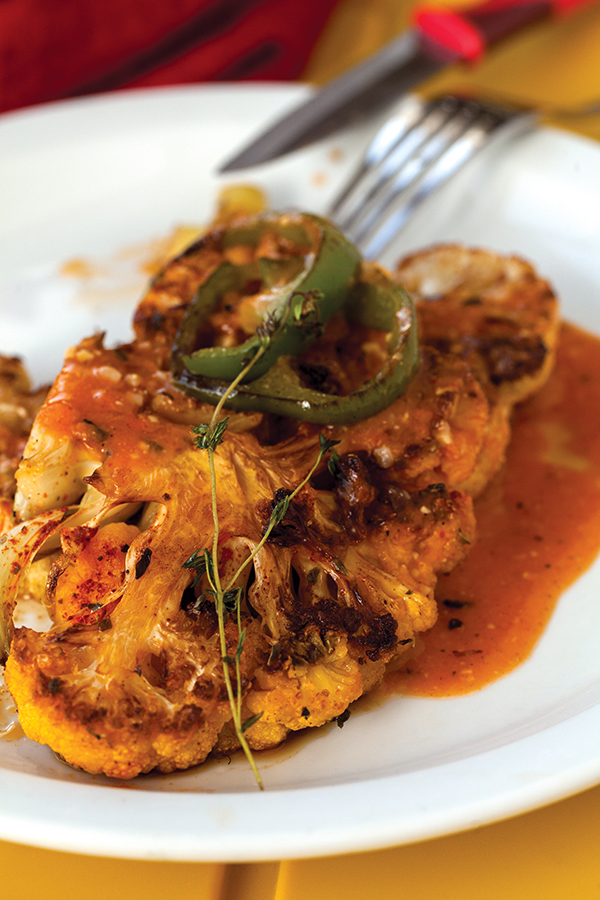 Cauliflower Steak with Miso-Rooster Sauce
Author:
Ayinde Howell and Zoe Eisenberg
Ingredients
Cauliflower:
2 tablespoon grapeseed or safflower oil
2 cauliflower steaks (see Pro-Tip, below)
½ cup leeks, white and light green parts only, cut in wheels
1 tablespoon nutritional yeast
2 teaspoons minced fresh oregano
1 teaspoon smoked paprika
½ teaspoon red pepper flakes
½ teaspoon sea salt
Sauce:
1 tablespoon vegan butter
½ cup onion, diced
1 teaspoon minced garlic
1 teaspoon minced fresh ginger
¾ cup water
1 tablespoon chickpea miso
1 tablespoon sriracha
1 teaspoon cornstarch
1 teaspoon toasted sesame seed oil
¼ teaspoon sea salt
2 fresh thyme sprigs, for garnish
Instructions
Cauliflower: Preheat the oven to 250°F. Heat the oil in a medium oven-safe skillet over medium-high heat until hot and shimmering. Place the cauliflower steaks and leeks in the hot skillet and cook for approximately 3 minutes on each side. Working quickly, sprinkle the nutritional yeast, oregano, paprika, red pepper flakes, and salt evenly on both sides. Transfer the skillet to the oven to keep warm. Turn off the oven and keep it closed.
Sauce: In a medium skillet over medium heat, heat the butter until hot. Add the onions and sauté until caramelized, approximately 6 minutes. Add the garlic and ginger and sauté for additional 2 to 3 minutes.
In a measuring cup, combine the water with the miso, sriracha, cornstarch, sesame oil, and salt. Whisk thoroughly to combine. Add the liquid mixture to the skillet with the onion mixture and mix well with a whisk. Once the sauce begins to thicken, reduce the heat to low. To adjust the flavor of the sauce, simply add more water by the tablespoon until it is to your taste.
Plating: Place a cauliflower steak in the center of each plate, followed by a spoonful of the leeks. Drizzle the warm sauce over and around the cauliflower and garnish with a sprig of fresh thyme. Serve hot.
Notes
Pro-Tip: How to Carve Cauliflower Steaks: Knife skill time, guys! Place a head of cauliflower on a cutting board. Make a slightly off-center cut down the middle of the cauliflower. You now have two halves; one will be slightly bigger. Take the bigger half and cut two 1-inch thick steaks from it.
From
The Lusty Vegan
© 2014 by Ayindé Howell and Zoë Eisenberg. Used with permission from Vegan Heritage Press.