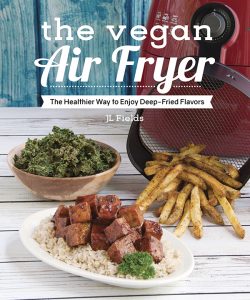 Dennis bought me an air fryer for Christmas, and it sat on the kitchen counter for about a month, because I wasn't quite sure what to do with it. I knew it was good for "frying" foods without using a ton of oil or turning on the stovetop, but beyond that, I didn't know how to cook in it. The first few things I "cooked" were just simple frozen snacks from Trader Joe's. Thankfully, I now have The Vegan Air Fryer by JL Fields to show me how to cook all sorts of delicious dishes with my new kitchen gadget!
Full disclosure here: JL is a friend of mine. We met while taking Victoria Moran's Main Street Academy together in 2012. And more disclosure: I do consulting work for Vegan Heritage Press, JL's publisher, and I worked on the book's design. I would have been just as excited about this book if I didn't know JL and didn't work on the book, though!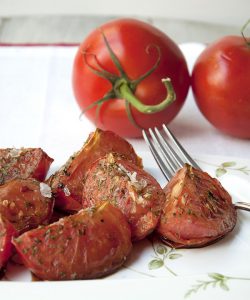 JL starts the book with a chapter dedicated to air frying basics. This includes reasons why you should air fry your food, a list of handy accessories, and some safety tips. She then shares some vegan basics, such a list of ingredients that are good to have on hand, instructions on pressing tofu, and tips on adding umami, the fifth flavor, to your meals. She also includes a few basic recipes, such as pizza dough and vegetable broth.
If you're already a whiz with vegan cooking and air fryer, you'll want to delve right into the recipes. JL includes recipes for everything you could possible want to eat in a day, from breakfast through lunch and dinner right up to dessert. There are plenty of snacks, too! There's something for everyone in The Vegan Air Fryer. The recipes range from simple dishes, such as Seasoned French Fries and Roasted Brussels Sprouts, to more complex meals, like Sambal Goreng Tempeh and Chic'n-Fried Steak. Did you know that you can "bake" in the air fryer? Yep! I've got my eye on the Shortbread Cake and Fruit Pastry Pocket recipes.
I had a bag of potatoes waiting to be used, so the first recipe I made was the Kale and Potato Nuggets. In this dish, mashed potatoes and kale and mixed together to form bite-sized pieces and then they're air fried to perfection. These are perfect as a snack, an appetizer, or even a side dish.
JL ends the book with a list of resources. There's a chart with cooking times for common foods, more ways to use your air fryer, and list of current air fryer brands. There's also an essay on using oils in a healthy diet by registered dietician Ginny Messina.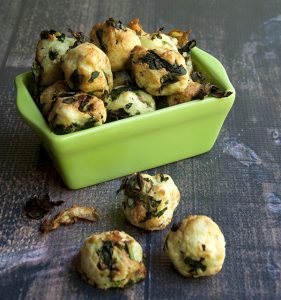 The Vegan Air Fryer's chapters include:
Air Fryer 101
Vegan Basics
Breakfast and Brunch
Starters and Snacks
On the Side
Main Dishes
One-Basket Meals
So Sweet
Thanks to JL and The Vegan Air Fryer, my air fryer is no longer being neglected. I've been using it morning, noon, and night! If you have an air fryer, you need this book!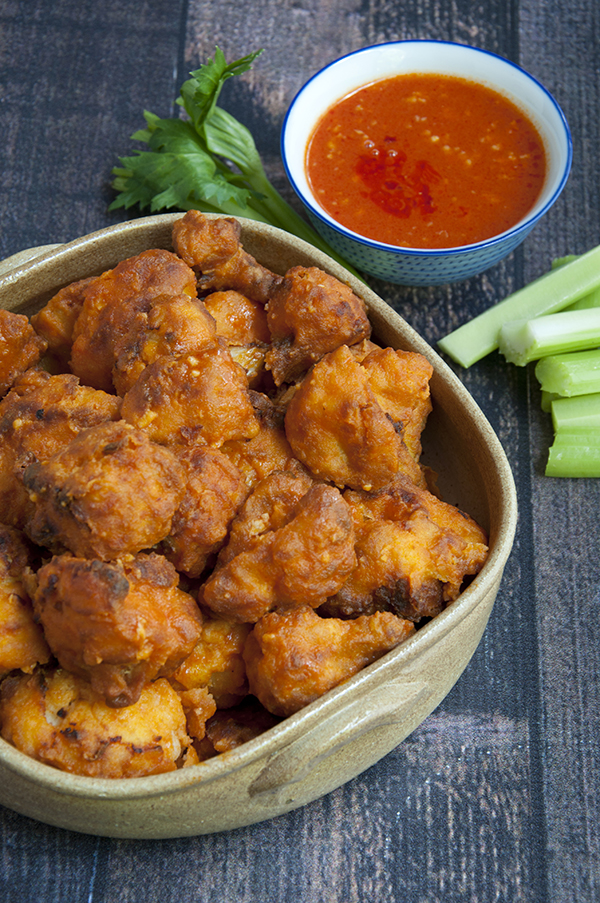 Buffalo Cauliflower
Hot and spicy are two words that describe this air-fried cauliflower – another is delicious.
Ingredients
1 large head cauliflower
1 cup unbleached all-purpose flour
1 teaspoon vegan chicken bouillon granules
¼ teaspoon cayenne pepper
¼ teaspoon chili powder
¼ teaspoon paprika
¼ teaspoon dried chipotle chile flakes
1 cup soymilk
Canola oil spray
2 tablespoons nondairy butter
½ cup Frank's RedHot Original Cayenne Pepper Sauce or your favorite cayenne hot sauce
2 cloves garlic, minced
Instructions
Cut the cauliflower into bite-size pieces. Rinse and drain the cauliflower pieces.
Combine the flour, bouillon granules, cayenne, chili powder, paprika, and chipotle flakes in a large bowl. Slowly whisk in the milk until a thick batter is formed.
Spray the air fryer basket with canola oil and preheat the air fryer to 390°F for 10 minutes.
While the air fryer is preheating, toss the cauliflower in the batter. Transfer the battered cauliflower to the air fryer basket. Cook for 20 minutes on 390°F. Using tongs, turn the cauliflower pieces at 10 minutes (don't be alarmed if they stick).
After turning the cauliflower, heat the butter, hot sauce, and garlic in a small saucepan over medium high heat. Bring the mixture to a boil, reduce the heat to simmer, and cover. Once the cauliflower is cooked, transfer it to a large bowl. Pour the sauce over the cauliflower and toss gently with tongs. Serve immediately.
Notes
From
The Vegan Air Fryer
, copyright © 2017 by JL Fields. Used by permission. Photo by Michelle Donner.
Photos by Michelle Donner.
Book review reprinted with permission from Dianne's Vegan Kitchen.