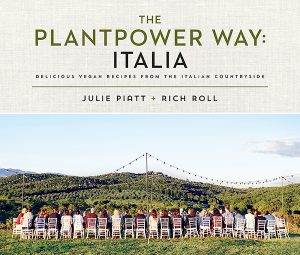 Blackened Balsamic Cauliflower from The Plantpower Way: Italia is a delicious side dish, but it's also great for a light main dish, too.
Italian Food
I don't know anyone who doesn't like Italian food. There's just something about starchy noodles, creamy sauces, and cheesy pizzas that pretty much everyone can agree is delicious. Pasta and pizza are quite often the default meals of choice when one goes vegetarian. But once you've gone vegan and have given up cheese, what do you do? Make vegan versions, of course!
The Plantpower Way: Italia
The Plantpower Way: Italia by Julie Piatt and Rich Roll is loaded with healthy, vegan versions of everyone's Italian food favorites, from Cheesy Pesto and Creamy Garlic Gorgonzola to Classic Eggplant Parmesan and Pizza Margherita.  Of course, there are many pasta recipes as well, including Ravioli and Truffle Cashew Fettuccini Alfredo. Plenty of Italian-inspired desserts are included too, such as Gluten-Free and Dairy-Free Tiramisu and Creamy Lemon Gelato.
With the The PlantpowerWay: Italia you'll learn how to make your own cheeses, sauces, and even pastas. The sauces and cheeses come together super quickly, so there's really no excuse for not making your own. The pasta recipes are much easier than you would think, as you'll see from the gnocchi recipe below.
The PlantpowerWay: Italia is a gorgeous book. It's a beautiful hardcover that's loaded with mouthwatering photos of the recipes as well as fun pictures of authors Julie Piatt and Rich Roll enjoying time in Italy. This is a book you'll want to keep on display on your coffee table rather than stash away in your bookcase.
The Chapters in The Plantpower Way: Italia include:
Blends and Breakfast
Sauces, Spreads, and Cheeses
Pizzas
Antipasta and Contorni
Pasta and Primo
Salads and Soups
Desserts
I absolutely love the book's Blackened Balsamic Cauliflower recipe. I'm looking forward to making more dishes from this The Plantpower Way: Italia. I have Lobster Mushroom Risotto and Orange Chocolate Raw Pie bookmarked. If you love Italian food, you need this book in your life.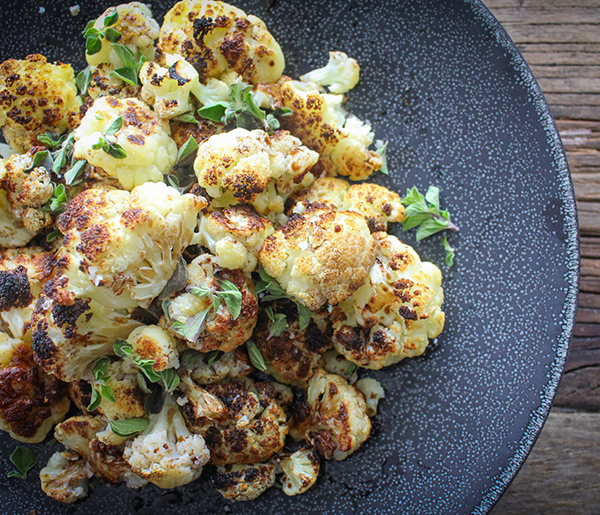 Blackened Balsamic Cauliflower
This is one of my favorite ways to serve up cauliflower. This whole food comes alive with the lively contrasts of the fireside roasted flavor combined with the distinct sweet acidic balsamic. Garnished with your favorite Italian herbs, this is whole food at its very best. This is a great recipe to include as a side at dinner or main at lunch. It can also mix beautifully in risotto or with roasted potatoes.
Author:
Julie Piatt and Rich Roll
Ingredients
2 heads of cauliflower
2 tablespoons olive oil
2 tablespoons Celtic sea salt
¼ cup balsamic vinegar
Freshly cracked black pepper to taste
Fresh oregano, rosemary and thyme
Instructions
Prepare the oven to broil
On a baking sheet, place both heads of cauliflower root-side down and brush them generously with olive oil. Sprinkle them with 1 tablespoon of the salt.
Broil the heads of cauliflower until the tops become slightly blackened and the base of the cauliflower is a bit translucent and slightly tender. Remove the heads of cauliflower from the oven.
On a cutting board, cut off the heads and separate them into bite-size florets.
While they are steaming hot, arrange the florets on a serving plate and pour the vinegar over them. Sprinkle with the remaining salt and the pepper. Finish by sprinkling with fresh herbs.
Notes
Reprinted from
The Plantpower Way: Italia
by arrangement with Avery Books, a member of Penguin Group (USA) LLC, A Penguin Random House Company. Copyright © 2018, Julie Piatt and Rich Roll
Book review reprinted with permission from
Dianne's Vegan Kitchen