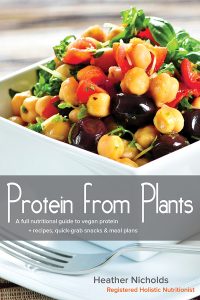 Usually, one of the first questions vegans are asked is how they get protein, since animal foods are considered by many to be the ideal protein source—and some people think they are the only foods that contain protein.
Protein from Plants by Heather Nicholds will give you a full understanding of protein, including how much you actually need and how to get more than enough from plant foods. Armed with the information, recipes and meal plans in this book, you will be confident and healthy as a vegan—and have the answers to those questions.
You'll find part nutrition resource, and part cookbook. Protein from Plants takes the science and makes it easily understandable, plus it gives you delicious recipes and balanced meal plans to make it actionable. It bridges the gap that normally separates knowledge from practical steps.
Protein from Plants is also for vegetarians and meat-eaters, since focusing more on the plant side of your plate is always a good thing, and you might be curious about how your vegan friends can be so healthy without meat.
Protein from Plants is available in a print version or for Kindle.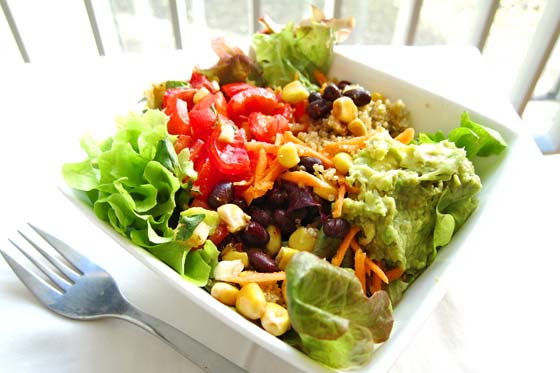 Black Bean Taco Salad
Ingredients
1½ cup black beans, (cooked) or a 14 oz can
1 cup corn, fresh or frozen
⅛ cup fresh cilantro, or parsley
1 lime - juice and zest
1-2 tsp chili powder
sea salt, to taste
1 tomato, diced
1 bell pepper, chopped
2 green onions, chopped
Instructions
Toss all of the ingredients together. This tastes better if you have a chance to prep it in advance, so the flavors have time to merge.
Keep leftovers in the fridge in an air-tight container.
Notes
Hints & Tricks
Serve this tossed with cooked quinoa, or in a lightly heated whole grain wrap, topped with chopped avocado or guacamole plus salsa.

Recipe from Protein from Plants by Heather Nicholds. Reprinted with permission.