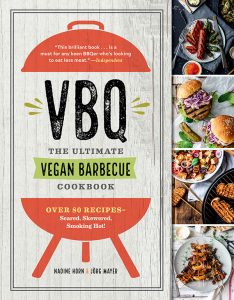 Summer's almost here! It's time to break out the grill and get cooking! Start your summer off with BBQ Tempeh Sandwiches from VBQ: The Ultimate Vegan Barbecue Cookbook by Nadine Horn and Jörg Mayer.
Summer Grilling
I'm actually not a big fan of summer. I know, I know—I'm weird. I just don't do well in hot weather. The heat makes me cranky, I burn super easily, and don't even get me started on mosquitos. One of the things I do really enjoy about the season, though, is cooking dinner on the grill in my backyard.
A few years ago, we bought our first house, and were delighted to find a propane-powered grill left behind the shed. It was a few years old, but it looked like it had only been used once. We gave it a good scrub, fired it up, and started cooking. Some of my friends were surprised. "What kinds of food can vegans grill?" It should be more like "What kinds of foods can'tvegan's grill?" because we were barbecuing just about everything we could get our hands on.
VBQ: The Ultimate Vegan Barbecue Cookbook
If you're like my friends and you're not sure what can be cooked on the barbecue, you're in luck, because VBQ: The Ultimate Vegan Barbecue Cookbook byNadine Horn and Jörg Mayer is now here to help!
Veggie-grilling newbies will find the information in VBQ: The Ultimate Vegan Barbecue Cookbookinvaluable. It's loaded with information about grills, grilling accessories, and cooking vegan food on the grill. If you have a question about vegan barbecuing, VBQhas the answer.
Once you have your grill and you're ready to cook, you're ready to dig into VBQ's recipes. You'll find recipes for everything like the standard burger and skewer barbecue fare to things you might not have thought to cook on the grill, such as pizza and salad. (Yes, salad!) Marinades, sauces, and rubs are included too, of course.
Chapters in VBQ: The Ultimate Vegan Barbecue Cookbook include:
About Barbecuing
How to Barbecue Vegan Style
Burgers, Sandwiches & Patties
Steaks, Sausages & Skewers
Vegetables—Stuffed, Grilled & Braised
Pizzas, Wraps & Co.
Salads—From the Grill… or Otherwise
Sauces & Basics
Bread & More
If you're vegan and you plan on grilling this summer, or if you're a grilling buff and you want to add more plant-based meals into your diet, you need VBQ: The Ultimate Vegan Barbecue Cookbook!I have many of the book's mouthwatering recipes marked, and I'll be cooking my way through it all summer.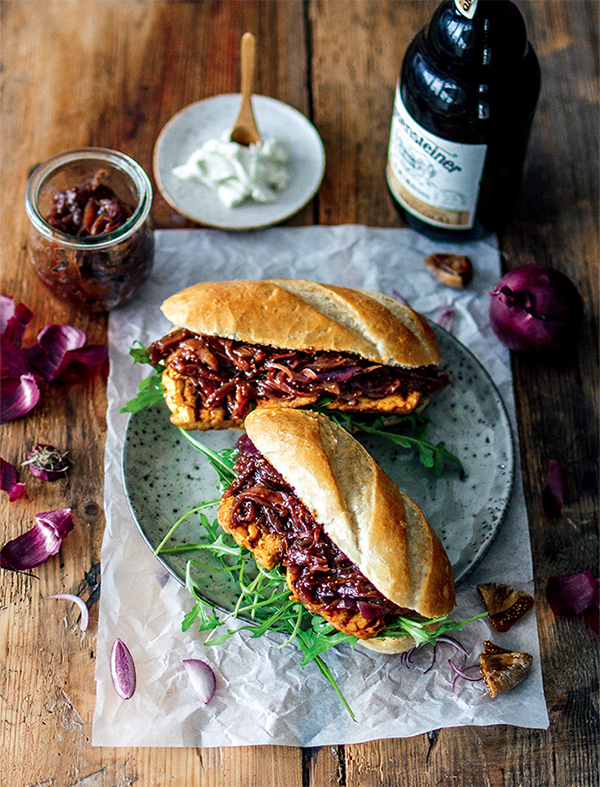 BBQ Tempeh Sandwiches
Author:
Prep time:
Cook time:
Total time:
Ingredients
[b]For the marmalade[/b]
1¼ cups (180 g) dried figs
4 red onions
2 tablespoons olive oil
½ teaspoon ground cinnamon
½ teaspoon salt
1 bay leaf
½ cup (100 ml) red wine vinegar
[b]For the tempeh[/b]
One 8-ounce (225 g) package tempeh
¼ cup plus 2 tablespoons (90 ml) soy sauce
¼ cup plus 1 tablespoon (75 ml) olive oil
1 teaspoon smoked paprika
[b]Extras[/b]
4 sandwich rolls
4 tablespoons vegan cream cheese
2 handfuls arugula
Instructions
For the marmalade, dice the figs and slice the onions into thin rings. Put the olive oil in a hot cast-iron saucepan and add the figs, onions, cinnamon, salt and bay leaf and sweat them for 5 minutes over indirect heat. Deglaze the pan with the vinegar and ⅔ cup (150 ml) water and cook over low heat for 40 minutes.
Cut the tempeh into slices 1 cm thick, blanch for 10 minutes in boiling water, then drain.
Mix the soy sauce, oil and paprika and marinate the tempeh slices in the mixture for 30 minutes.
Cook the tempeh over direct heat for 4 to 5 minutes each side.
Cut the rolls open and spread each cut side with 1 tablespoon vegan cream cheese. Fill each with the arugula and tempeh and top with 1 to 2 tablespoons of the fig and onion marmalade.
Notes
[b]Tip:[/b] The marmalade is also very good if prepared beforehand and can be stored for up to 1 week in the refrigerator. [br][br]Recipe from [i][url href="https://amzn.to/2sv9J5z" target="_blank"]VBQ: The Ultimate Vegan Barbecue Cookbook[/url][/i] © Nadine Horn and Jörg Mayer, 2018. Photographs copyright © Nadine Horn and Jörg Mayer. Illustrations copyright © Nessa Horn. Reprinted by permission of the publisher, The Experiment. Available wherever books are sold.[url href="https://theexperimentpublishing.com" target="_blank"]theexperimentpublishing.com[/url]
Book review reprinted from Dianne's Vegan Kitchen with permission.