Look for canned water-packed jackfruit in Asian markets or well-stocked supermarkets (be sure not to get the kind packed in syrup). If jackfruit is unavailable, substitute your choice of chopped seitan, steamed crumbled tempeh, chopped mushrooms, or reconstituted TVP or Soy Curls.

BBQ Jack Sandwiches
Makes 4 sandwiches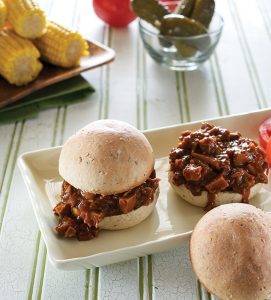 Ingredients
1 tablespoon olive oil
1 (16-ounce) can water-packed jackfruit, drained and shredded or thinly sliced
1 (4-ounce) can chopped mild or hot green chiles, drained
1 cup barbecue sauce
1 tablespoon tamari
2 teaspoons prepared yellow mustard
1/2 teaspoon smoked paprika
1/2 teaspoon liquid smoke
1/2 teaspoon onion powder
Salt and ground black pepper
4 sandwich rolls, split and toasted
Preparation
Heat the oil in a saucepan over medium heat. Add the jackfruit and chiles and cook, stirring, for 3 minutes. Stir in the barbecue sauce, tamari, mustard, paprika, liquid smoke, onion powder, and salt and pepper to taste. Cook, stirring occasionally, to heat through and blend the flavors, about 8 minutes. Mix well, adding a little water if the mixture is too dry. Taste and adjust the seasonings, if needed. When ready to serve, spoon the mixture onto the rolls and serve hot.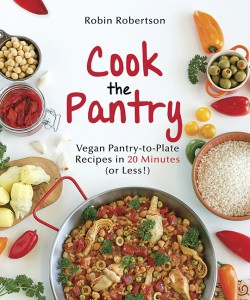 Recipe from Cook the Pantry © 2015 by Robin Robertson. Photo by Annie Oliverio. Used by permission Vegan Heritage Press LLC.