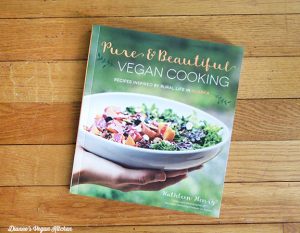 People have quite often told me that being vegan is difficult where they live, or that finding vegan food can be hard in other parts of the country. I may be a little spoiled because I live within walking distance of a Whole Foods, but I know that it's possible to be vegan in other areas. Kathleen Henry proves that it's true in her new book Pure & Beautiful Vegan Cooking.
Kathleen Henry was born and raised in a small rural Alaskan town. Alaska might not be the first state that comes to mind when you think of vegan food ­– there aren't any stores like Trader Joe's or Whole Foods, and there isn't much produce to be found during the harsh winters – but Kathleen make makes it work. She purchases her fruits and veggies from farmer's markets and her local CSA and she buys just about everything else at her local grocery store. As she says in her introduction, is he can make it work with limited ingredients in the Last Frontier, then you can, too.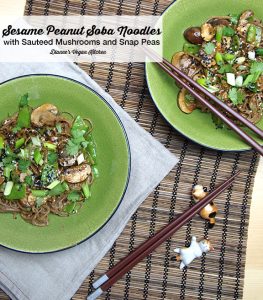 Kathleen starts Pure & Beautiful Vegan Cooking with ingredient tips and information on equipment. The recipes in Pure & Beautiful Vegan Cooking don't use very many hard-to-find ingredients, but there are one or two that you might need to order from Amazon or Vitacoast if you have limited resources in your area. A vegan kitchen looks pretty much the same as an omnivore kitchen, but Kathleen shares some info on equipment that you might want to splurge on, like a high-powered blender and a food processor.
The meals in Pure & Beautiful Vegan Cooking are divided into Mornings, Afternoons, and Evenings chapters. These recipes use easy-to-find whole foods such as beans, grains, and veggies. They're all quick and easy to make, and there's nothing that a non-vegan dinner guest might find "weird". I've made a few recipes from these chapters – they all took less than half an hour to make, and they were all super tasty. The Walnut-Chickpea Tacos were so easy to make it felt like I was cheating. The Herbed Socca came together so quickly that it left me wondering why I don't make socca more often. Before I even began to prepare the Grilled Vegetable Pitas, I could tell that the Cilantro Lime Sauce was going to be good, so I doubled the amount and slathered the leftovers on other meals.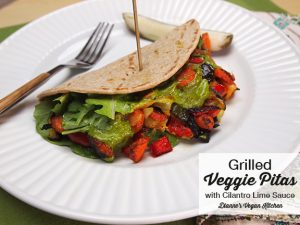 The books other chapters are Snacks, Sides & Salads; Bakery; Sweets; and Drinks. In these sections you'll find recipes for everything from Vegan Queso Dip and Summer Macaroni Salad to Mocha S'mores Pie and Wild Blueberry Pie Chia Jam.
Pure & Beautiful Vegan Cooking is a beautiful book with gorgeous photos. I LOVE the book's stay-flat binding that allows me to keep my book open on the counter while cooking. (Why aren't more publishers using stay-flat binding??) If you think it's difficult to be vegan where you live, if you're looking for reduce your meat intake, or if you're just looking for some delicious plant-based recipes, Pure & Beautiful Vegan Cooking is the book for you!

Herbed Socca w/ Roasted Broccoli & Hummus
I like to think of socca as "lazy man's pizza," but it's really better thought of as a savory and hearty pancake made with chickpea flour. Just like with pizza, any of your favorite veggies can be thrown on top! Even if it's just topped with a handful of mixed greens and some olive oil, it will be completely delicious.
Personally, I think socca batter is best when infused with herbs and/or spices and baked in a cast iron skillet. Okay—truthfully, it's best prepared in a wood-fired oven but we can't all live above an authentic, Italian pizzeria. A regular ol' oven works just fine, I assure you. My go-to socca is topped with creamy hummus, roasted broccoli and fresh sprouts for an easy and nutritious meal. Once you start making socca, it will be a regular in your arsenal of recurring meals!
Serves 4-6
Batter
1 cup (90 g) chickpea flour (see note)
1 tsp table salt
½ tsp dried parsley
¼ tsp dried oregano
¼ tsp dried thyme
Dash of ground black pepper
1 ½ cups (350 ml) water
4 tbsp (60 ml) olive oil, divided
Toppings
1 small head of broccoli (200 g), sliced florets only
1/3 cup (90 g) of your favorite hummus
¼ cup (14 g) broccoli sprouts or microgreens (optional, see note)
Preparation
Place a 12-inch (30-cm) cast iron skillet inside the oven and preheat to 450°F (232°C).
In a medium bowl, whisk together the batter ingredients excluding the water and oil. Now, slowly whisk in the water and 2 tablespoons (30 ml) of the oil. Allow the batter to rest for 15 minutes to 2 hours.
While the batter rests, slice the broccoli florets. Arrange the florets in a single layer on a baking sheet lined or coated with a nonstick cooking spray and drizzle with 1 tablespoon (15 ml) of oil. Set aside.
Once the batter is done resting, coat the hot skillet with 1 tablespoon (15 ml) of oil and pour in the batter. Place the skillet on the top middle rack in the oven and place the broccoli pan on the lower middle rack in the oven. Bake for 15 minutes.
Remove the broccoli from the oven after the time is up. Now, move the top rack to its highest level and broil the socca for about 5 minutes, until slightly crispy on top. Be sure to keep your eye on it, ensuring that it doesn't burn.
Remove the socca from the oven and allow to rest for 5 minutes. Top with a layer of hummus, followed by the broccoli and finally the sprouts. Serve warm.
Notes: Chickpea flour goes by many names. You might find it labeled as garbanzo bean flour, besan or gram flour. It can be found in the ethnic or bulk section of your grocery store. Alternatively, it can be found on Amazon.com.
I grow my own broccoli sprouts so I always have them on hand. They're very easy to sprout, long-lasting and a lovely, fresh addition to meals, especially during the long, Alaskan winter months!
The longer the batter is allowed to rest, the better. But hey, when my tummy is growling, time is of the essence!
Recipe reprinted with permission from Pure and Beautiful Vegan Cooking by Kathleen Henry.
Review reprinted with permission from Dianne's Vegan Kitchen.
I have a copy of Pure and Beautiful Vegan Cooking for one lucky winner this week. Follow the instructions below to enter. U.S. residents only, please. Contest ends at midnight eastern time on June 2nd. Good luck!