I am part Irish, but I didn't grow eating foods that were Irish in nature, and we never celebrated St. Patrick's Day with anything special. Several years ago, I had been reading about Irish foods, Colcannon struck as something I'd enjoy. It's simply mashed potatoes with cabbage or kale, with leeks, scallions, or chives sometimes mixed in. I wanted to give it a try for the potluck, but I didn't use a recipe – I just made mashed potatoes and mixed it with sautéed leeks and cabbage. People asked me for the recipe later, and when I told them that I didn't have one, they eyed me suspiciously, as if I was refusing to share a well-guarded family secret.
I've made this dish with kale and cabbage, and both versions are just as tasty. I've used kale here, but feel free to use whichever you prefer. I'll be making a big pot of this vegan colcannon this St. Patrick's Day.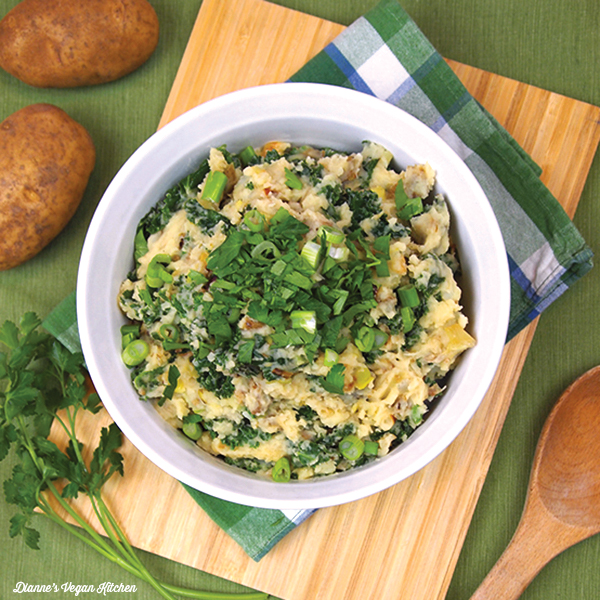 Vegan Colcannon
Ingredients
6 medium-sized russet potatoes, scrubbed and diced
2 teaspoons salt, divided
1 teaspoon olive oil
2 leeks, chopped
4 cups kale, chopped into bite-sized pieces
4 scallions
1 cup non-dairy milk
2 tablespoons olive oil
2 tablespoons nutritional yeast
½ teaspoon black pepper
¼ cup parsley
Instructions
Place the potatoes in a large pot and cover with enough water to cover the pieces with an extra inch or two. Add a teaspoon of salt to the water. Bring to a boil, and then reduce heat to medium. Cook until the potatoes are fork-tender, about 15 to 20 minutes.
While the potatoes are cooking, heat the olive oil in a pan over medium-high heat and add the leeks. Sprinkle with ½ teaspoon of salt, which will help them caramelize. Cook for about 10 minutes, until the have begun to brown.
Add the kale and scallions to the pan, and cook until the kale wilts.
Drain the potatoes, and place them back in the pot along with ½ teaspoon of salt, the non-dairy milk, olive oil, nutritional yeast, and black pepper. Mash until the potatoes reach your desired mashed potato consistency.
Add the leeks, kale, and scallions to the potatoes and mix it all together.
Garnish with the parsley and serve hot.
Recipe reprinted with permission from Dianne's Vegan Kitchen.