Knowing he can never go wrong with a shiny new kitchen gadget, Dennis bought me an Instant Pot for Valentine's day in 2015. I excitedly pulled it out of the box and touched all of the buttons, and then left it neglected on my kitchen counter for the better part of a year, not knowing quite what to do with it. I had no idea how to cook with it or if I'd blow up my kitchen when I tried. I finally broke down and watched some YouTube videos, and then I started cooking.
Shortly after I started my foray into Instant Pot cooking, Kathy Hester announced that she was working a vegan Instant Pot cookbook, and she said she needed testers. I signed up, because I wanted more recipes to add to my pressure-cooking arsenal.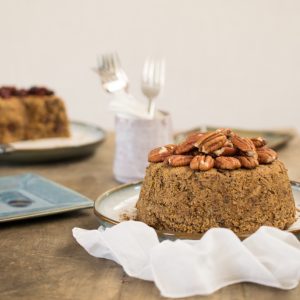 The Ultimate Vegan Cookbook for Your Instant Pot: 80 Easy and Delicious Plant-Based Recipes That You Can Make in Half the Time by Kathy Hester just hit bookshelves this week, but because I was a recipe tester, I've already made quite a lot of the recipes. This book is a must-have for anyone who has an Instant Pot!
For Instant Pot newbies, Kathy starts the book with the ins and outs of pressure-cooking. She explains how to use an Instant Pot, and well as how to care for it, and what all of those buttons on the front actually do. At the back of the book, she also shares some of her favorite accessories along with pressure-cooking resources. The book also contains handy charts for pressure-cooking beans and grains.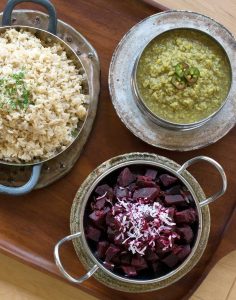 The recipes in The Ultimate Vegan Cookbook for Your Instant Pot cover the gamut of everything you could possibly need a day – breakfast, lunch, dinner, dessert, and even DIY staples. You'll find comforting soups and stews, vegetable side dishes, pasta dishes, tamales, bean burgers, and even cakes. I didn't know it was possible to make cake in an Instant Pot, but the Zucchini Lemon Spelt Snack Cake cooked up light and fluffy, and it didn't require turning the oven on, which was a plus in the hot summer weather.
While recipe testing, I became a big fan of Kathy's layered dinners – meal components layered in the Instant Pot so that everything for your meal is ready at the same time. I had no idea that this was even a possibility! You can just set the Instant Pot, and do something else while dinner cooks. The One-Pot Burrito Bowls, Southern Breakfast, and CSA Layered Indian Dinner were among my favorite recipes from the book.
If you have an Instant Pot you need to add The Ultimate Vegan Cookbook for Your Instant Pot to your cookbook collection!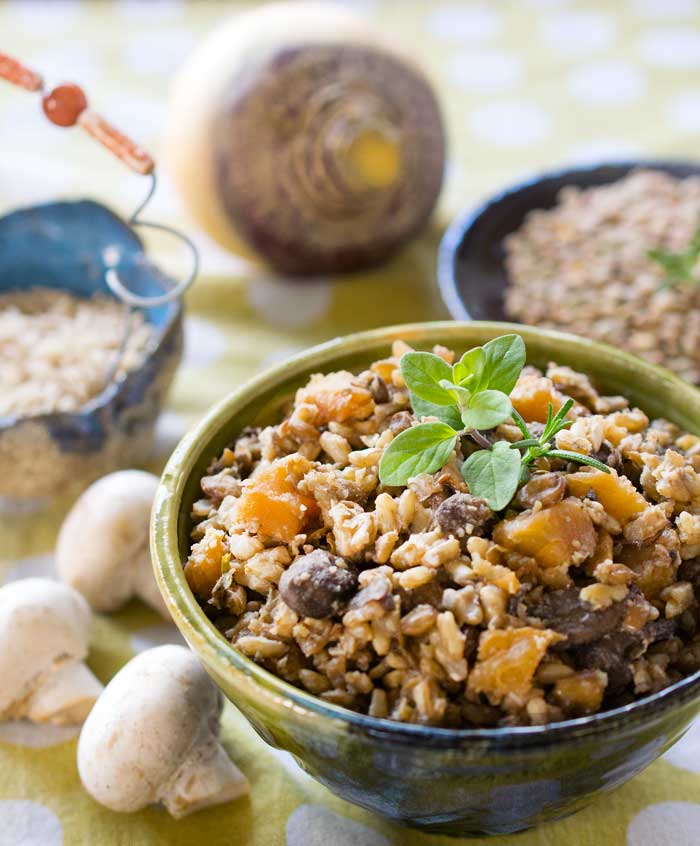 Winter One-Pot Lentils and Rice
Author:
Ingredients
[b]SAUTÉ INGREDIENTS[/b]
1 tbsp (15 ml) oil (or *dry sauté or add a little water/vegetable broth)
½ cup (80 g) chopped onion
2 cloves garlic, minced
[b]PRESSURE COOKER INGREDIENTS[/b]
3½ cups (820 ml) water
1½ cups (278 g) brown rice
1 cup (192 g) brown lentils
1 cup (160 g) peeled and diced rutabaga (or turnip or potato)
2″ (5-cm) sprig fresh rosemary
1 tbsp (2 g) dried marjoram (or thyme)
Salt and pepper, to taste
Instructions
For the sauté, use the sauté setting over normal, or medium heat, and heat the oil or broth. Add the onion and sauté until transparent, 5 minutes. Then add the garlic and sauté a minute more.
For the pressure cooker, add the water, brown rice, lentils, rutabaga, rosemary and marjoram to the onion mixture and stir to combine. Put the lid on and make sure that the vent is sealed. Cook on manual setting at high pressure and set for 23 minutes.
Let the pressure release naturally. Season with salt and pepper before serving and add more marjoram and ground rosemary as needed.
Notes
From [i][url href="http://amzn.to/2iT0eWZ" target="_blank" rel="nofollow"]The Ultimate Vegan Cookbook for Your Instant Pot[/url] [/i]by Kathy Hester. Printed with permission from Page St. Publishing.
Review reprinted with permission from Dianne's Vegan Kitchen.