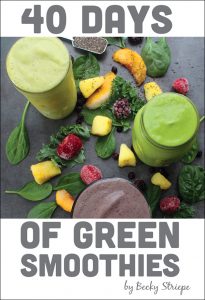 Most people make resolutions in the new year, but I prefer to make goals. One of my goals this year is to get back to my morning green smoothie habit. I had been drinking green smoothies for breakfast for quite a while, but someone I fell of the wagon. Fortunately, Becky Striepe is here to help me with my goal with her new book 40 Days of Green Smoothies!
As you would guess from the title 40 Days of Green Smoothies is full of recipes for green smoothies! Becky breaks the 40 days down into 6 weeks, and she gives a shopping list along with tips for each one, making it easy to manage.
These smoothies aren't full of expensive superfoods or weird ingredients. They're made with simple ingredients, making it easy to throw them together each morning. The simple ingredients also means that they're cost efficient, so your new healthy habit won't break the bank.
I'm on day four of my green smoothie challenge. Day one's smoothie was a simple yet delicious Strawberry Banana Smoothie. Day two's was a lush banana filled Bananarama. Yesterday's smoothie was a decadent, yet healthy, Chocolate Shake. I'm looking forward to the tasty smoothies in the weeks ahead, such as the Chocolate Covered Strawberry Smoothie, and the Almost Horchata.
Starting the morning with a green smoothie helps set the path for healthy eating throughout the rest of the day. A green smoothie for breakfast is also a great way to give yourself a nutrient boost to help get you through the day. If you've made it your goal to eat healthier this year, you need 40 Days of Green Smoothies! 40 Days of Green Smoothies is available both as an e-book and in print. Jump in and find out what your mornings have been missing!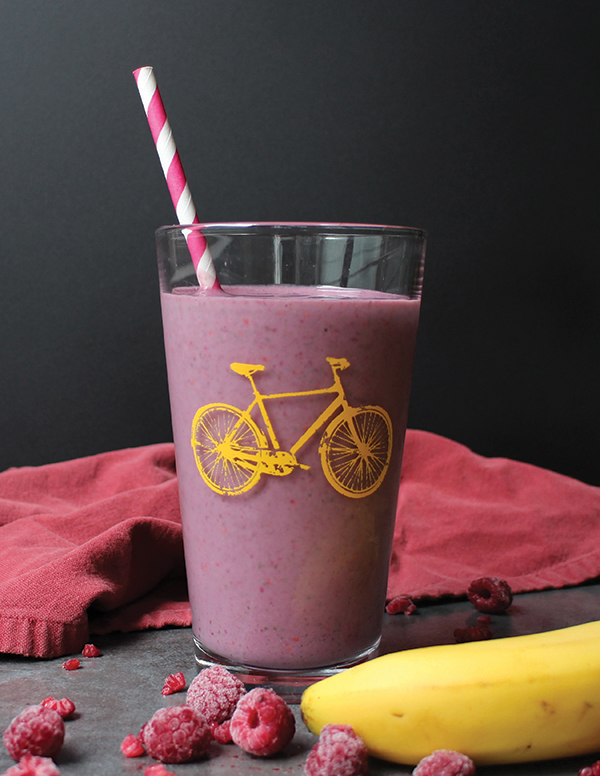 Banana Berry Fresh Smoothie
More rich, frozen banana goodness! The raspberries add bit of sweetness and tang, and parsley makes this smoothie extra refreshing.
Ingredients
½ cup frozen banana
½ cup frozen raspberries
1-2 tablespoons of fresh parsley
1 tablespoon chia seeds
½-1 cup water (add as needed, to get things moving)
4 ice cubes
Instructions
Puree until smooth.
Notes
Reprinted with permission from 40 Days of Green Smoothies, © Becky Striepe.
Review reprinted with permission from
Dianne's Vegan Kitchen