Warm up with a bowl of Coconut Soup with Mushrooms and Jackfruit from The Vegan Slow Cooker by Kathy Hester.
The Vegan Slow Cooker
Many years ago, when I first started this blog and vegan cookbooks were scarce, I was sent a vegetarian slow cooker book to review. I hadn't asked for it, and I didn't receive any other communication from the publisher. I didn't have a slow cooker, so I put it on the bookcase to live with my small cookbook collection.
Dennis remembered the book at Christmas time, and gifted me with a slow cooker. I had a little fun experimenting with it and cooking from the cookbook, but the novelty wore off, and pretty soon, the slow cooker started to gather dust. Until my friend Jen told me about The Vegan Slow Cooker by Kathy Hester. She said she had been cooking her way through it, and she thought I'd love it. And she was right! I cooked my way through it, too, and I loved every meal.
As much as I loved that slow cooker that Dennis gave me for Christmas years ago, I no longer have it. Two or three years ago he gave me an Instant Pot, so I now use it to slow cook. It works just as well as my slow cooker did, and I now have fewer gadgets cluttering my countertops.

Too Busy to Cook
The Vegan Slow Cooker, as well as Kathy's book Vegan Slow Cooking for Two or Just for You, were my go-to books when I was still working in an office during the day and getting my health coaching business off the ground by night. I didn't have much time to spend in the kitchen between the two jobs, so having a slow cooked meal waiting for me was a godsend. I always recommend both books to my health coaching clients who have busy schedules, too.

Revised and Expanded
Kathy's back with a new revised and expanded edition of the book! The new edition features 20 new recipes, for a total of 160 recipes. She's included new tricks for streamlining recipes, and she offers gluten-free, soy-free, and no oil options. The new edition features all-new mouthwatering photography, too.
If, like me all those years ago, you just received a slow cooker for Christmas, and you're not sure what to do with it, Kathy offers tips to get you started. She also includes some slow cooking rules, tips for buying a slow cooker, and help with slow cooking in your Instant Pot. She's also provided a list of ingredients to keep on hand and troubleshooting tips.
Super Easy Recipes
What I love about Kathy's slow cooking recipes is that she makes everything super easy. She breaks down her recipes into simple steps so that you can prep your meal the night before and then get things cooking in the morning. And a hot dinner will be ready and waiting for you when you get home from work. What can be better than that?
In addition to dinner recipes, you'll find recipes for soups, sandwich fillings, desserts, and even snacks. There's a chapter devoted to breakfast, too, because the only thing better than dinner waiting for you when you get home from work is a hot breakfast waiting for you when you wake up. Since the first edition's release of the book, I've become friends with Kathy, and she's included my cannellini bean ratatouille in The Vegan Slow Cooker, Revised and Expanded, which seems pretty surreal.
Chapters in The Vegan Slow Cooker Include:
Vegan Slow Cooker Basics
No-Time-to-Prep Recipes
Soups
Stews
Casseroles & Loaves
Pasta & Grains
Mains
Sides
Sandwich & Taco Fillings
Breads
Snacks & Appetizers
Breakfasts
Desserts
Staples
If your schedule is hectic, and you're in need of healthy meals options, The Vegan Slow Cooker is the book for you!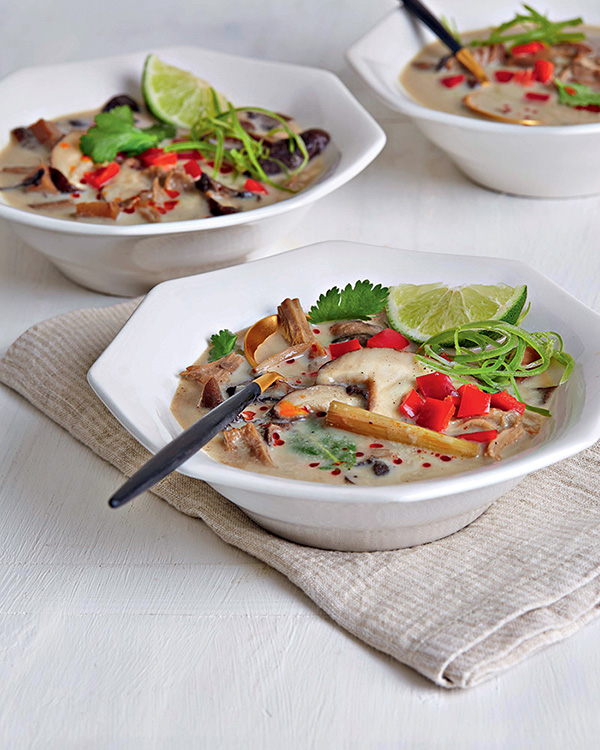 Coconut Soup with Mushrooms and Jackfruit
Author:
This is my vegan version of a Thai chicken soup called Tom Kha Gai. I made mine mild, but you can add a little chili oil to spice yours up a bit. There are a few specialty ingredients in this soup, so you will need to find an Asian market where they will be inexpensive. Tamarind concentrate adds a tang, and the kaffir lime leaves, lemongrass, and galangal root are the heart of this aromatic soup. Trust me, it's worth a trip to the market, and it comes together fast once you have the ingredients.
Ingredients
1 can (10 ounces, or 280 g) jackfruit, drained and shredded by hand
2 cups (140 g) chopped shiitake or button mushrooms
3 (3-inch, or 7.5-cm) pieces of fresh lemongrass
1 (2-inch, or 5-cm) piece galangal root, cut into slices
6 kaffir lime leaves
3 cups (705 ml) water
1 teaspoon tamarind concentrate (*use gluten-free soy sauce or **coconut aminos)
1 teaspoon brown or coconut sugar
1 teaspoon soy sauce
[b]Before Serving Ingredients[/b]
1 cup (235 ml) full-fat coconut milk (you can use light, but it won't be as rich)
¼ cup (24 g) nutritional yeast
1 to 2 tablespoons (15 to 30 ml) lime juice, to taste
Salt, to taste
Instructions
[b]The night before:[/b] Shred the jackfruit. Cut the mushrooms, lemongrass, and galangal. Store in the fridge overnight.
[b]In the morning:[/b] Add the shredded jackfruit, mushrooms, lemongrass, galangal, kaffir lime leaves, water, tamarind, sugar, and soy sauce to your slow cooker. Cook on low 7 to 9 hours.
[b]20 minutes before serving:[/b] Stir in the coconut milk and nutritional yeast. Add lime and salt to taste, and add garnishes (if using; see below).
[b]Serving suggestion:[/b] Garnish with any of the following: chili oil, lime wedges, chopped cilantro, and shredded carrot.
Notes
gluten-free option* soy-free option** no oil added[br][br]Recipe reprinted with permission from T[i]he Vegan Slow Cooker, Revised and Expanded: Simply Set It and Go with 160 Recipes for Intensely Flavorful, Fuss-Free Fare Fresh from the Slow Cooker or Instant Pot®[/i] by Kathy Hester.