Butternut Squash Salad with Dukkah from Vegan Everything by Nadine Horn and Jörg Mayer is a deliciously cozy cold weather salad. This easy vegan roasted squash salad recipe is perfect for lunch or dinner.

Vegan Everything
Do you ever find yourself with a hankering for comfort food from your pre-vegan days? I know I do! Fortunately, Vegan Everything by Nadine Horn and Jörg Mayer is loaded with lots of recipes to satisfy just about every craving. With recipes for pizza, burgers, lasagna, tacos, and cupcakes, you're sure to find a vegan version of your old favorites within its pages.
With 100 recipes to choose from,this cookbook will take you from breakfast to dinner, with lots of snacks and sweets to take care of any cravings you have between meals. The recipes are made with easy-to-find ingredients, so you won't have to spend hours going from store to store looking for specialty ingredients. And they come together quickly, too, which  means less time in the kitchen and more time spent eating!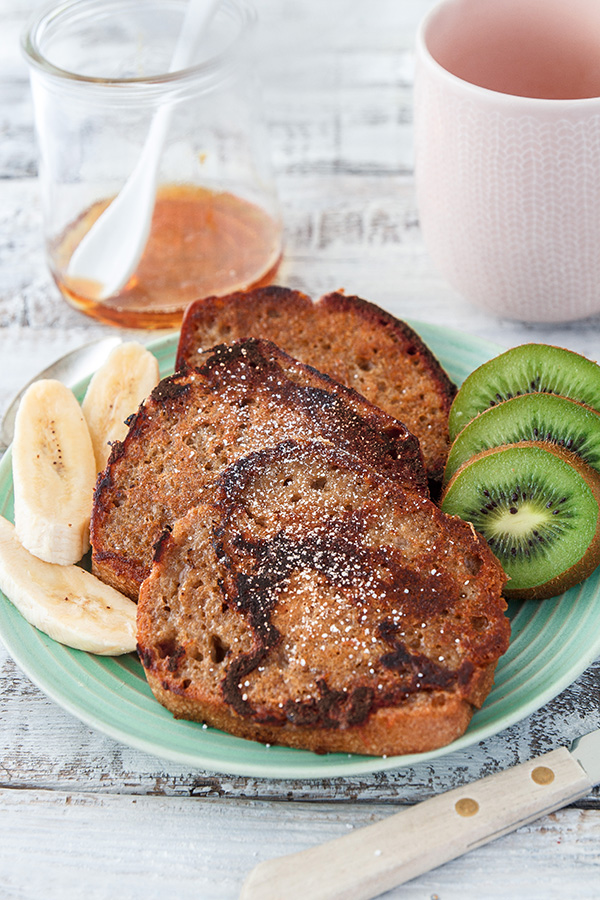 Since most of these recipes are vegan versions of classic dishes, there isn't anything that omnivores will find "too weird" to try. They're great recipes to help newbie vegans transition to plant-based eating. Who can say no to French Toast, Super Bean Burgers, Polenta Lasagna, or Berry Cheesecake? Not me!
You'll find creative and fun new dishes here, too, including Coconut Farro and Green Power Wraps. There are also recipes that are perfect for parties, such as Ginger Nori Cakes, and Antipasto Pizza Bites, as well as global fusions dishes, like Bavarian Samosas, Mexican Paella, and Thai Tempura.

Chapters Include:
Healthy Start
Snacks & On the Go
Quick Meals
Wonder Bowls
Cooking for Friends and Family
Date-Night Dinners
Party Hits
Breads
Dips, Pesto, and More
Sweet Stuff
If you're looking for vegan versions of your favorite comfort foods, you need this book!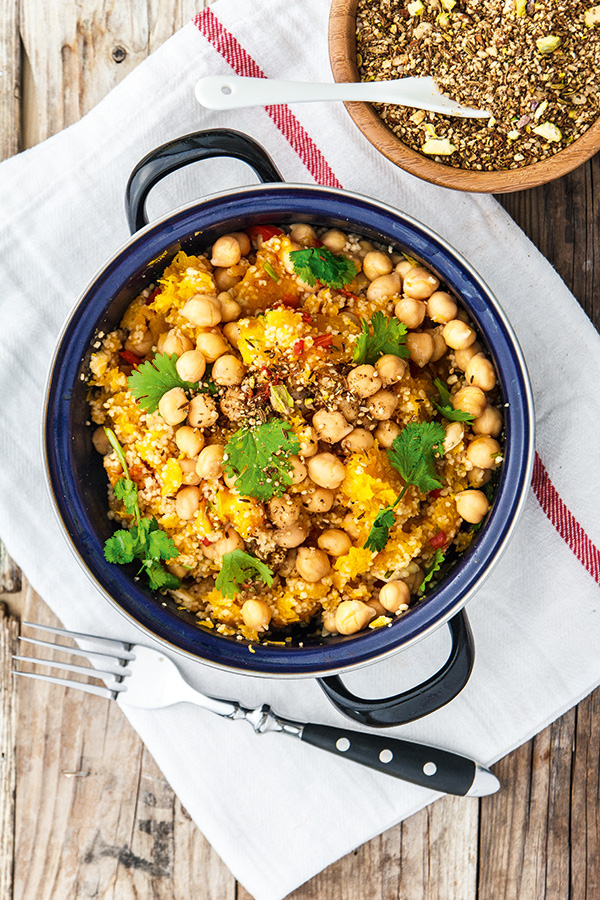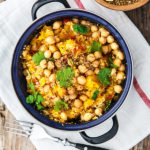 Butternut Squash Salad with Dukkah
We love the nutty flavor of butternut squash, especially when seasoned with dukkah, a North African mix of nuts and spices.
Ingredients
1

small butternut squash

(about 1 pound/450 g)

¼

cup

(60 ml) olive oil

3

garlic cloves

1

red jalapeño or other fresh chile

½

bunch fresh parsley

1¼

cups

(250g) instant couscous

1¾

cups

(420 ml) boiling water

1

cup

(160 g) drained cooked chickpeas

Juice of 1 small lemon

3

tablespoons

Dukkah

see below
Instructions
Preheat the oven to 350°F (180°C). Line a baking sheet with parchment paper.

Peel the squash, then halve it lengthwise and remove the seeds. Brush the cut sides with 1 tablespoon of the oil and place it cut side down on the baking sheet. Roast for 45 minutes, or until fork-tender.

While the squash is roasting, mince the garlic and jalapeño. Coarsely chop the parsley.

Combine the garlic and chile with the couscous in a large bowl. Cover with the boiling water and then cover with a plate or dish towel for 10 minutes.

Remove the squash from the oven. When it's cool enough to handle, scoop the flesh from the skin with a large spoon. Cut into bite-sized pieces.

Fluff the couscous with a fork. Mix in the squash and chickpeas.

Whisk together the remaining 3 tablespoons olive oil, the lemon juice, parsley, and dukkah. Toss with the couscous mixture. Serve.
Recipe Notes
Tip: In this recipe we don't use the skin of the squash, but in other dishes, like a stir-fry, you can leave the skin on.
Recipe from Vegan Everything: 100 Easy Recipes for Any Craving © Nadine Horn and Jörg Mayer, 2019. Photographs © Nadine Horn and Jörg Mayer, 2019. Translation © Luisa Weiss, 2019. Reprinted by permission of the publisher, The Experiment. Available wherever books are sold. theexperimentpublishing.com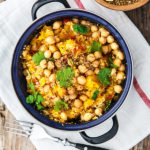 Dukkah
Ingredients
½

cup

(75 g) mixed raw nuts

2

tablespoons

sesame seeds

2

tablespoons

coriander seed

1

tablespoon

cumin seeds

½

teaspoon

salt

½

teaspoon

freshly ground black pepper
Instructions
Toast the nuts and the sesame, coriander, and cumin seeds in a dry pan over medium-high heat for 4 minutes, stirring constantly, until golden. Let cool, then transfer to a food processor.

Add the salt and pepper and pulse to combine. Store in an airtight container for up to 2 weeks.
Recipe Notes
Recipe from Vegan Everything: 100 Easy Recipes for Any Craving © Nadine Horn and Jörg Mayer, 2019. Photographs © Nadine Horn and Jörg Mayer, 2019. Translation © Luisa Weiss, 2019. Reprinted by permission of the publisher, The Experiment. Available wherever books are sold. theexperimentpublishing.com