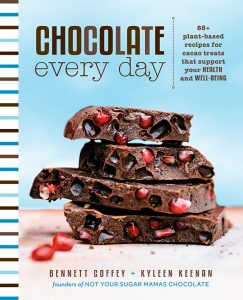 Satisfy your sweet tooth with these vegan Almond Joy Bars from Chocolate Every Day by Bennett Coffey & Kyleen Keenan!
I'm a total chocoholic, so wen I was offered a copy of Chocolate Every Day by Bennett Coffey and Kyleen Keenan, I jumped at the chance to review it. Chocolate every day? Sign me up!
Chocolate Every Day
Chocolate Every Day is full of over 85 recipes for vegan treats using my favorite ingredient – chocolate! The recipes are all gluten and refined sugar free, and a lot of them call for healthy ingredients such as nutrient-rich fats, and superfoods like maca and lacuma, making them healthy treats that you really can enjoy every day.
We can thank Bennett Coffey and Kyleen Keenan for Chocolate Every Day. They're two chocoholics from Martha's Vineyard who opened their own vegan café and chocolate shop called Not Your Sugar Mamas. If I lived close by, I'd probably be there every day. But since I'm a few states away, I'll have to settle for making their treats at home with the help of the cookbook.

Health Benefits of Cacao
In Chocolate Every Day, Bennett and Kyleen share some of the health benefits of cacao. Since cacao contains theobromine and phenylethyalamine, it's both an antidepressant and a "love drug." The magnesium found in cacao is know to promote heart health and balance brain chemistry, and it can provide relief from menstrual cramps. It's also loaded with antioxidants, which help fight disease and keep the body's cells healthy.
Chocolate Every Day also includes tips for getting started with cacao, as well as of kitchen essentials and ingredients to have on hand. They also include helpful info for deciphering confusing food labels. There's also a mini Bean to Bar lesson, to explain just how those bitter beans become irresistible treats.
Chocolatey Recipes
Then, of course, there are the recipes. You'll find recipes for drinks, snacks, raw desserts and treats, baked goodies, and frozen treats. If you're anything like me, you'll find yourself drooling over the mouthwatering photos of such goodies as Salted Caramel Double Chocolate Pie, Chocolate Cream Pie, Fudgesicles, and Chocolate Banana Bread.
Chapters in Chocolate Every Day include:
All About Chocolate
Getting Started with Cacao
Cacao Kitchen Essentials
Cacao Drinks and Elixers
Morning Snacks
Raw Candies and Treats
Raw Desserts
Baked Goods
Frozen Goodness
Almond Joy Bars
If you're a chocoholic like me, you need Chocolate Every Day! While you wait for your copy to arrive, get started with this recipe for scrumptious vegan Almond Joy Bars!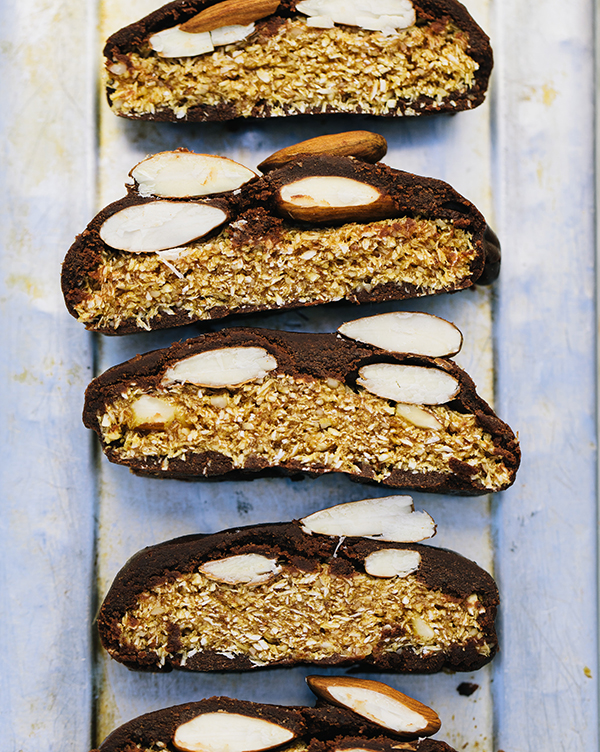 Vegan Almond Joy Bars from Chocolate Every Day
Author:
Chocolate and coconut are an irresistible pairing, especially for Bennett's husband, who is a huge fan of these bars. Before Bennett started making these, her husband would eat buckets of ice cream at night, but now, he instead savors one of these extremely satisfying and seemingly decadent bars, replacing refined sug- ars and dairy with better-for-you ingredients. It's a win-win. Bennett is happy her husband's eating healthier and he still finds joy (no pun intended) in an after- dinner treat.
Ingredients
[b]For the Bars:[/b]
½ cup unsweetened shredded coconut
⅓ cup coconut nectar
¼ cup finely chopped almonds
Pinch sea salt
12 whole raw almonds
[b]For the Chocolate Coating[/b]
¼ cup raw cacao butter, coarsely chopped
¼ cup coconut butter
⅓ cup raw cacao powder
⅓ cup pure maple syrup
½ teaspoon pure vanilla extract or powder
<br>
Instructions
[b]Make the bars: [/b]Line a rimmed baking sheet with parchment paper. Set aside.
In a medium bowl, stir together the coconut, coconut nectar, chopped almonds, and salt. Using your hands, shape the mixture into six 2½-inch- long bars and place on the prepared baking
sheet. Press 2 whole almonds on top of each bar. Place the bars in the freezer to firm up, about
minutes.
[b]While the bars are freezing, make the chocolate coating:[/b] In a small saucepan over medium-low heat, stir together the cacao and coconut butters until fully melted. Remove from the heat and add the cacao powder, maple syrup, and vanilla, and whisk until smooth. Allow the chocolate to cool for 15 minutes, or until it's room temperature.
The chocolate will be somewhat thick.
Remove the bars from the freezer and spoon the chocolate over each bar to coat. Place them in the refrigerator to set for 20 minutes. Store in an airtight container in the refrigerator for up to
weeks.
Notes
From[url href="https://www.penguinrandomhouse.com/books/551144/chocolate-every-day-by-bennett-coffey-and-kyleen-keenan/" target="_blank" rel="nofollow"]CHOCOLATE EVERY DAY: 85+ Plant-Based Recipes for Cacao Treats that Support Your Health and Well-Being by Bennett Coffey and Kyleen Keenan[/url], published by Avery, an imprint of Penguin Publishing Group, a division of Penguin Random House, LLC. Copyright © 2018 by Bennett Coffey and Kyleen Keenan.