A stir fry is a pretty easy meal, as it is, but sometimes you're too beat to stand over the stove. Baked Tofu Stir Fry is here for you on those days: an oven stir fry with Blender Stir Fry Sauce. Meet the No-Stir Bake!
This oven stir fry used to be a staple recipe in my house, and I'm so glad it's back in the rotation! It's one of the easiest meals you can throw together. Just kick back and let your Baked Tofu Stir Fry baaaasically cook itself.
More Easy Baked Tofu Recipes: Baked Buffalo Tofu Bites, Baked Tofu Fajitas
It takes about 10 minutes of prep time to get your No-Stir Bake into the oven, and it couldn't be easier to throw this meal together:
Preheat the oven.
Press your tofu.
While your tofu is  pressing, whip up the Blender Stir Fry Sauce, prep your veggies, and make the rice or noodles that you want to serve with your No-Stir Bake.
Toss it all together in a covered baking dish, and kick back until dinner is ready.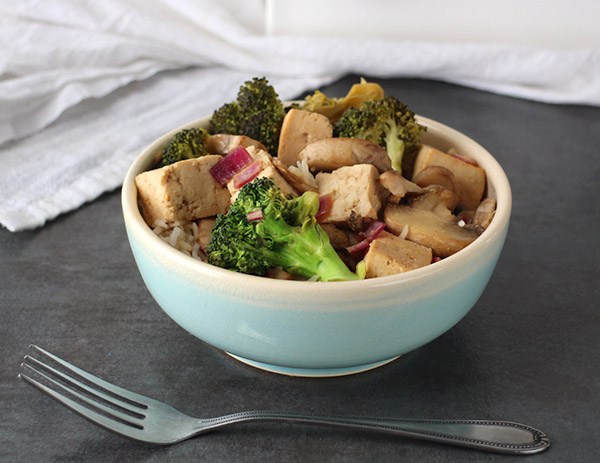 If you're feeling really lazy, feel free to replace the Blender Stir Fry Sauce in this recipe with a cup of bottled vegan stir fry sauce.

Tofu Stir Fry, Baked!
A tofu stir fry that you make in the oven, instead of on the stovetop.
Ingredients
For the Blender Stir Fry Sauce*
2 cloves garlic
1" piece fresh ginger
1 teaspoon toasted sesame oil optional
1 tablespoon low-sodium soy sauce
2 tablespoons seasoned rice vinegar
⅓ cup hoisin sauce
2 tablespoons water
For the Tofu Stir Fry
1 block extra firm tofu pressed, and cut into 1" cubes
2 cups broccoli florets
1 8 oz. package sliced button mushrooms
½ cup diced red onion
Instructions
Preheat the oven to 400F.
Make the Blender Stir Fry Sauce
Combine all of the sauce ingredients in your blender, and puree until smooth.
Make the No-Stir Bake
Pour the Blender Stir Fry Sauce into a Dutch oven or deep baking dish with a lid. Add the No-Stir Bake ingredients, and toss to coat.
Cover the dish, and bake for 30-40 minutes, until the broccoli is tender. Serve over rice or noodles.
Notes
*If you don't want to make your own sauce, that's fine! Just substitute 1 cup of bottled vegan stir fry sauce.
Republished with permission from Glue & Glitter – Simple Vegan Recipes.