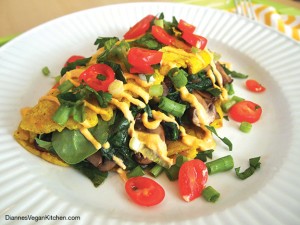 One of my favorite meals in my prevegan days was a simple omelet with mushrooms and cheddar cheese. When I went vegan 14 years ago, I figured I'd never eat one again, not realizing that vegan chefs and bloggers would soon create delicious vegan versions of just about everything. My first vegan omelet was made with chickpea flour, and the recipe came from High Protein Vegan by Hilda Jorgensen just a few years ago. It wasn't exactly like the eggy omelets I remembered, but it was still delicious. Since then, I've played with the recipe and made it my own, and I'm back to enjoying omelets on a regular basis.
Feel free to play with the fillings and use whatever strikes your fancy. You'll have some cheese sauce leftover, but it tastes great on just about anything, so go ahead drizzle it on tacos, salads, and anything that needs a little extra something-something.

Spinach-Mushroom Vegan Omelet
Ingredients
For the Omelet
1 cup chickpea flour
3 tablespoons nutritional yeast
1/2 teaspoon turmeric powder
1/2 teaspoon. garlic powder
1/2 teaspoon onion powder
1/4 teaspoon kala namak (black salt)
1/4 teaspoon sea salt
1 cup water
1 – 2 teaspoons olive oil
For the Filling
1 teaspoon olive oil
1/4 cup onion, diced
2 cups mushrooms, sliced
Pinch of sea salt
5 ounces baby spinach, coarsely chopped
For the Cheese Sauce
1/2 cup raw cashews, soaked for two hours and drained
1/2 of a medium tomato, chopped
2 teaspoons raw sesame seeds
2 tablespoons nutritional yeast
1/4 teaspoon sea salt
1 teaspoon onion powder
1 teaspoon garlic powder
1 tablespoons lemon juice
2 tablespoons water
For Serving
1/4 cup diced tomatoes, optional
1/4 cup chopped flat leaf parsley, optional
1/4 cup thinly sliced scallions, optional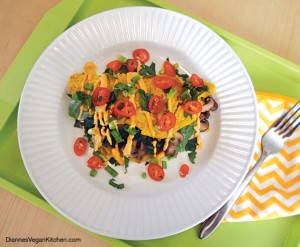 Preparation
Whisk all of the omelet ingredients except the oil together in a medium bowl. Let sit for 10 minutes, while you prepare the filling.
To make the filling, heat the olive oil in a large skillet over medium-high heat. Add the onions and cook for about five minutes, until the onions begin to brown.
Add the mushrooms to the pan along with a pinch of salt. Stir frequently and allow them to brown.
Once the mushrooms have browned, add the spinach and stir quickly to allow to wilt.
Cover the veggies to keep them warm while you cook the omelets.
Brush 1/2 to 1 teaspoon of olive oil onto a large skillet. Heat over medium-high heat and pour in half of the chickpea batter. Cook for undisturbed for about 5 minutes, until the edges start to brown and the center bubbles slightly. Gently flip over and cook for another two minutes or so. Remove from the pan and cook the other half of the batter the same way.
While the chickpea omelets are cooking, mix all of the cheese sauce ingredients together in a blender or food processer. Add more water if necessary, to achieve a saucy-like consistency.
To serve, top half of one of the chickpea pancakes with half of the veggie mixture. Fold the pancake over and drizzle with the cheese sauce. Top with chopped tomatoes, parsley, and scallions. Prepare the other omelet the same way. Enjoy!
Serves two
Reprinted with permission from Dianne's Vegan Kitchen.