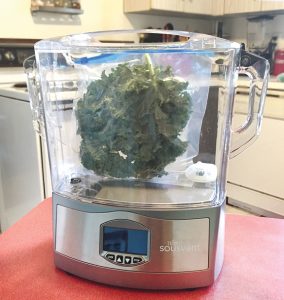 Despite being an avid cook, I hadn't heard of sous vide cooking until Tribest Corporation contacted me and asked if I'd be interested in receiving their Sousvant to review. I looked it up, and found out that sous vide is a method of cooking where food is sealed in airtight plastic and then heated in a temperature controlled water bath.
Sous vide is French for "under vacuum." The cooking method was first used by physicist Sir Benjamin Thompson in 1799, although he used air rather than water. The technique didn't become popular until the mid 1960s, when engineers began to use it as a method of food preservation. Indeed, I have cooked sous vide in the past, sort of, without knowing it. Back in the early 1980s, before we had a microwave, I "cooked" many a vacuum-sealed frozen dinner in hot water on the stovetop, although the water temperate wasn't as controlled as it would be in traditional sous vide cooking.
There are many benefits of sous vide cooking. Foods keep the juices and nutrients that might otherwise be cooked off in the oven or on a stove-top. Spices and marinades transfer to the food easily, making their flavor more intense. It allows for a cooked meal on a hot day when the last thing you want to do is turn on the oven. Cooking experience isn't really needed to prepare food sous vide, since all you need to do is chop, season, and seal food in order to "cook" it. Clean-up after cooking sous vide is a breeze, because there are no pots and pans to wash.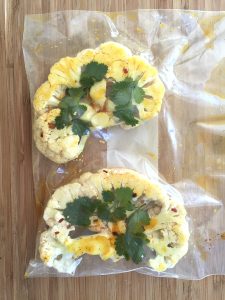 The temperatures used in sous vide cooking are lower than they are in stove-top cooking, so dinner might take a while, but it will be worth the wait. Raw foodists can enjoy sous vide cooking, because the water can be heated to exactly 118° F. Food can easily be hot and raw at the same time, without being depleted of nutrients.
I will admit that since it's totally new to me, I was a little nervous about cooking sous vide, but the Tribest Sousvant is super easy to use, taking all of the guess-work out of it. You just fill it with water, add your pouches of food, and set the temperature. It has a powerful 1000 watt, built-in circulation system to rapidly heat water to the desired cooking temperature within 0.1° F. Its digital, user-friendly display is fool-proof and allows for the same, perfect results, every time you cook with it. The Sousvant has extra-large, three gallon capacity and can handle large cooking jobs without taking up much counter space. In my research of sous vide cooking, I found YouTube videos my many people who had rigged sous vide cookers with slow cookers and temperature gauges, but with the Sousvant, no rigging is needed, since this one appliance does everything for you.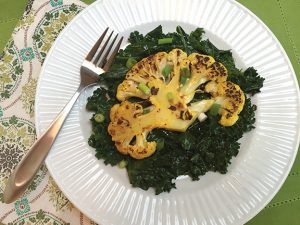 While looking for recipes, I found many meat dishes, but vegan recipes were scarce, despite the fact that vegetables really benefit from being cooked this way. The one dish that kept coming up in my searching was a cauliflower steak originally posted on What the Hell Do Vegans Eat Anyway? To make it, I brushed sliced cauliflower with lemon juice and then sprinkled the "steaks" with red pepper flakes, garam masala, turmeric, and sea salt. I don't have a vacuum sealer, so I placed the cauliflower steaks, along with a few sprigs of cilantro, in ziplock bags, doing my best to squeeze all of the water out. I cooked the cauliflower in the Sousvant for 90 minutes at 185°. Afterward, I pan-seared them for a few minutes on each side, to brown them a bit. They were tender, juicy, and extremely flavorful. I also cooked kale sous vide by tossing it with a little olive oil and cooking it for 7 minutes at 194° F. It was firm, yet chewy and delicious.
I recommend the Tribest Sousvant for raw foodists, new cooks, and anyone who wants to make dinner without heating up the kitchen.