This Roasted Ratatouille Salad makes the most of summer's vegetable bounty. Eggplant, zucchini, yellow summer squash, and tomatoes are tossed in herbs, roasted to delicious perfection, and then drizzled with a balsamic vinegar reduction. If you'd like to add a little extra oomph to your salad, add a cup or so of white beans.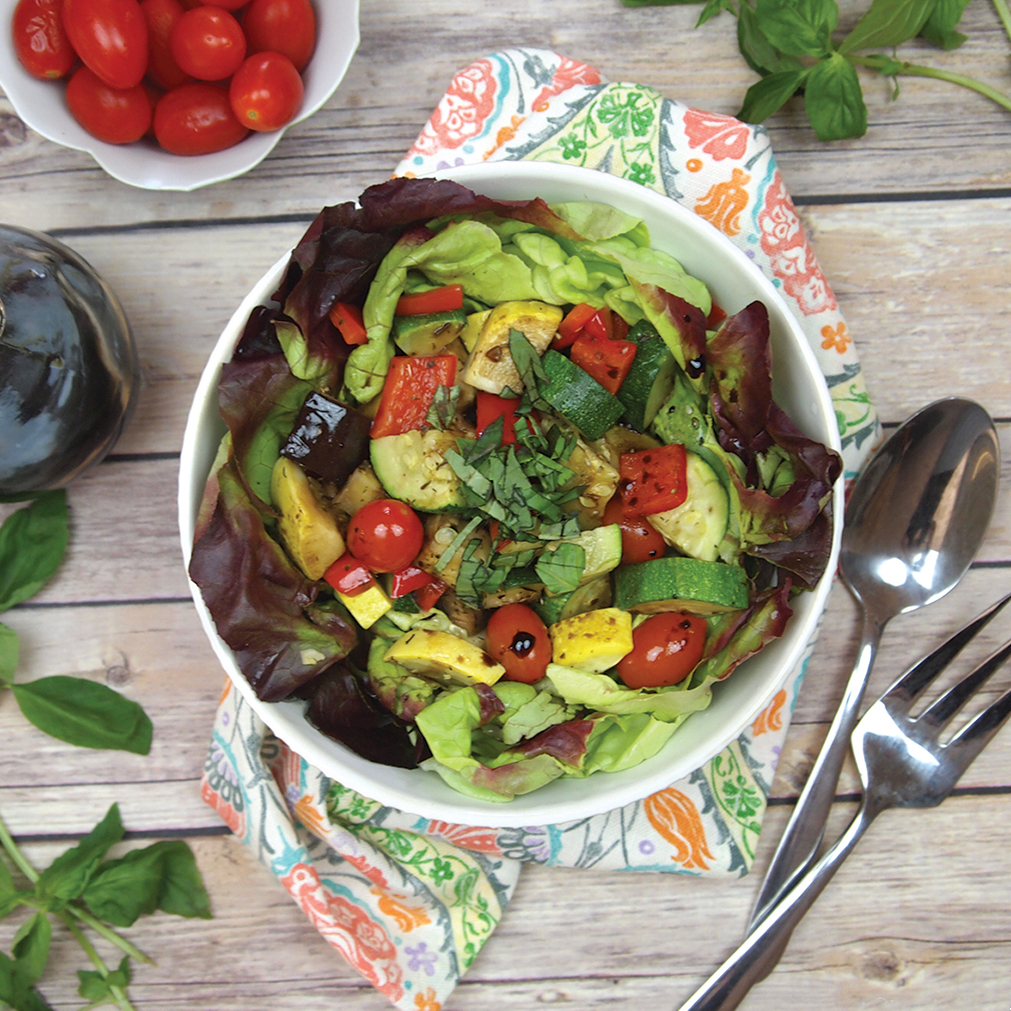 Roasted Ratatouille Summer Salad
Ingredients
1 medium-size eggplant, cubed
1 medium-size zucchini, cubed
1 medium-size summer squash, cubed
1 red bell pepper, chopped
1 pint cherry tomatoes
1 clove garlic, minced
1 tablespoon olive oil
½ teaspoon sea salt
½ teaspoon black pepper
¼ teaspoon dried basil
¼ teaspoon dried oregano
¼ teaspoon dried thyme
¼ teaspoon dried rosemary
¾ cup balsamic vinegar
1 head of butter lettuce, cleaned and leaves coarsely chopped
1 tablespoon fresh basil leaves, sliced
Instructions
Preheat your oven to 375°F. Line a baking sheet with parchment paper.
In large bowl, toss the eggplant, zucchini, summer squash, bell pepper, and tomatoes, together with the garlic, olive oil, sea salt, pepper, and dried spices.
Lay the veggies out flat on the baking sheet. Cook for about 30 minutes, or until soft and golden brown, flipping them at about the halfway point.
While the vegetables are cooking, bring the balsamic vinegar to a boil in a small pot. Lower the heat to a simmer, and continue cooking until it reduces to about ¼ cup, about 15 minutes.
To serve, divide the lettuce leaves among 4 bowls or plates. Top with the vegetables, and drizzle a tablespoon or so of balsamic reduction onto each salad. Top with the basil leaves.