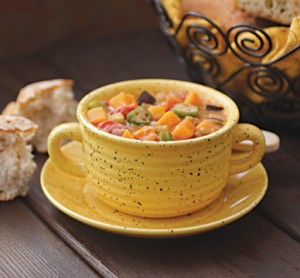 Brimming with vegetables, this flavorful stew is especially good served over rice or couscous or with coarse whole grain bread. Like most stews, this one tastes even better the second day, so make it ahead. The crops of peanuts (or groundnuts), sweet potatoes (or yams), and okra can be found throughout western African countries, where stews such as this are often called groundnut stew.
Ingredients:
1 tablespoon neutral vegetable oil or 1/4 cup water
1 large yellow onion, chopped

1 sweet potato, peeled and diced
1 green bell pepper, chopped

1 medium eggplant, diced
1 cup sliced okra (fresh or frozen)
1 clove garlic, minced

1 (14.5-ounce) can diced tomatoes, undrained

1/2 cup peanut butter
1 1/2 cups vegetable broth

1/4 teaspoon cayenne, or to taste
1/2 teaspoon salt

1/8 teaspoon ground black pepper
Directions:
Heat the oil or water in a large saucepan over medium heat. Add the onion, sweet potato, and bell pepper and cook for 5 minutes. Stir in the eggplant, okra, and garlic. Cover and cook 5 minutes longer, then stir in the tomatoes and cook for a few minutes.
In a small bowl, combine the peanut butter and broth, stirring until smooth. Stir the peanut butter mixture into the stew and season with cayenne, salt, and pepper. Simmer until the vegetables are tender, about 30 minutes.
For a thicker consistency, scoop out about 1 cup of the stew and puree it in a blender or food processor, then return it to the pot.
Serves 4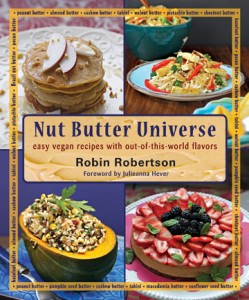 From Nut Butter Universe by Robin Robertson. ©2013 Robin Robertson. Used by permission from Vegan Heritage Press. Photo by Lori Maffei.