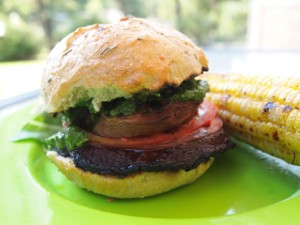 Today is Memorial Day, the unofficial first day of summer, which means many people are taking to their backyard and firing up their grills. It's a tough day for people who don't eat meat, right? Wrong! There are far more creative possibilities when you decide to leave the meat off the grill. You can stick with the standard veggies burgers and tofu pups, but why not experiment a little?
Most vegetables taste divine after they've been on the barbeque, and preparing them couldn't be easier. Simply brush olive oil on slabs of eggplant, spears of asparagus and slices of zucchini – or any veggie you have in your kitchen for that matter – and cook until soft and slightly browned on each side. And why not grill some greens while you're at it? Yep, greens! Slice a head of romaine in half, drizzle with olive oil, grill for just 3 or 4 minutes per side then serve with flavored vinegar and toasted pistachios. And how about some fruit kebabs for dessert? Simply skewer slices of fruit, brush with a little balsamic vinegar then grill for a few minutes on each side – simple and delicious.
This grilled portobello peach sandwich has been a summer mainstay for the past few years. It's based off a recipe I saw on Design Sponge a few years ago, with some tweaks here and there and my own addition of spinach pesto. I've made it for friends at parties and cookouts, and many of them have raved about it for weeks afterward.
Grilled Portobello Peach Sandwiches
Sandwich Ingredients:
4 large portobello mushrooms, cleaned
2 ripe peaches, sliced in half and pitted
1 sweet onion, sliced
4 rolls (the more rustic and "hearty" the bread, the better), sliced
1 thinly sliced tomato (heirlooms are my favorite)
Spinach pesto (recipe follows)*
Mushroom Marinade:
1/4 cup olive oil
2 tablespoons lemon juice
1 tablespoon soy sauce
1 sprig fresh rosemary
1/2 teaspoon sea salt
1/2 teaspoon black pepper
2 cloves garlic, minced
Spinach Pesto:
5 ounces baby spinach – about 4 cups
1/8 cup extra virgin olive oil
1/4 cup nuts (pine nuts are traditional, but walnuts and cashews work nicely with this recipe too)
2 garlic cloves
2 teaspoons lemon juice
1/2 teaspoon sea salt
Directions:
Combine the pesto ingredients in a food processor fitted with an s-blade. Process until ingredients are chopped and just slightly chunky, scraping down bowl with a rubber spatula if necessary. If the pesto seems too dry, add a little more oil, one tablespoon at a time. Store in the refrigerator until ready to use.
Mix all of the marinade ingredients together in a small bowl. Place the mushrooms in a flat baking dish and pour the marinade over them. If your mushrooms are really large you may need to double the marinade recipe. Let the mushrooms sit for an hour or two.
Lightly oil and heat the grill. Place the mushrooms and onions on the grill and let cook between 10 to 15 minutes, until tender, flipping halfway through. The peaches only need 5 to 8 minutes to cook, so place them on the grill when you flip the mushrooms and onions. Flip them halfway through as well. Grill the bread for a minute or two, if you wish.
Assemble the sandwiches by spreading the spinach pesto on the roll, then layering on a mushroom, onion slice, half a peach and one or two tomato slices. I like to serve my sandwiches with a side salad and grilled corn on the cob.
* Jarred, store-bought pesto can also be used, but I like to use every opportunity to sneak leafy green veggies into a meal, since they're such nutritional powerhouses.